Thank you EYA!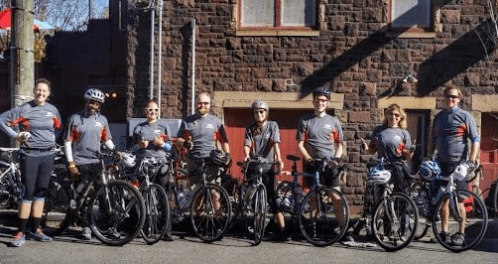 WABA would like to give a great big bicycle thank you to
EYA
for their support of better bicycling, their title sponsorship of The 2016 Cider Ride, and for bringing out an awesome EYA team to ride along with us last weekend on the Cider Ride. EYA is WABA's biggest signature ride event supporter. As the Title Sponsor of our fall community ride event for 2016, 2017, and 2018, EYA is making it possible for WABA to hold ride events that not only bring people together to celebrate bicycling, but also raise support for our on-going advocacy efforts to make bicycling better.
EYA
is a regional developer with a focus on bicycle and pedestrian friendly urban homes and communities. Since 1992, EYA has earned recognition for introducing innovative and thoughtfully designed new homes in DC metro area neighborhoods that offer life within walking distance. They share a lot of common goals with WABA members to reduce dependence on cars and encourage new opportunities for more sustainable living. Thank you so much EYA!