Welcome Our New Women & Bicycles Coordinator—Betsy Tesi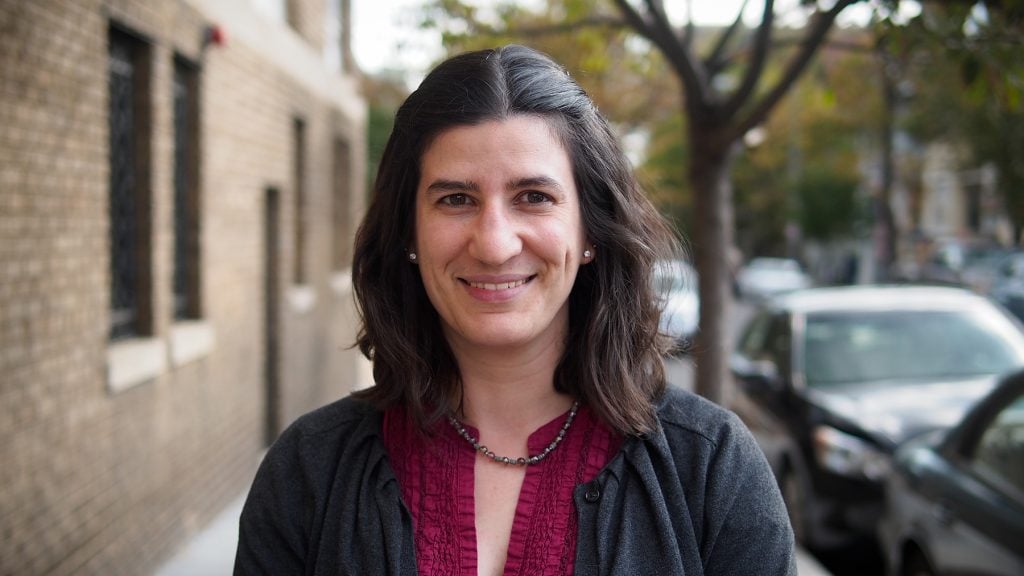 Hello, awesome women of DC (and beyond)!  I am excited and grateful and a little nervous to be taking the reins of
WABA's Women and Bicycles program
as the new Coordinator.  Women & Bicycles was started in 2013.  In those days, WABA came to realize that fewer than 26% of the cyclists on our roads were women.  There was plenty of space on the roads!  Women & Bicycles was born to help us connect with, teach, and empower each other to conquer these roads. Since then, we've hosted a few hundred events, and our Facebook group has grown to over 5,000 women. You might want to know who I am and how I got into this whole bicycling thing. First off, the most important questions:
Road bike?  I ride a BMC that I call "The Badass Mountain Climber" for all the mountains I climbed on that thing in Oregon, where every ride was a hills ride.  I love it to the ends of the earth and that is my over-25-miles bike.
Commute?  Yes, I bike commute year round, multimodal style.  That means I use buses and trains as well as the bike, which is a folder bike named "Zelda".
Bike I most regret selling?  My mountain bike.  Sure it was too big, but it was fun.
N+1 dream? a standard bike to which I could hook up a trailer so I could try to trailer-train my puppy.
Where do you store all these?  Mostly in my tiny apartment… together with my spouse's bikes, one of which is technically a frame and which lives in the upper shelf of his side of the bedroom closet.  Doesn't everyone have a tri frame in their closet?  No?  Just us?
I've lived in the DC area since 2001.  Despite two stints in Connecticut and Oregon, I keep coming home.  I love this city, the Nats, the museums, and our shared hobby of whining about the congested traffic.  When I first moved here 15 years ago and discovered I395, I said so many swear words that a friend decided to introduce me to bike commuting.  He fixed up a beater bike, taught me the rules of the road, and a few months later, I bought my first grown-up bike with lots of gears.  I've been bike commuting ever since. A few years ago, with a new work schedule, my old routes just weren't working out any more.  My new roads were steep, fast, and scary.  I was lonely… and worse, I was getting bored of my old favorites.  Luckily, around that time, the bell on my commuter bike broke, and so I went on Mission: Bell Replacement.  In shop after shop, I found boring, quiet bells, and worse yet, I kept getting mansplained by these guys who would tell me I could not put a bike bell on my BMC roadie.  It didn't matter that I kept explaining that the bell was for my commuter! Finally, frustrated, I walked into a shop where this petite woman greeted me… and actually understood what I was looking for.  She knew what it was like to have a small voice, so when I said I needed a nice loud bell, she understood what I actually needed. And that saleswoman told me about this group, Women & Bicycles. That afternoon, after I finished installing my new bell which was shaped like a teapot and which I named "The Bell From Hell" for its delightfully horrid and shrill tone, I joined the Facebook group.  I saw a message for this new event, a "coffee club".  Well… I like coffee.  I like people.  Let's see what this is all about. At that first club, there would be four of us.  We all commuted.  We all cram too many bikes into very small apartments.  Several of us had recovered from big injuries.  We all like breakfast food.  Here were people like me!  Over the last few years, our group has grown, and become the sort of community I want all women to have in a bicycling community: -if I have
gear questions
, someone else has had that same issue and has discussed it.  In fact, sometimes, someone had some gear that was ready for a new home.  I got my first pannier, basket cover, and women-specific bike shorts through our group. -if I'm going on
a big ride
, chances are someone else is too and we can meet up and have riding buddies. We've even played hooky together to ride some of the great trails around our city. -s
ome rides are women-only
.  It's so great to have the option of being "just us". -if I need
a new bike
, someone will ALWAYS enable me and encourage me to go ahead and get that bike! -best of all, when my first commuter was finally ready to move on to a new home, within the group, someone was able to get that bike to another person who really needed it.  
We help each other out
. That's what I want W&B to be- it's ALL about the bikes… the racers, the fun rides, the beater bikes and the fancy commuters.  Bikes are why we are HERE, reading this blog, right?  I treasure our growing diversity in age, race, income, occupation, and orientations.  When I roll up to coffee club at Pleasant Pops, I am as comfortable rolling up on a CaBi in jeans as I am on my folder bike in a dress as I am on my roadie in spandex shorts. Women & Bicycles is a positive community founded to help us help each other.  We are here to be the best, most respectful, supportive, vibrant, fun-loving, equality-supporting, allied, cheerful community in WABA, in DC, and heck… on the internet! I am so glad to be here to help.
 Sign up here to be notified
about rides, events, workshops, and social gatherings for us over the next year.  And of course,
please reach out
if YOU have ideas for great things to do together!