Hains Point 100 Recap and Thank You: 2016 Great Tent Levitation Edition
On Sunday, December 18th, more-than-400 riders showed up to ride laps, give high fives, eat snacks, and win prizes for the 5th Annual Hains Point 100. All donations generated at this annual event benefits WABA's Women & Bicycles program.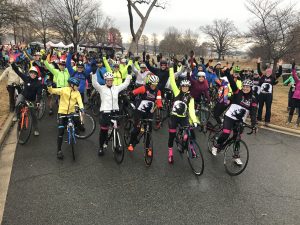 Worries over weather evaporated when the day dawned reasonably mild.  The earlier cold snap made the mid-50s to low-60s weather feel like a lovely spring day.  Overcast skies meant that riders could ride their laps without wearying their face muscles without squinting into the sun… more energy for riding, right? The pit area closed suddenly at 2:00PM when a cold front dropped out of absolutely nowhere and levitated all the club tents at once!  All hands on deck saved the tents from certain doom, just as the temperatures plummeted from a mild 60 to the freezing windy 30s!  We sure are glad that our spirits remained higher than the tents. Because of your generosity, we will be:
Training new Roll Models, who will be teaching other women to achieve their goals in riding bicycles as transportation around our area.
Teaching women interns to Learn to Ride On A Dime.  You don't need a lot of money or special clothing to be a successful bicycle rider.  We will help women across the economic spectrum gain power over their schedule and increase their independence.
Hosting a February Strong Women ride, where we will discover monuments around DC dedicated to strong women who shaped our local culture and our country.
Continuing our partnership with the Potomac Pedalers Trail Club, and helping organize new rides in fresh locations like the Virginia suburbs.
Leading rides around the trail system that now surrounds our city (thanks to the WABA Advocacy team and the Trails Coalition!) so women can get places in greater safety.
And much, much more. Join the Facebook group and our W&B Email Bulletin to be alerted to every event!
The workshops, rides, and social events that we sponsor- thanks to members like you!- help us help each other.  W&B members have become mentors and friend-families to each other. This event is only possible because of the founder and tireless organizer Megan Jones. We owe a HUGE and immense THANK YOU to Megan for creating and organizing the best silly event in December.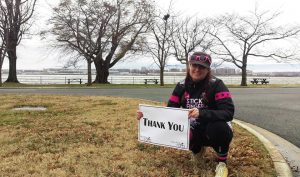 (Really, Megan- thank YOU!)
Thank you to all of the riders, donors and sponsors for supporting another successful Hains Point 100 event.  We hope to see you again and again and again and again on next year's circumnavigation of East Potomac Park!