Biking on Inauguration Weekend 2017
It's Inauguration weekend again! It happens every four years. Roads close. Bike lanes close. The federal core of our city turns into a labyrinth of chain link fences and lost tour buses. Here's our best understanding of how to navigate on your bike this weekend.
The short version: "To, but not through."
On Friday and Saturday, plan to take the long way around the National Mall and environs if it's not your destination. Below is a map of planned road closures. Bikes are not permitted inside the solid red line, and bicyclists may be asked to show ID to pass into the area within the dotted line. Depending on circumstances, you may not be allowed to enter with your bike.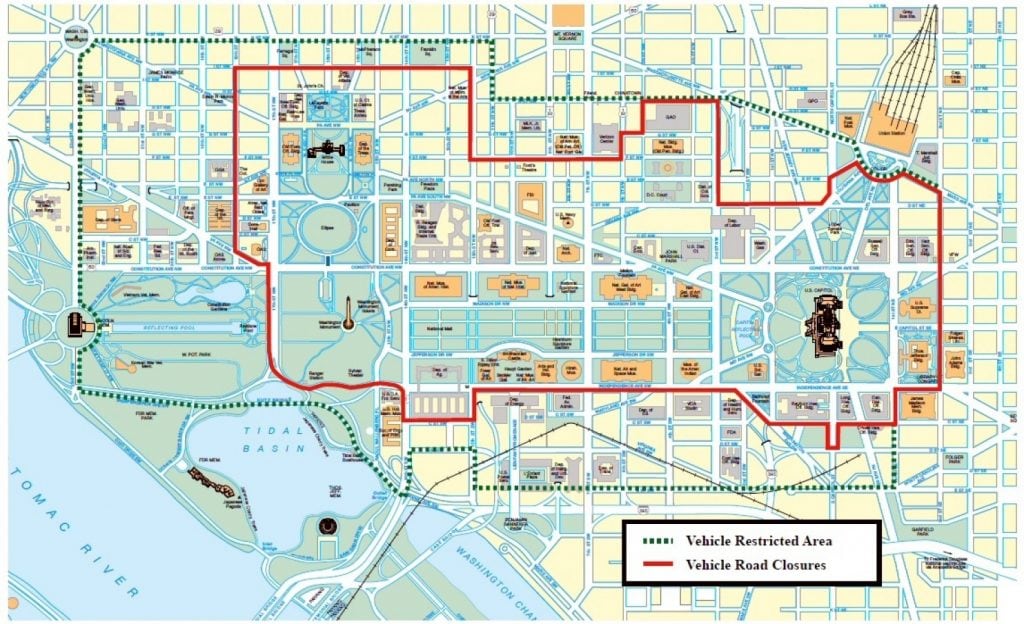 Areas within the red line will begin to close at 3am on Thursday and continue to be closed in certain places through Saturday. We don't have a specific setup/breakdown timeline. This means that some key bike routes, like the Pennsylvania Avenue bike lanes, will be closed for several days.
WTOP
has a handy zoomable map with more details: And DDOT has a handy
printable map
with recommended walking routes from transit. On
Saturday
, The Washington Post
reports
these closures for the Women's March:
---
Other places to avoid if possible:
The RFK Stadium parking lot will be the staging area for tour buses all weekend. Expect thousands of large vehicles with drivers who may not be accustomed to seeing bicyclists or bike infrastructure. Also, of course, you should expect several hundred thousand pedestrians. The area will not be closed but plan on some extra time, caution, and patience.
Starting at 5am on Thursday, The Memorial Bridge will be closed to vehicles but open to pedestrians. As of Thursday morning, the Park Police have indicated that the bridge is closed to bikes.
On Saturday, expect rolling closures along Independence Ave and 14th Street between the Capitol and the White House for the Women's March.
Hains Point and West Potomac Park are functioning as event staging areas, so expect closures there all week.
Metro has prohibited bikes within the system on Friday and Saturday.
---
Bike Parking:
On Friday
:
Two Wheel Valet
 will operate a bike valet on 16th St NW between K and I streets.
On Saturday
: There is currently
 no planned bike valet for the Women's March
. You also won't be able to bring your bike into the rally area or along the march route. Organizers are hoping to have a bike parking area, but don't have any details yet. You might want to consider locking up (to bike racks or signposts, not trees or other people's bikes!) a few blocks away from either the start or the finish. Details on the
Women's March FAQ
page. If you'd like to ride to the march with a group, there's a list of convoys 
here
. Our pals at BikeArlington have a nifty crowdsourced map of bike rack locations across the region, including around the Mall: 
rackspotter.com
---
Bikeshare:
All Capital Bikeshare stations within the security area will close at noon on Wednesday. 
They'll reopen on a rolling basis beginning Saturday. Full details from Capital Bikeshare are 
here
. On
Friday
, there will be corral service at 17th and K St NW, and at 4th & E St SW from 7am until 5pm. On 
Saturday
, there will be corral service at 4th and E St SW  from 7am until 5pm. Capital Bikeshare is also recommending that if you're local, consider riding your own personal bike if you have one. The influx of visitors, combined with a limited ability to move the rebalancing vans through the city means that bikes and docks may be scarce.
---
General Advice:
Give yourself plenty of extra time, caution, and patience. Traffic will be a mess, and frustrated drivers are more likely to make dangerous decisions. Take it easy and pay attention. Where you are allowed to take or ride your bike may change unexpectedly. Have a bike map handy in case you need to take an unexpected detour.