Upcoming Project Meetings in the District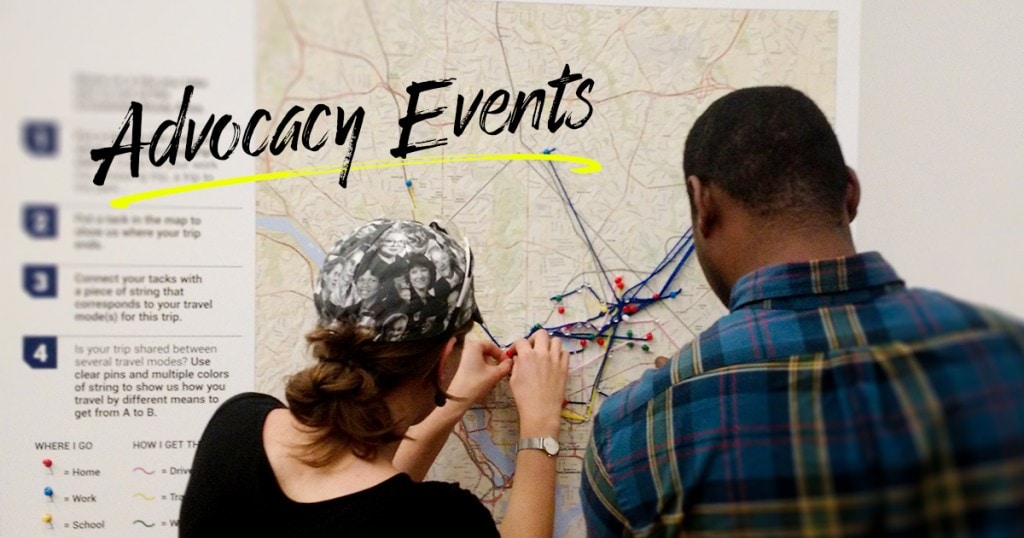 Construction crews are on their winter breaks, but the District Department of Transportation (DDOT) and Virginia Railway Express (VRE) are ramping up planning on a number of projects relevant to people who bike in the District. Please consider attending these meetings this month and speaking up for the needs of bicyclists.
Alabama Avenue SE Corridor Safety Study
Saturday, February 11, 2017 | 10 am – 12:30 pm THEARC 1901 Mississippi Avenue, SE DDOT is hosting the first meeting to discuss safety along the Alabama Avenue SE corridor.  DDOT aims to identify and address multimodal safety concerns and to improve the overall quality of the network for all users.  At this meeting, existing conditions and current traffic/crash data will be shared to capture ideas and suggestions from participants. Alabama Ave is an important bike corridor and would make an ideal protected bike lane corridor.
Tactical Urbanism at North Capitol Street and Lincoln Road
Monday, February 13, 2017 | 6:30 –  8 pm NoMa BID Lobby 1200 First Street, NE DDOT invites you to a meeting to discuss the Tactical Urbanism project at North Capitol Street and Lincoln Road, NE. The purpose of this project is to increase safety at the North Capitol/Lincoln Road, NE intersection through immediate, short-term improvements that will lead the way for a larger intersection safety project. DDOT will present a draft design concept and gather comments from the community at this public meeting. Rapid implementation of safety projects like this are a key part of DC's Vision Zero Action Plan.
VRE Midday Storage Facility Public Meeting
Thursday, February 16, 2017 | 4:00 – 7:30 pm | Presentation at 4:30pm and 6:30pm Bethesda Baptist Church 1808 Capitol Ave NE Virginia Railway Express intends to replace its current storage space leased from Amtrak at the Ivy City Coach Yard in DC with a new storage yard alongside New York Avenue. The project will include planning, designing, and constructing a permanent midday storage facility for VRE trains that travel into the District from Virginia. VRE will work with members of the community, stakeholders, and property owners to assess potential impacts and determine ways VRE can be a good neighbor.
Florida Avenue Multimodal Transportation Project
Tuesday, February 21, 2017 | 6:30 pm – 8 pm | Presentation at 6:30 pm New Samaritan Baptist Church 1100 Florida Avenue NE DDOT will share 30% designs for multimodal transportation improvements along Florida Avenue NE from First Street NE to H Street/Benning Road NE. This project will add new wider sidewalks, bike lanes, new signalized crossings and streetscape improvements for a safer street. In the last project update in March 2016, DDOT's preferred alternative eliminated many of the popular and safety-critical elements such as protected bike lanes and a road diet to curtail speeding. We hope that a year of work has found opportunities to point the project in the right direction.
New York Avenue Streetscape and Trail Project
Thursday, February 23, 2017 | 6 – 8 pm | Presentation at 6:30 pm Gallaudet University's I. King Jordan Student Academic Center 800 Florida Avenue, NW (
map
) DDOT is in the early stages of planning significant streetscape improvements to beautify New York Avenue from Florida Avenue to Bladensburg Road. The project will study improvements to public space in the corridor, including curb, gutter, streetlights, plantings, trees, benches, public art and other public space improvements. Additionally, DDOT will develop concepts and designs to improve safety and quality of life for people who use New York Avenue, including a new multi-use trail connecting the National Arboretum and Metropolitan Branch Trail, and future transit services throughout the corridor.
Read more at the project website.