The 2017 Women & Bicycles Limited Edition Jersey is On Sale Now!
Women & Bicycles is a unique program of WABA. We are here to create a cycling sisterhood that empowers riders all around the region to achieve their goals on bicycles. You help us do that as a supporter. Now you can also wear your hear on your sleeve—literally. The Women & Bicycles 2017 Jersey is
here
!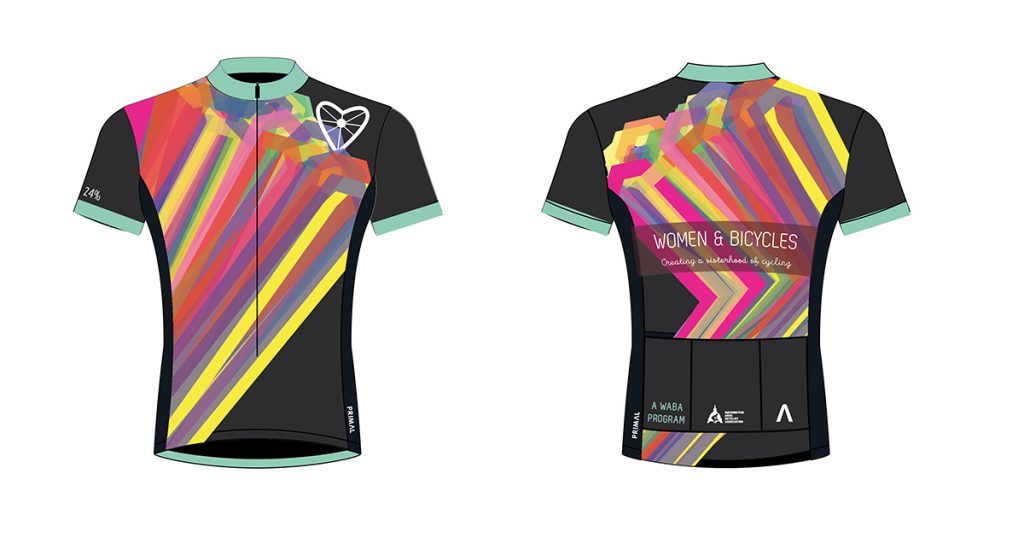 It is only on sale through March 12.  
Get it now
, because it won't be offered again!
The cost is $65 per jersey.
Women's and unisex cuts available.  (The unisex is the same as the current WABA jersey).
Sizes from XS to XXXL.  UPDATE on sizing: for jerseys, focus on your hip and your bust/chest size.  The women's has a more shaped waist.  The unisex is a bit boxier.
Jerseys should arrive mid-May in time for the summer riding season!
All proceeds from the sale support Women & Bicycles and the work that we do.
Let me tell you why your support is important:
Bicycling, to us, will always be a justice-oriented work. Your support funds our education efforts in this community, teaching non-riders that bicycle riding is viable transportation. This year, we debuted How to Ride on a Dime, to teach non-riding residents and students that bicycle riding for transportation can get us to work and errands reliably, and as professionally as our peers who are stuck in traffic.
We build connection and community. You help us train mentors. The Roll Models continues to be one of our strongest elements of the W&B program. They exist because of women like you. Experienced riders around the area teach new riders to get around safely and confidently. Already this year, over a dozen new Proteges are being matched with Roll Models.
We have fun! You ride with each other because we introduce new friends. We had such an interest in the Strong Women Ride that we had to create a March encore ride. Future rides will take us out into Maryland, around the trail system, and into the suburbs of Virginia. It's a blast to ride together.
Women & Bicycles is so proud to have you as our supporter. We hope you'll share our excitement and snag a jersey so you can show your W&B pride. Happy riding, Betsy Tesi, Coordinator of Women & Bicycles