Helpful Tips: Biking To The 2017 People's Climate March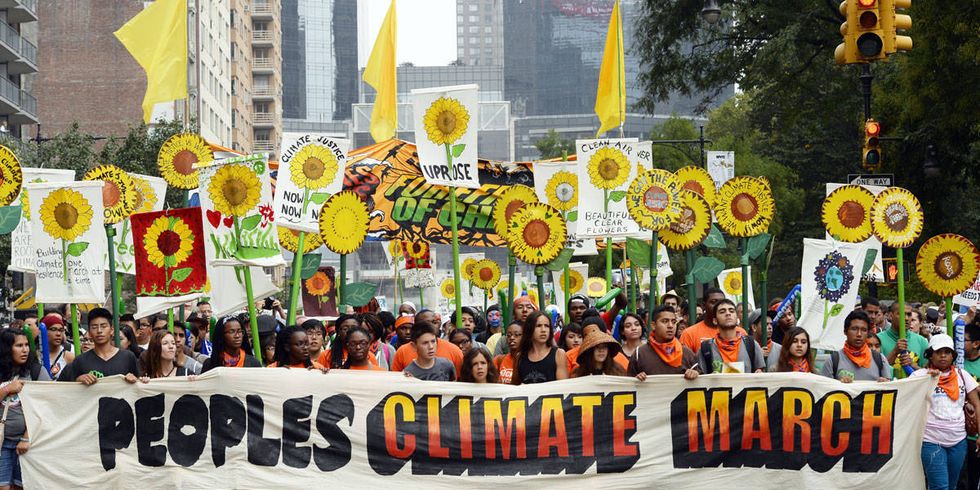 This Saturday is 
People's Climate March
! Here's a roundup on how to show up
by
bike, and show up
for
bikes! We can't address climate change without fundamentally redesigning the way we get around. We drive a lot in our region, and the tolls add up. In the District, cars and trucks contribute more than 20 percent of our total carbon emissions. Show up this Saturday to make a loud and visible statement that biking is an easy, affordable, low-hanging fruit for cities across the globe. Our goal is to rally you and 100 WABA members to represent biking and the countless intersecting issues in the conversation on climate change.
---
Ride With Us:
Ride with us: We're leading a fun morning bike ride through DC (along two of our region's favorite trails). Click here for information on times, locations, routes and to RSVP.
Our suggested routes: Click here to see our recommended routes using the most bike-friendly corridors in our region.
Mapping your own route: Find a bike-friendly route by asking a friend, or using a mapping tool like google maps. Select the bicycle icon in the navigation panel and you'll be routed on bike lanes and trails.
Biking and Trains: All-aboard! The Marc train is running additional trains on Saturday. Go in advance to secure a spot on one of their dedicated bike trains. Click here to see their weekend schedule.
Biking and Metro: Metro allows bikes all day Saturdays and Sundays, on all train cars. Bikes are limited to four per rail car. You have to use the elevators, not stairs or escalators, and you must board the train cars at the front or rear doors, not the center doors of each.
Road closures: The only roads closed will be the streets used for line-up and the march route. Click here to see maps.
---
Rally With Us:
---
Bike Parking:
Bike valet: Two Wheel Valet will operate a free bike valet for 1,000 bikes at Columbus Circle, directly in front of Union Station.
Bike locks: Remember to use a sturdy bike u-lock, and lock to your frame and a securely mounted rack – never trees!
Bike racks: Our pals at BikeArlington have a nifty crowdsourced map of bike rack locations across the region, including around the Mall: rackspotter.com
---
Bikeshare:
If you are staying in DC and would like to rent a bike to get to the march, check out Capital Bikeshare, which has bikes available for rent all around the city and many convenient pick-up and drop-off locations near the march. Use the
free Spotcycle app
to ensure you have an open dock to dock your bike. The app shows real-time how many bikes and docks are available at stations throughout the system. You can expect the stations closest to the beginning and end of the march will be the busiest, and least reliable. 
Click here
to see the full Capital Bikeshare station map.
---
General Advice:
Please visit the People's Climate March website
to learn about the code of conduct, what you can and cannot bring, accessibility information, and housing information. Give yourself plenty of extra time, caution, and patience. Traffic will be busy, and frustrated drivers are more likely to make dangerous decisions. Take it easy and pay attention. Where you are allowed to take or ride your bike may change unexpectedly. Have a bike map handy in case you need to take an unexpected detour.
Last updated: Wednesday, April 26th 2017. Have recommendations? Send a note to nelle@test.waba.org.