Speak up for a bridge across the Patuxent River!
The Washington, Baltimore and Annapolis Trail (WB&A) is a 12-mile rail trail in Prince George's and Anne Arundel County. It's
a wonderful trail- except for one critical gap.
The trail has no connection over the Patuxent River. No bridge means the two segments of the trail are totally disconnected. It's a critical gap that stands in the way of what could be an incredible trail experience. But,
with your help
, that could change! Anne Arundel County has proposed a bicycle and pedestrian bridge across the river. Please
sign the petition
to show your support!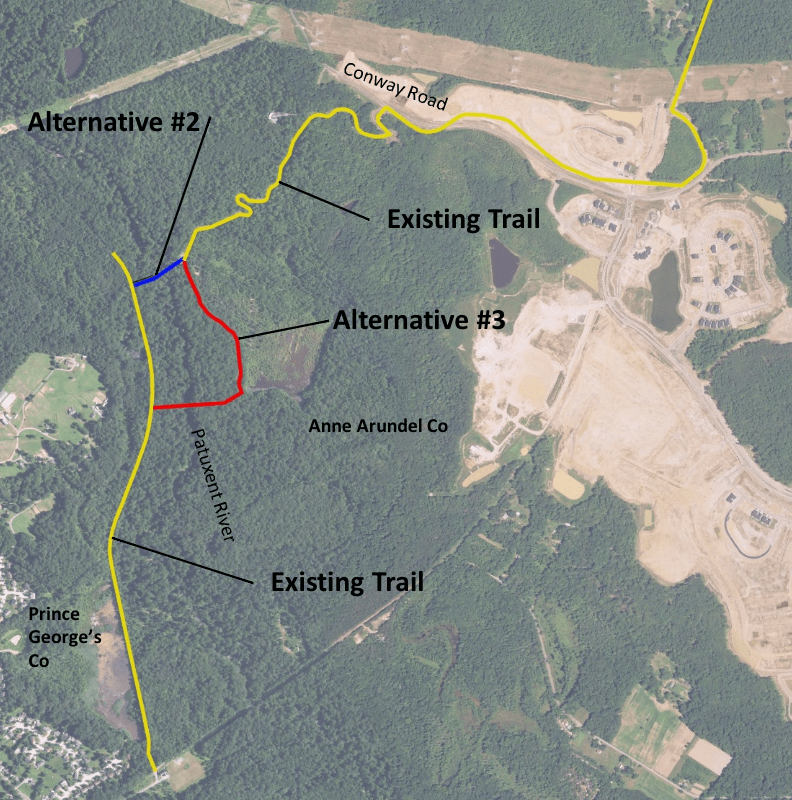 Why is the connection important?
With the bridge, the trail could connect communities on either side of the river to jobs, retail, parks, amenities, and much more.
Why is this significant, regionally?
The WB&A Trail is not a stand-alone project. It's an important piece of a handful of regional and national trails, including the East Coast Greenway, the American Discovery Trail, and the September 11th National Memorial Trail. It's also a key spoke of a network being defined by the
Capital Trails Coalition
, a collaborative effort to connect the regional trail network in the Washington, DC region.
Where are we in the process?
Anne Arundel County is considering three alternatives (a no-build alternative and two build alternatives) and accepting public comments. From that point, the county will move into the initial design of the bridge, which will allow the counties to pursue funding to complete the design work and construction.
What are the two build alternatives?
There is a northern and a southern option. Alternative #2 is the northern option. It is the shortest distance and the most direct route. During the initial assessment, the County noted this alternative will have the least negative environmental impact, although the approach to the bridge will be a bit steeper than Alternative #3. Alternative #3 uses a previously cleared segment on the Anne Arundel County side of the river, and would include building a longer section of trail to approach the bridge. The bridge would cross into Prince George's County a bit further south than Alternative #2. The County anticipates a larger environmental impact, and would require that easements from an adjacent homeowners' association be secured. Both of these factors could slow the process down.
How else can I take action?
WABA will
submit the petition signatures
to Anne Arundel County before the deadline, but if you'd like to dive deeper with your comments, you're welcome to send your thoughts directly to the county, using
this form.
When is the deadline for submitting comments?
The deadline is April 17.
Did you know?
The WB&A Trail is one of WABA's advocacy priorities. You can learn more about our continuing work on the development of the trail
here
.