Attend A Meeting for Better Bicycling in DC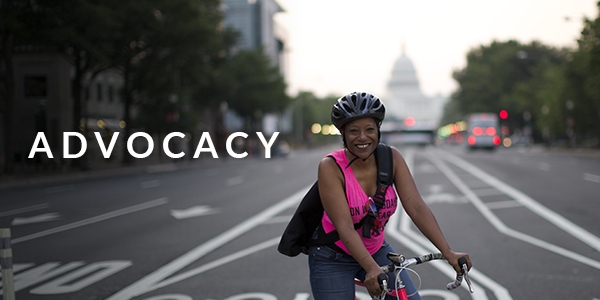 This month, District and Federal agencies want feedback on a number of projects that could benefit or negatively impact bicycling in the city. Consider attending a meeting and speaking up for better bicycling.
C&O Canal Workshop
Wednesday, June 14 | 6:00 – 8:00 pm Canal Overlook Room at Georgetown Park | 3276 M Street NW The National Park Service (NPS) and Georgetown Heritage are kicking off a project to restore and revitalize a mile-long section of C&O Canal in Georgetown. They aim to "create active public spaces for people to relax or get active and enjoy history and nature, make it easier and safer for people to get to and enjoy the popular towpath, address maintenance needs, and look at ways to beautify and enliven the space through Georgetown's Historic District." The June 14 workshop will focus on the scope of the project and developing exciting concept designs. RSVPs are encouraged, but not required:
Georgetowncanal.eventbrite.com
Southern Ave. Reconstruction Project
Thursday, June 15 | 6:30 pm – 8:00 pm United Medical Center Hospital | 1310 Southern Avenue SE The District Department of Transportation (DDOT) is planning changes to Southern Ave to improve vehicular, bicycle and pedestrian safety. The project will be split into two phases between South Capitol St and the United Medical Center. Improvements include replacing the Winkle Doodle Branch bridge, wider sidewalks, and a climbing bike lane on Southern Ave. Please attend to make sure this project makes Southern Ave safer for people on bikes.
See the project flyer here.
Downtown West Transportation Study Community Advisory Group
Tuesday, June 20 | 6:30 pm – 8:00 pm George Washington University's Funger Hall (Room 223) | 2201 G St NW DDOT is proposing installing protected bike lanes and major sidewalk upgrades on Pennsylvania Ave NW between Washington Circle and the White House and a contra-flow bus only lane on H St. NW. At the meeting, DDOT will provide an overview of the three alternatives, share the results of the alternatives analysis, and solicit feedback. The Citizens Advisory Group meetings are open to the public and all are welcome.
Learn More
VRE Midday Storage Yard
Tuesday, June 27 | 7:00-9:00 pm Presentation at 7:15 pm Holiday Inn | 1917 Bladensburg Rd NE Virginia Railway Express (VRE) is proposing a midday train storage facility on the north side of New York Ave NE in Ivy City to replace its current storage space leased from Amtrak. VRE is promising to work with members of the community, stakeholders, and property owners to assess potential impacts and determine ways VRE can be a good neighbor. However, as envisioned, this project would preclude long-term plans for a multi-use trail on New York Ave between Eckington and the National Arboretum. Please attend to hold VRE to its promises.
Learn More
New York Avenue Streetscape and Trail Project
Thursday, June 29 | 6:00 – 8:00 pm Presentation at 6:30 pm REI Co-Op | 201 M St. NE The purpose of New York Avenue Streetscape and Trail Project is to develop implementable design solutions to enhance safety and aesthetics along New York Avenue NE. (You can see WABA's analysis of the most recent designs
here
.) At this meeting, DDOT will present draft final design concepts and gather comments from the community.
Learn More
C Street NE Rehabilitation Project
Wednesday, June 28 | 6 – 8 pm Rosedale Community Center | 1701 Gales Street NE This project is designed to improve safety and connectivity for all users on C Street NE from 22nd Street NE to 14th Street NE; and on North Carolina Avenue NE from 16th Street NE to 14th Street NE. At the meeting, the 30% design plans will be discussed to further refine the recommendations provided during the final design phase. This project includes a road diet on C St, new curb-protected bike lanes, and raised crosswalks for a much improved biking and walking experience.
Learn More
Be A Better Bike Advocate
Wednesday, June 28 | 6:30 – 8:30 pm WABA Office | 2599 Ontario Rd NW Are you interested in attending a meeting, but not sure what to do when you get there? Do you wish you could learn about and improve bike projects before they break ground? Do your eyes glaze over when city planners start talking about design alternatives, curb extensions or complete streets? Come to our free training to take the first step in becoming a better bike advocate. Every transportation project is an opportunity to make bicycling safer and more convenient. Come learn how to engage in the process.
Register