DDOT Considering a Road Diet and Bike Lanes on Alabama Ave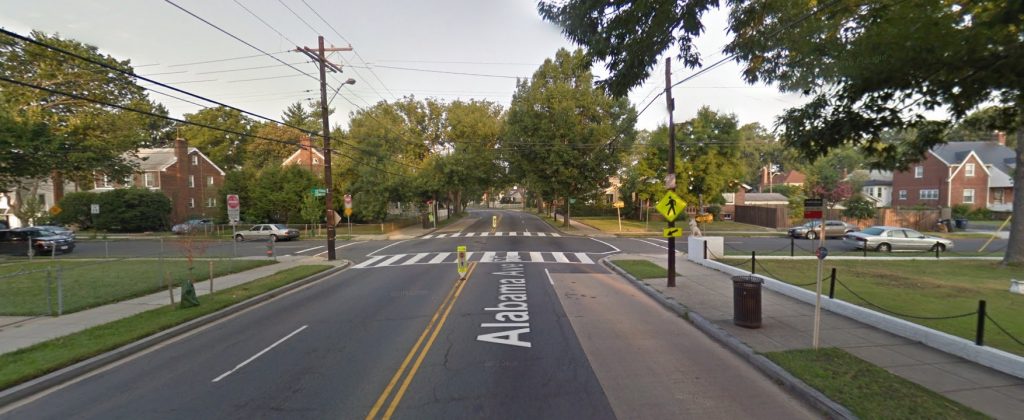 In May, the District Department of Transportation (DDOT) held the second round of meetings for the
Alabama Avenue SE Corridor Safety Study
to get input on some early ideas to make the four mile corridor safer for people walking, biking and driving. Alabama Avenue is a key east-west corridor for Wards 7 and 8, providing connections to neighborhoods, commercial areas and the Metro. But, crash and speed data show that it is a hazardous road for anyone who uses it. DDOT staff presented a suite of possible changes to Alabama Ave designed to better protect vulnerable road users and discourage dangerous driver behavior. New traffic lights, additional crosswalks, and sidewalk extensions will make it easier for pedestrians to cross the road safely. Simplified intersections will create more green space and increase visibility for intersecting roads. In addition to these point improvements, DDOT proposed three alternative road configurations for the corridor. Each alternative would put Alabama Ave on a road diet by reducing the number of travel lanes from 4 to 2, but they differ in how the extra road space is used. Removing unnecessary travel lanes and narrowing travel lanes is a proven method for reducing speeding.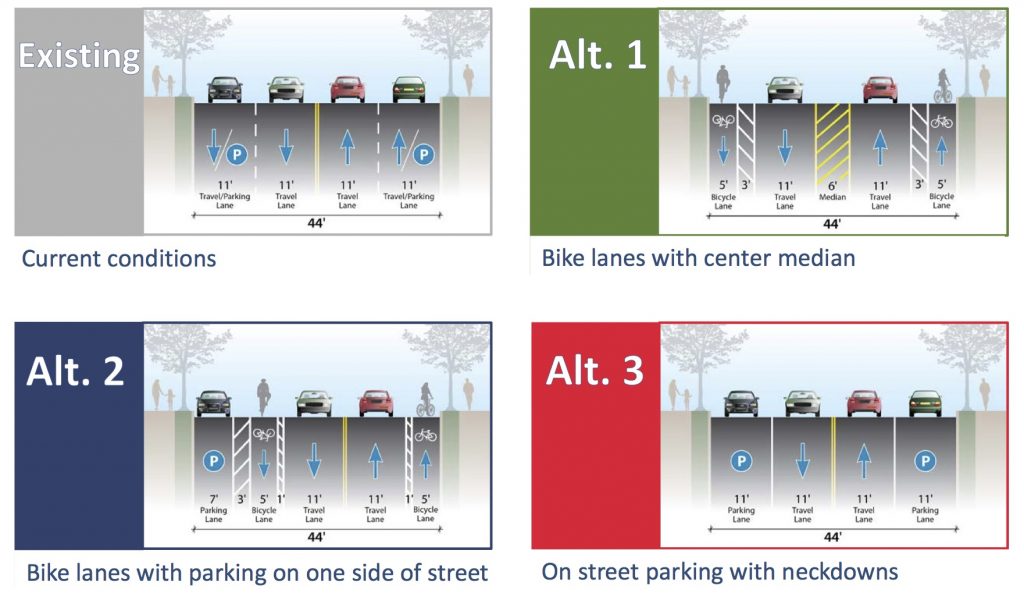 Alternative 1 would install a center median with a travel lane and buffered bike lane on each side. This option would require removing parking on both sides of the street, but does not physically prevent parking in the bike lane. This alternative should be improved by adding flex-posts, curbs or other vertical barriers to the buffer area to protect bicyclists and keep cars out .
Alternative 2 would add bike lanes in each direction, separated from the travel lane by a narrow 1 foot painted buffer. This option would retain parking on one side of the road, but require drivers to cross the bike lane to park. This design should be improved to better protect bicyclists by adding vertical barriers. More importantly, the bike lane should be positioned between the parking lane and the curb, so that the bike lane is protected by a row of parked cars and cars don't have to cross the bike lane to park, similar to the design on 15th Street NW.
Alternative 3 would make the curbside lanes full-time parking and add bulb-outs at intersections. This alternative does not include any dedicated space for people on bikes, encourages riding in the "door zone" and increases likelihood of harassment and driver frustration towards cyclists who ride in the shared lane.
This project is an opportunity to fill a large gap in the bicycle network east of the river to make bicycling for transportation an attractive option. These proposals include some excellent designs that would prevent dangerous speeding and make the Alabama Ave corridor safe and accessible for the most vulnerable road users. But without public support, needed improvements for safe biking may not happen. Please take a moment to
review the proposals
and use the
online form
to comment on what alternatives you like and what improvements still need to be made. If you need inspiration, you can
read WABA's full comments here
.
advocacy@test.waba.org