Meet the new WABA development team!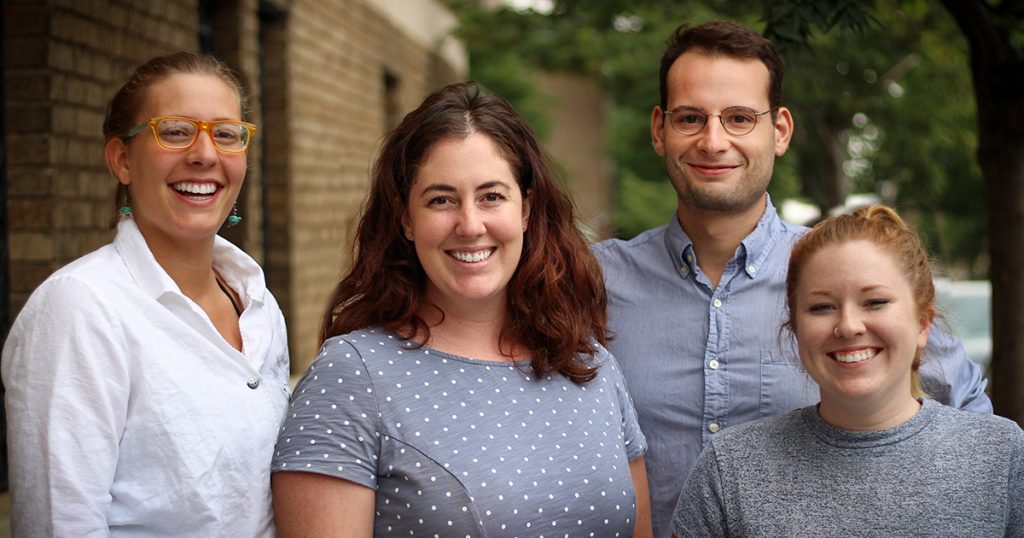 Kristin
Meet Kristin, our new Development Director!
After years of supporting WABA as a member, donor, instructor, volunteer, and 50 States Ride enthusiast, I am thrilled to take the next step and lead WABA's new development team.
I started bicycling in the city when Capital Bikeshare came to town in 2010 (I still have my black key!), and fell in love with DC as I learned how much more lies beyond Metro's footprint. I joined WABA as a member in 2012, and realized immediately I had found something special. The next year, I started following the Women & Bicycles Facebook page (what started as an online group is now growing WABA program) and began to understand the barriers to bicycling in the DC region. Many people felt they lacked the resources and support they needed to feel empowered to get on a bike and ride safely with traffic, a sentiment the online group underlined.
In 2014, I jumped at the chance to become a League Certified Instructor with WABA to help people through and over those barriers. Teaching Learn to Ride classes for adults, oftentimes women who grew up in a community where girls couldn't ride bikes, was transformational. Just as it is for children, learning to ride is thrilling and delightful and changes everything. Those women, many of whom became bike commuters and advocates, inspire me every day.
Throughout those same years, I was building a career in development, fundraising for a community-based organization in Ward 8, and then a national conservation organization. I also serve on the board of Gearin' Up, a nonprofit community bicycle shop and WABA partner.
I'll be leading our new development team to deepen the value of membership, deliver the quality events so many riders enjoy, and grow our base of financial support so we can get more people riding safely and happily on bikes throughout the region.
If you're interested in deepening your relationship with WABA, or have thoughts or questions about where we're headed, I'd love to connect! My email is
kristin.frontiera@test.waba.org
.
Cyrus
Meet Cyrus, our new Events Coordinator!
I've been on a bicycle since I was a toddler, riding in a special seat attached to my Mom's bike rack, and I've been exploring roads and bike trails in the DC region ever since. My relationship with biking deepened when, in 2015, I rode across the country from DC to Seattle with two of my friends to raise money for a national environmental nonprofit. Pedaling across the country gave me a thorough lesson how cyclists are treated in different places and how we develop transportation infrastructure and policy for bikes, pedestrians, cars, and transit all across the US.
The thing I love most about biking is the ability to get from one place to another under my own steam. I love sharing that joy and freedom with new and seasoned cyclists alike. I strongly believe in WABA's mission of promoting bicycling for fun, fitness, and transportation and, having previously worked in the environmental field, I believe that improving people's transportation options will lead to a healthier, more livable region.  
I'm thrilled to be part of WABA and the DC bike community and am looking forward to planning safe, accessible rides to bring the community together! If you want to talk to me about events, bikes, or what we can do to make better bicycling in the region, reach out to me at
cyrus.chimento@test.waba.org
.
Laura
Meet Laura, our new Business Partnerships Coordinator!
An Indianapolis native, I conquered the Crossroads of America via bike. In a city where a driver's license is the epitome of youthful freedom, I found independence in my summers and afternoons at an early age. I used the bicycle as my primary mode of transportation since age 10, and continued to bike commute throughout high school, where I was voted "Most Eco-Friendly" for that simple act. Upon attending Indiana University, I turned my love of being on the bike into sport by participating in the Women's Little 500, racing on an independent women's team.
Through my time working in a local bike shop, friends in the Bloomington bicycling community pulled me out of the racing bubble and introduced me to the world of bicycle advocacy, where I found my most meaningful relationship with cycling: I helped implement city safety initiatives, led beginner rides for women, worked with the University on their development plan for safer campus cycling, and volunteered at the Bloomington Bike Project's Ladies Night as a mechanic.
Hailing from the marketing, growth, and fundraising side of technology startups, I couldn't be more excited to advance WABA's vision and impact through local and national business partnerships. If you own or work for a company that is looking for partnership or sponsorship opportunities, I would love to go for a ride, have a coffee, or set up a call! You can reach me at
laura.miller@test.waba.org
.
Tara
Meet Tara, our new Membership Coordinator!
Hello, everyone!
I am very excited to introduce myself as the Membership Coordinator here at WABA!
I grew up in Philadelphia and moved to the Washington, DC area about four years ago. I love being able to explore the city, especially on a bike. For me, biking is a great way to stay engaged and to travel effectively in the area.
I am really excited to serve the WABA community in this role because without the support and dedication of our members, advocating for safer streets and sidewalks would be next to impossible. I am looking forward to getting to know our membership more deeply in order to best serve the needs of the community and WABA supporters.