WABA Rides in Fairfax County
Bicycling in the region is so challenging and fun in part because the bike infrastructure can change so quickly. Fairfax residents recently had the opportunity to appreciate and experience just how unpredictable biking can be on our first
Community Ride
in the county.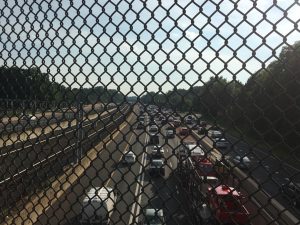 Specifically, WABA was asked by
Connections at MetroWest
to conduct a ride that started and ended at the community center on their property next to the Vienna Metrorail Station. The purpose of the ride was to show the community how easy and fun it is to get around by bicycle. Fourteen folks showed up for the ride with a variety of bikes and experience levels. The age of the participants–as well as the number of months since they last rode a bike–ranged greatly from 9 – 75.
After everyone was checked in and the waivers were signed, a few of WABA's excellent, experienced educators (all of them certified as
League Cycling Instructors
)
reviewed helmet-fit, explained how and why to do pre-ride bike checks, and gave out tips for riding in a group. Finally, it was time to set off and explore the community.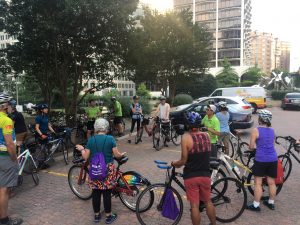 The first stop was Nottoway Park, a beautiful stretch of green space in Vienna with walking trails and a variety of courts and fields for games. As soon as we passed the park, a few participants in the ride stated, "I had no idea this was so close, and so easy to get to." We proceeded to climb Tapawingo road, demonstrating how to ride outside of the "door zone" simply by riding in the middle of the lane. Once the group crested the hill, we wended our way through the neighborhood to get to the
Washington & Old Dominion (W&OD) Trail
.
Before riding on the trail, the group reviewed proper trail etiquette such as riding single-file, staying to the right, slowing down and giving ample space when passing slower moving trail users. We also stressed the need to plan ahead for the most unpredictable users of the trail: pets, children, and wildlife. After our time on the trail, we made our way back to our starting point where delicious cookies and water, generously provided by
Connections at MetroWest
were waiting for us.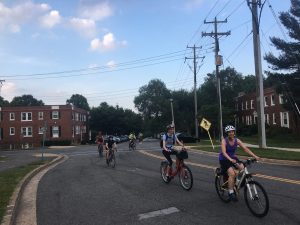 WABA's Community Rides are intentionally not fast or lengthy. On this ride, we covered 5.5 miles in about 90 minutes. These rides are specifically designed to explore communities, give riders the opportunity to become more familiar with riding, and to connect them more closely with their neighborhoods (and neighbors!).
Big thanks to the team at Connections at MetroWest for providing this opportunity, we can't wait to go for another ride!
Would you like to explore your region by bike? Then come and ride with WABA.