Meet the Climate Riders of Team WABA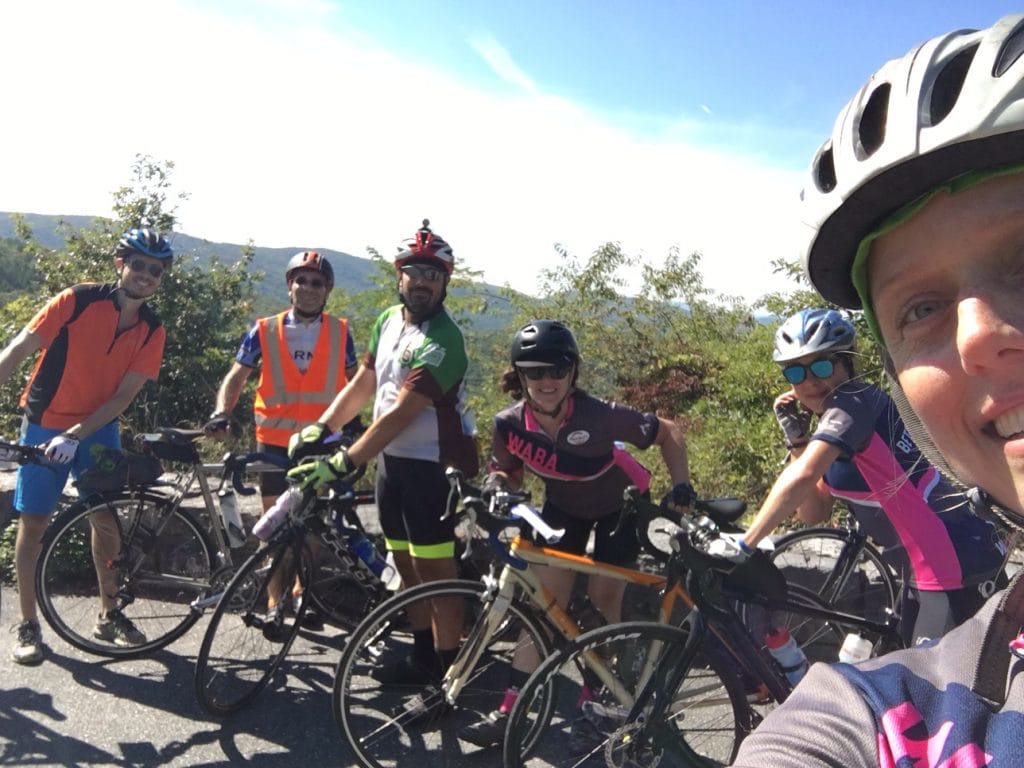 Meet the Climate Riders on Tuesday September 26
The Climate Ride Red White and Blue Ridge Finale, will be in Washington DC, September 26, 2017.
This is one of the most thrilling parts of Climate Ride into Washington DC. Please invite your family and friends to pedal with us, or to meet us at the Upper Senate Park for the riders' arrival. You can invite your friends to gather at the pedestrian circle near the Thompson Boat Center, west of 30th St. NW. They can bring their own bike or pick up a
Capital Bikeshare
bike. Meet-up will be at 2:30. Or, if your folks aren't into cycling, have them meet you at Upper Senate Park to watch you and your crew role in!
 Details on the Climate Ride website.
---
On Saturday, WABA members began the Red, White and Blue Ridge Climate Ride, a grand three-day bike adventure from the Blue Ridge Mountains in beautiful rural Virginia to the US Capitol in Washington, DC. Some of the highlights include the Blue Ridge Parkway, Shenandoah National Park, the Washington & Old Dominion Trail, and the National Mall ending with a hero's welcome and rally at the steps of the US Capitol. The East Coast version of Climate Ride is more than a bike trip – it's an inspiring journey with 200 like-minded people who are united by their passion for sustainability, renewable energy, and bicycles – the ultimate carbon-free form of transportation. Here are some of the cool WABA members doing the Ride:
Cammeron Girvin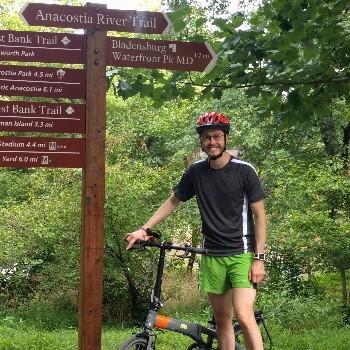 I moved to Arlington from Berkeley, California this April and wanted from the start to get more involved in biking—and the Climate Ride seemed to be a great way to throw myself into it! My morning commute along the Potomac, across the National Mall, and up Capitol Hill is the highlight of my day, and I would love to have more DC-area folks experiencing this healthy and grounding way of getting around. But in order to build up the community, bicyclists need to know that they can rely on safe, dependable infrastructure and strong protections for their rights and well-being on the road. WABA does excellent work in advocating for these goals, and I'm pleased to have the organization as one of my beneficiaries.
Darrell Chodorow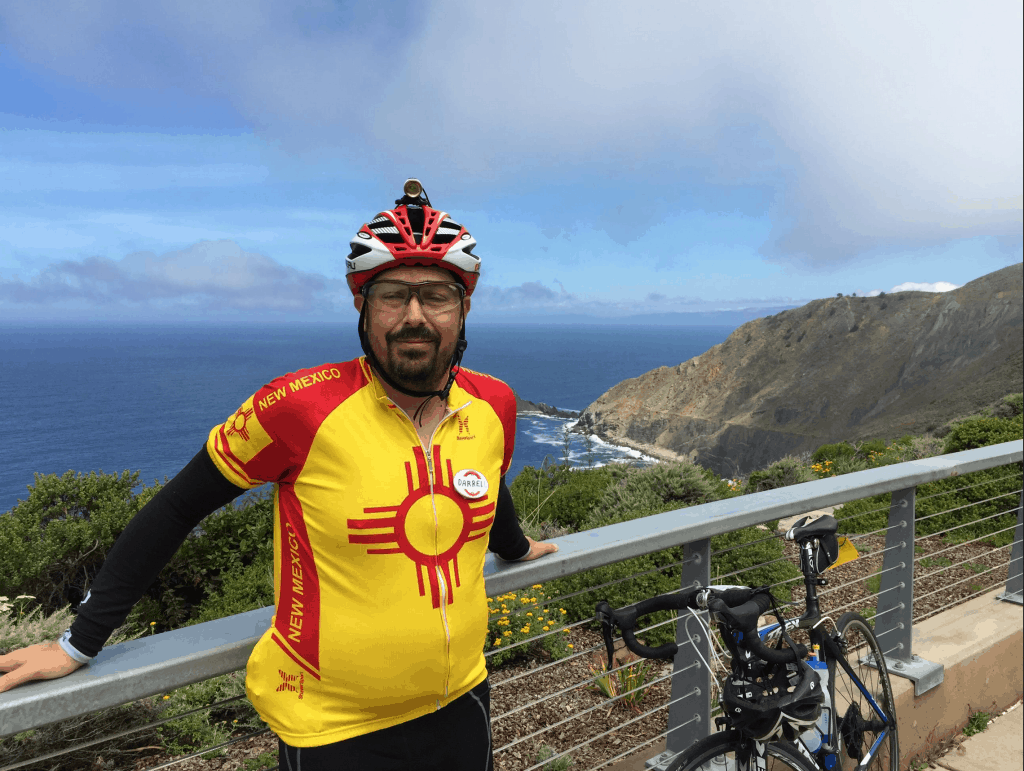 I live in Silver Spring, MD and I got started biking during middle school in response to a lack of other public transit options in Albuquerque. I've been doing it ever since. It's a fun and predictable great way to get around DC, particularly during rush hour. I arrive at work energized rather than cranky.
Why are you doing the climate ride?
I've been concerned about preservation of natural resources for a long time, and recent shifts in US policies about climate change have created significant concerns for me. Climate Ride is a (really fun) way to help to address those concerns.
Why have you chosen to be on team WABA or to support WABA?
I'm riding to raise money for WABA because I've seen great changes in the DC area as a result of their efforts. When I started biking to work, options were extremely limited; now I have my choice of many different routes, all of which are safer. WABA was the key to helping make those changes happen.
Any other fun facts about you?
Every morning before I go, I look at the weather to pick out the necessary gear: long-fingered gloves (below 55º); long sleeves (below 50º); long pants (below 45º); shoe covers (below 35º); ski goggles (below 20º); car to metro parking lot (below 0º).
Grace Clegg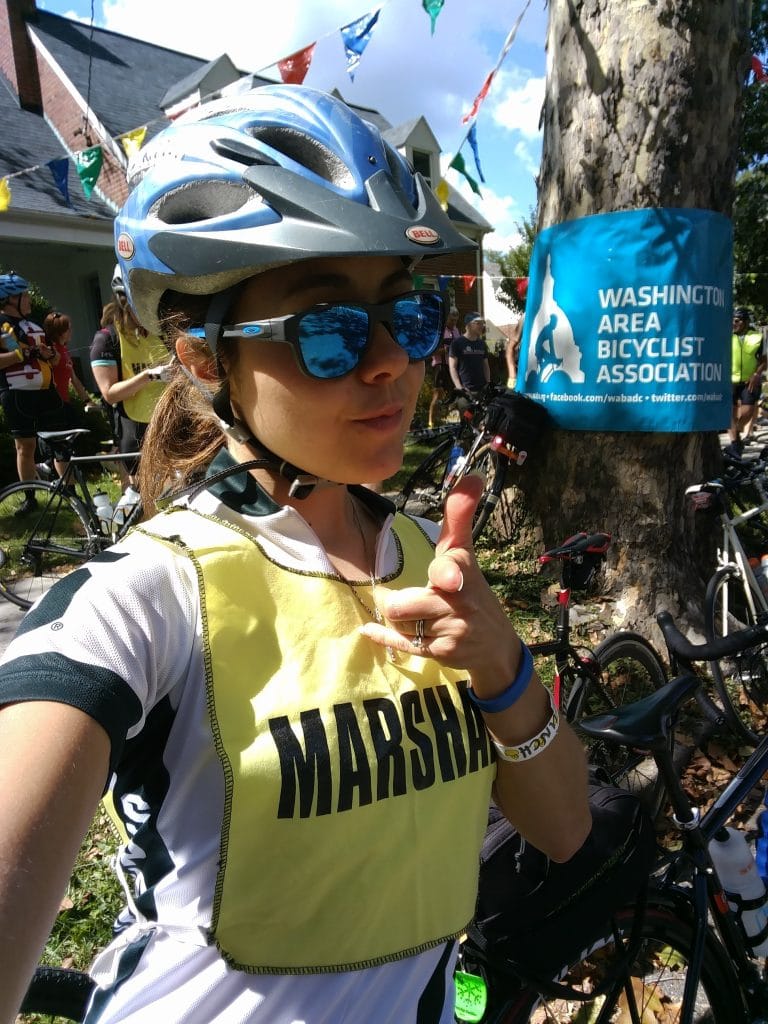 Grace "Kitty" Clegg is a transplanted Michigander who has resided in Arlington for the past 8 years. Upon arrival, she commuted to grad school, and then work by bike and Metro. Overtime she built up to being a daily, year-round bike commuter,  now relying on her Trek Crossrip, "Kali," for nearly all of her transportation. Similarly, she gradually increased her recreational cycling on weekends–adding a few more miles each 
Saturday
–until she eventually was able to attempt WABA's 50 States Ride. It was the idea of that ride that prompted her to join WABA over 5 years ago. A decision which ultimately set her on the path of becoming a distance cyclist (completing the 13 Colonies ride lead to 50 States, then a Century, and so on), and opening the door to DC's vibrant cycling community. She is now riding for Team WABA  for the Climate Ride. Like "50 States" was for her some years ago, this 230+ mile 3-day ride will be her greatest cycling challenge to date.
Mountain climbing and sore legs aside, she feels that WABA is worth every cent of the of support she raised this summer. "WABA is one of the rare organizations where I can see their positive impact with each passing year. I am able to swap my car for my bike precisely because of their efforts to make the roads, laws, and attitudes of the DC area more accommodating to bicycles. I chose to ride for WABA to help more of my friends and neighbors choose to ride wherever their daily lives take them." Regarding climate change she added, "when facing a challenge of global magnitude, it is easy to be overwhelmed by the sheer scope of the problem. However, I believe that local-level actions can have a wider impact, and are where individuals can make a difference. Even if it's as simple as picking up your helmet to go to the store instead of your car keys."
Peter Gray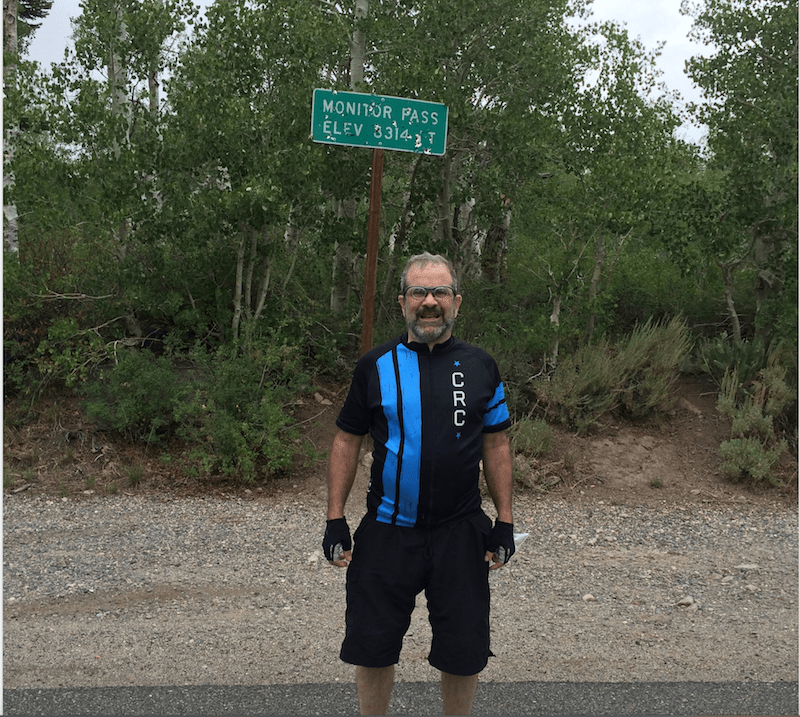 I live in Silver Spring, MD (10 miles north of The White House) and after not being on my bike for many years, I decided to get on my bike – first for short rides, and then building up to being a regular bike commuter. Now, with no car access for most of my now retired days, I find my bike to so useful to do short and long trips, shopping for groceries, going to the movies and visiting friends. I am doing the Climate Ride to help highlight to my family and friends the urgent need to support organizations, like WABA, that are organizing around climate issues, and to have fun on my bike with a couple of hundred other cyclists. I am supporting WABA because we advocate to make bicycling a reasonable mode of transport for all ages and biking levels, from helping those who need to learn how to ride, to remaking the road fabric to carve out separated space for bicycles, not just in the city of Washington, DC, but also in the suburban areas of Maryland and Virginia adjacent to DC.
Katie Bolton
WABA has been a major part of my biking journey. They gave me my first set of bike lights around 2009, and 
two years later
 I was working for them as a bike ambassador, where I gave many other riders their own bike lights, good advice, and encouragement to go by bike. In 2016, they trained me so that in 2017 I could start teaching their fantastic Confident City Cycling and Learn to Ride classes. They've had a hand in the best bike infrastructure the city has to offer, in improving laws to protect bicyclists across the region, and in throwing incredible parties. WABA has always had my back and now I have the great fortune to have theirs. I'm doing the Climate Ride because I want to help them keep doing the great things they're doing to make every bike ride safe, normal, and fun.
Meaghan O'Connor
Where do you live? 
I grew up in the Boston area and have lived in the District for eight years. I'm one of those city kids who never learned how to drive, and I get around by bike, foot, and public transportation.
How did you get started cycling/what's your favorite thing about biking? 
I was interested in bike commuting for a while, and finally become a regular when my kid started school and there was really no better way for me to get from his school to my work. Now that I bike pretty much everywhere, I know the city in a totally different way and love how connected it all feels, much better than going through a dark tunnel and the popping up in a different place. I also love the city smells, from the spring flower bloom to the chicken rotisserie and bakery that I regularly pass. Biking engages all five senses in a way that other modes of transportation just don't.
Why are you doing the climate ride? Why have you chosen to be on team WABA or to support WABA? Any other fun facts about you?
This is definitely a personal challenge – I've never done a ride like this before – and I'm also excited to support WABA. DC is a great biking city, and the infrastructure that WABA advocated so hard for enabled me to become a confident urban cyclist. WABA also helps create an inclusive, supporting cycling community. I can't say enough about Women & Bikes!