The Beach Drive rebuild moves north
(read our last Rock Creek update here.)
We're nearly a year into the reconstruction of Beach Drive and the Rock Creek Park Trail. In total, this will be a 3.7 mile trail rebuild, but it's broken into four segments. Let's take a look at the status of the project, and what's on the horizon for the months ahead.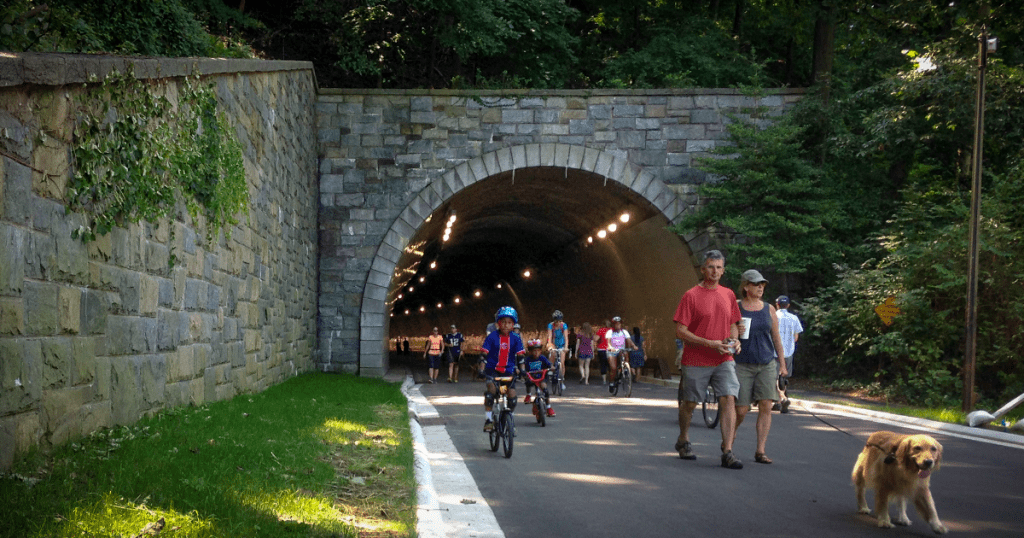 Segment 1 (Shoreham Drive to Tilden Street/Park Road) was completed on August 28, 2017.
This segment includes a repaved and widened trail alongside Beach Drive and the (slight) widening of the sidewalk within the Zoo tunnel. Rock Creek Conservancy and National Park Service threw a block party on the newly completed segment. It was great to experience the fresh pavement (on both the trail and road) without cars! The event was a great reminder of how important (and fun!) Open Streets events are, and we're pleased to see National Park Service gave people a chance to enjoy this new space before letting the cars back onto it. Take note—the trail that goes through the Zoo property (that allows trail users to bypass the tunnel) will be reconstructed by the District Department of Transportation (DDOT) in a subsequent phase. It's still in bad shape right now, but there are plans in motion to reconstruct that segment.
Segments 2 and 3 are now closed to all traffic.
Beach Drive is now closed from Park Road/Tilden Street NW to Joyce Road NW (immediately south of Military Road NW). Originally planned to be addressed as two separate phases, both segments 2 and 3 will close at the same time so that work can begin concurrently on both. The bicycle and pedestrian detour for these segments are Ross Drive and Ridge Road, which will be completely closed to cars until Fall 2018. And just like Segment 1, it's important that people biking and walking stay out of the active construction zone on Beach Drive! These segments of construction will impact the portion of the road that is usually closed to cars on weekends. That means that on the weekend, bicyclists will only be able to ride on Beach Drive from Joyce Road north to the Maryland line, but Ross and Ridge will be alternatives to Beach Drive to connect further south. WABA has been advocating for this project for decades. More than
2500 WABA supporters demanded the rehabilitation get back on track
in 2014, and many have fought for years prior to prioritize this project with NPS and other relevant agencies. DDOT will tackle the trail sections through Rose Park, northwest of Rock Creek (the trail on the Zoo property), a new bridge across Rock Creek near the Zoo, and a trail extension on Piney Branch Parkway. DDOT's anticipated construction start is Summer 2018 and the approximate cost of construction is about 11 million. You can find more information about DDOT's plans here:
https://ddot.dc.gov/page/rock-creek-park-multi-use-trail-rehabilitation-project
If you want more info, visit the project website:
go.nps.gov/beachdrive