Improve the Georgetown Branch Trail Interim Routes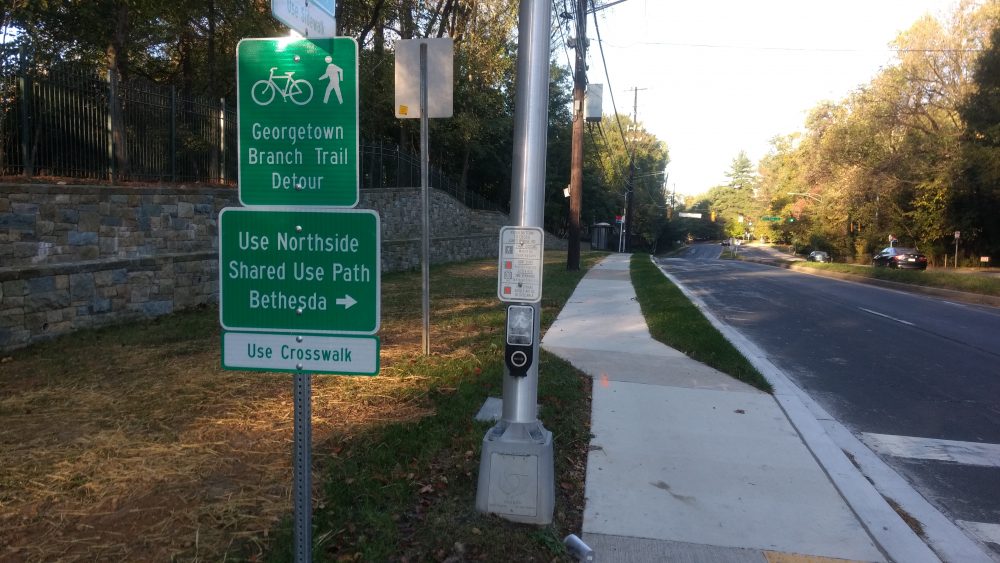 When the Georgetown Branch Trail closed in early September for the start of Purple Line construction, trail users faced the frustrating task of finding alternatives to an irreplaceable piece of the biking, walking, and recreation network between Bethesda and Silver Spring. And though Montgomery County's Department of Transportation (MCDOT) has signed a trail detour, it leaves much to be desired for the individuals and families who depended on the trail for their daily routines. On Wednesday, November 1, Councilmembers Roger Berliner and Hans Riemer, along with the Planning Department, MCDOT and WABA, are hosting a community meeting to discuss bicycling issues, planned improvements, and opportunities in the Bethesda area. This is an important chance to voice constructive concerns about the existing trail detour and help build consensus and urgency for improvements that fill the void left by the trail, while creating new low-stress connections in Bethesda, Chevy Chase, and beyond. We hope you will join us for this important discussion.
Bethesda Community Meeting on Bicycling 
Wednesday, November 1 from 7:30 to 9 p.m Jane E. Lawton Community Center 4301 Willow Lane Chevy Chase, MD 20815
Learn more
 | 
RSVP
WABA supports the Purple Line because it will create a new reliable transit connection for inner suburban Maryland and a world-class multi-use trail from Silver Spring to Bethesda. As construction continues, we have called on Montgomery County to provide safe and useful alternatives to the trail that accommodate all trail users. You can read our recent letter 
here
. For more information on the signed Georgetown Branch Trail detour route,
 click here
. For more on the Bethesda Master Plan's recommended bicycle network, 
click here
 (see p. 59).