Meet Grace Clegg: Supporting WABA One Pun at a Time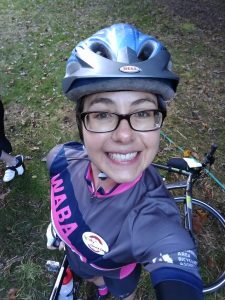 In honor of our Membership Drive this week, we are excited to share the story of a fantastic WABA member, Grace Clegg! Also known as "Kitty", Grace has been making an impression on WABA and the cycling community in the region for the five years that she has been a member.
if you've received an excruciatingly punny valentine from WABA; noticed someone dressed in a panda costume giving course directions at DC Bike Ride; or rode with a ride marshal who sang "State Songs" during The 50 States Ride, you may have encountered Grace "Kitty" Clegg. And she is not sorry for any of it.
" Grace has been bicycling fairly regularly since her days as an undergrad at Michigan State, so why did she join WABA? She recounts the initial conversation:
"Grace: "Wow! The 50 States Ride sounds awesome! But I'm not sure I can bike that far…." WABA Rep: "There is a shorter 13 Colonies option." Grace: "Great! How do I sign up? WABA Rep: "You have to be a WABA member." Grace: "I don't know… what does WABA do?" WABA: "Advocates for better bicycling laws and infrastructure in the DC area" Grace: "So like a lobby for bike lanes?" WABA Rep: "Sorta…" Grace: "Great! How do I sign up?"
Grace joined WABA for the challenge and excitement of community cycling, but also understood that the work that WABA does in order to make bicycling safer and more accessible for everyone is far more than hosting fun events. "In a place where you can cross into 3 state jurisdictions within the first 10 minutes of a ride, WABA fills a critical role as a unifying and convening organization to bring together and advance the interests of cyclists throughout the region. I live in Virginia, work in DC, and ride in Maryland; with friends who have all possible combinations of the three. WABA works to ensure that bicycling is an option for all of the above!" This dedication to our mission and cause is what sparked her interest in representing Team WABA on the 
"Red, White, and Blue Ridge" Climate Ride
! Each year this ride supports and raises awareness for environmental causes and sustainable modes of transportation during a three-day long adventure throughout VA and DC. Riders are required to meet a fundraising commitment of $2,000, and although this scared Grace at first, she was able to meet her goal with the help of supporters like you! "The majority of the donations came from generous WABA members who have already given money to WABA this year, but like me felt it was a group worth supporting again and again. Thanks to this strong (and growing!) bicycling community, I was granted a life-changing experience while giving back to the organization that makes that same community possible." WABA is so happy to have Grace as a member and a passionate advocate for bicycling wherever she goes! Thank you, Grace!
TONIGHT (Tuesday): WABA Open House
Eat pizza with us and discuss how you fit in with WABA! Come stop by the WABA office for an
Open House
on Tuesday from 5:00pm – 7:30pm to meet staff and members. Details
here
.
TOMORROW (Wednesday): Coffee and Socks
Start your day with WABA members and staff at 
Peregrine Espresso
 at the 14th St. location (1718 14th Street NW) for our 
WABA Sock Wednesday Celebration
 from 7:30AM to 9:30AM to 
buy some awesome WABA socks
, and drink coffee with friends. Show your WABA membership card and enjoy a $2 iced or hot drip coffee! Details
here
.
---
WABA Member Highlight
Are you a WABA Member ready to share your story? We'd love to hear how you started bicycling, or an inspirational tale of how it has changed your life.
Please contact Tara Kelbaugh at membership@test.waba.org if you would like to share.