Silver Spring Celebrates its First Protected Bike Lane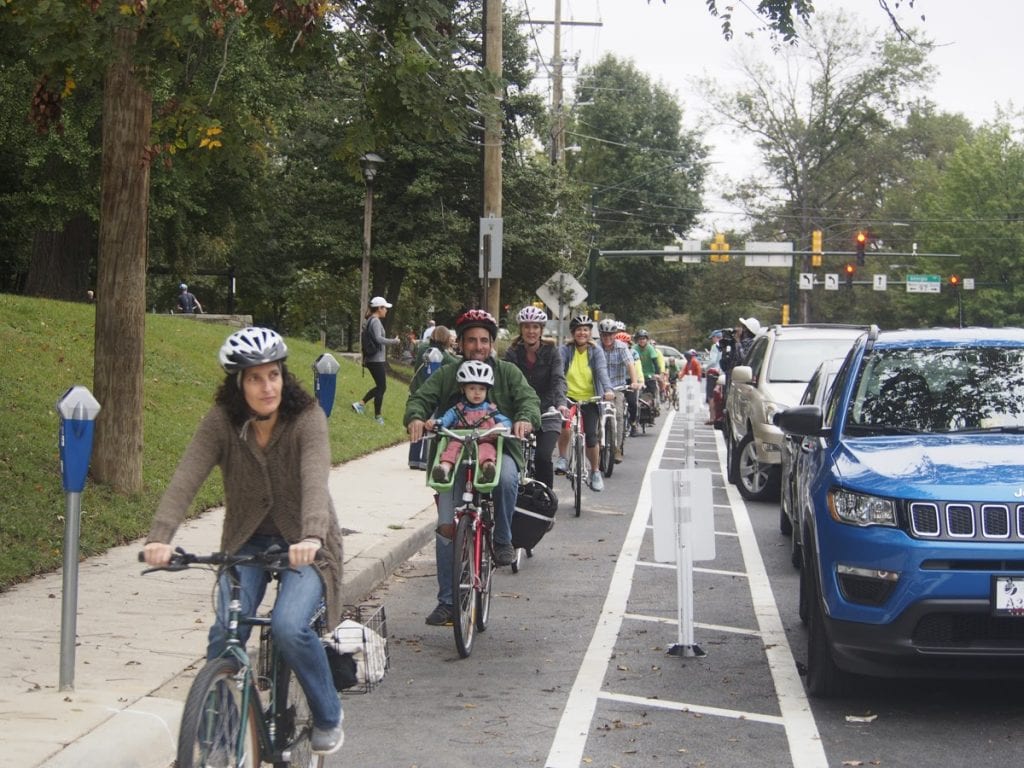 On Saturday, October 14, more than 70 bike advocates and neighbors gathered with county officials in Woodside Urban Park to celebrate the completion of Silver Spring's first protected bike lanes on Spring Street and Cedar Street. After schmoozing with stakeholders and excited conversations, councilmembers Roger Berliner, Tom Hucker and Hans Riemer, Montgomery County Department of Transportation Director Al Roshdieh, Planning Board Chair Casey Anderson and WABA Board Member Peter Gray spoke about the event's significance and enjoyed many well-deserved rounds of applause. After cutting the ribbon on the new lanes, we all embarked on the maiden voyage, joyfully riding the length of the protected bike lanes and returning along Wayne Ave and Second Ave, the future home of Silver Spring's 2nd protected bike lane. Events like this capture advocacy at its finest. Government officials experienced firsthand the passion of their constituents and the delight, and new connections, such projects generate.  About 55 bicyclists safely and comfortably traveled along a main Silver Spring corridor, showcasing the potential for smart road design to promote safe and active transportation for all age groups. Along the way, curious residents inquired about the event, and a few stray cyclists joined the ride!  Thank you to all who made this event possible.  We look forward to working with you as we harness this positive energy and momentum for a more bikeable, walkable and livable Silver Spring!
This post comes from Zachary Weinstein, a leading member of
WABA's Action Committee for Montgomery County
and a resident of Silver Spring. To get involved,
sign our petition
to support our
campaign to Create the Silver Spring Circle
for a more bikeable Silver Spring, come to
our next meeting
(4th Monday of the month, 7pm at the Silver Spring Civic Center) and join the
Bike Silver Spring Facebook group
.