A new trail bridge over the Patuxent!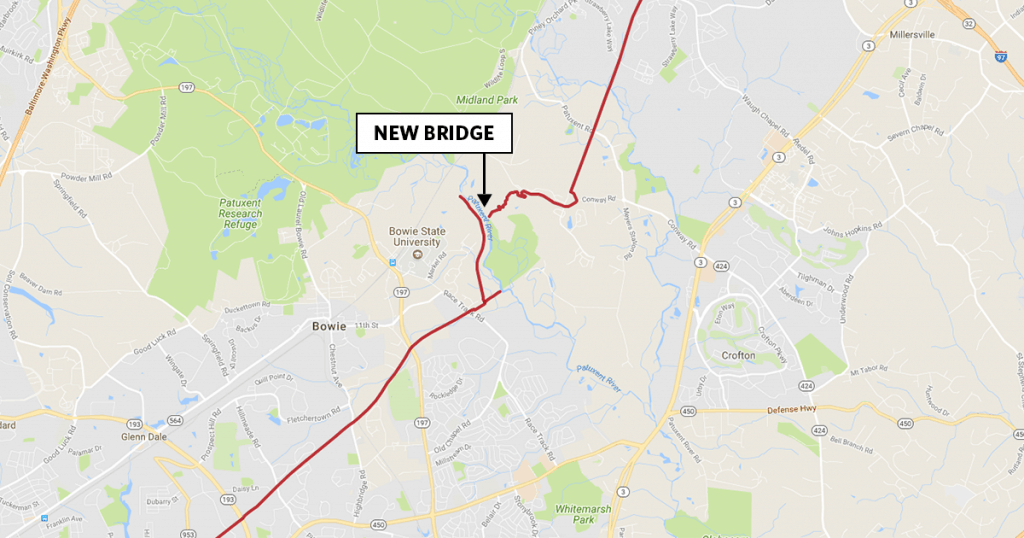 Great news! About a month ago, we learned that the Washington, Baltimore and Annapolis (WB&A) Trail will receive $4.7 million for a bridge over the Patuxent River, connecting Anne Arundel and Prince George's counties! This long-awaited bridge will close a key gap in the trail network. Currently, the WB&A Trail is in two segments— six miles in Anne Arundel County (from Odenton to the river), and six miles in Prince George's County (from the Patuxent River to the trailhead on Annapolis Road). The bridge will connect these segments, connect communities on either side of the river to jobs, retail, parks, amenities, and much more. The WB&A Trail has been a WABA priority for decades, and this funding commitment is an important win. Please join us in thanking Secretary Rahn for investing in trail infrastructure:
The first of several important connections
The WB&A Trail is a converted railroad corridor, and not surprisingly, the railroad line used to connect all the way into DC. While 12 miles were converted into a rail-trail, the other seven miles to the south were used to create a state highway, Maryland 704. Today, Route 704 is an over-built highway and a barrier to safe travel by foot or bike. Luckily, leaders in Prince George's County see the value in a trail along the entire corridor. Planners and engineers are looking into converting a portion of the roadway into a trail— extending the trail to the DC line. A feasibility study  is currently underway, but it will take a lot of work to get our vision to reality. All told, the Maryland Department of Transportation (MDOT) announced more than twenty million dollars in grants to improve bicycle and pedestrian safety and connectivity across the entire state. With Secretary Rahn's leadership in funding the Patuxent River bridge, the future looks bright for WB&A Trail users.
---
Want updates on this project by email?
Yes!