Let's ride bikes together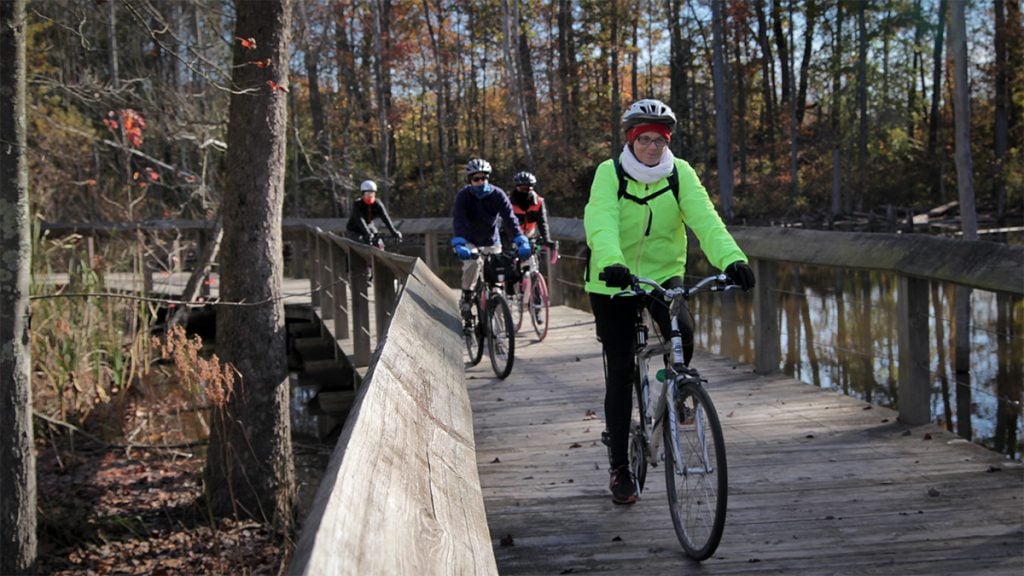 A scarf for your face, some gloves for your hands, and a friend who is up for adventures might be just the ticket to get you out on your bike this winter. Or maybe you already ride year-round, but some of your friends don't, because the air is cold, or the roads are salty, or finding the right gear can be a hassle. We always encourage safety first, but riding year-round doesn't actually take special gear. You can ride your regular bike or bikeshare and wear your regular clothes. In fact, in the winter, we often wear lighter weight jackets because the riding makes us so warm! Here are some ideas from actual rides ridden by Women & Bicycles members in past winters. Why not invite a friend out to ride with you?
Ride the monuments on the National Mall at night
The National Mall may be the flattest area in DC, and has abundant bikeshare options! All the sidewalks around the Mall are considered bike paths by the National Park Service, making it a great safe place to ride with newer riders or kids. Ride slowly, pass on the left, use your bell to politely let others know you are there, and see the monuments in a whole new way.
Play hooky and go explore a new trail
Last year, I took the morning off with several friends to ride the newest section of the Anacostia River Trail. Why not take a day off to check out the Anacostia River Trail, the Marvin Gaye Trail, the Capital Crescent, the or C&O Canal Towpath? Trails are a great option for both brand-new riders and that friend who's ready for more mileage. We won't tell your boss that you rescheduled that meeting so you could ride bikes.
Bike to that event
This one is a favorite on the Women & Bicycles facebook group. Recent friend-bike-dates have included movies and the Murder Is Her Hobby exhibit at the Renwick. Pick a movie, a play, a concert, a museum exhibit, and plan to get there by bike. Meet your friend at their place to lead the way. Show how comfortable it can be to ride in regular clothes. Many museums and theaters have a coat check where you can check your helmets with your coats. Bring locks to lock up, and lights in case your event gets out after dark. You could even bikeshare to the event, and carpool home in a carshare or cab.
Protest
This uniquely DC option is a great way to connect with your fellow civic-minded friends. During last year's Women's March, W&B members rode their personal bikes or used Capital Bikeshare corrals to get to the march.
Get to work on time
When Metro shut down for a day, Women & Bicycles members created the #wmatabikepool hashtag that quickly went viral. Experienced cyclists led "bike trains" to help first-time commuters get downtown safely, easily, and on time. Show your coworker the best bike lanes, and arrive at work feeling like a boss, even if you're the intern.
Get out of the city
For a longer adventure, bring your bike on the Metro (but not at rush hour). Meet in Old Town Alexandria and ride the Mount Vernon trail all the way to the Mount Vernon estate, then back to Old Town for some lunch. Hop on the Silver Line to Reston and ride the W&OD Trail to coffee and pastries in Leesburg. Take the Red line to Wheaton and ride the Anacostia Tributary Trails to Navy Yard for happy hour.
Conquer your fears
Biking means learning to think about terrain in a different way. Hills are often intimidating to many new riders. Invite your friend to ride a hill with you. On last year's Strong Women Ride, both rides ended with a hill climb up the 15th Street Malcolm X Park hill, where Strava tells us the elevation is 8-10%! Every rider conquered the hill, and we celebrated with cupcakes in Columbia Heights! We hope this list inspires you to invite your friends out on a bike adventure! Looking for something to do right away? Join WABA's Ride to the Rink (link) this weekend.