Spring Advocacy Roundup
Hello there! It's been a while since our last Roundup, but that just means we have more to share. Here are a few of the major highlights of our recent advocacy work:
Vision Zero Summit
Too many people die on our roads in predictable, preventable crashes. On March 15th, WABA gathered policymakers, advocates, experts, and implementers to explore systemic ways to turn Vision Zero commitments and action plans in to substantive change. Read the recap
here
.
Long Bridge improvements need to serve bicyclists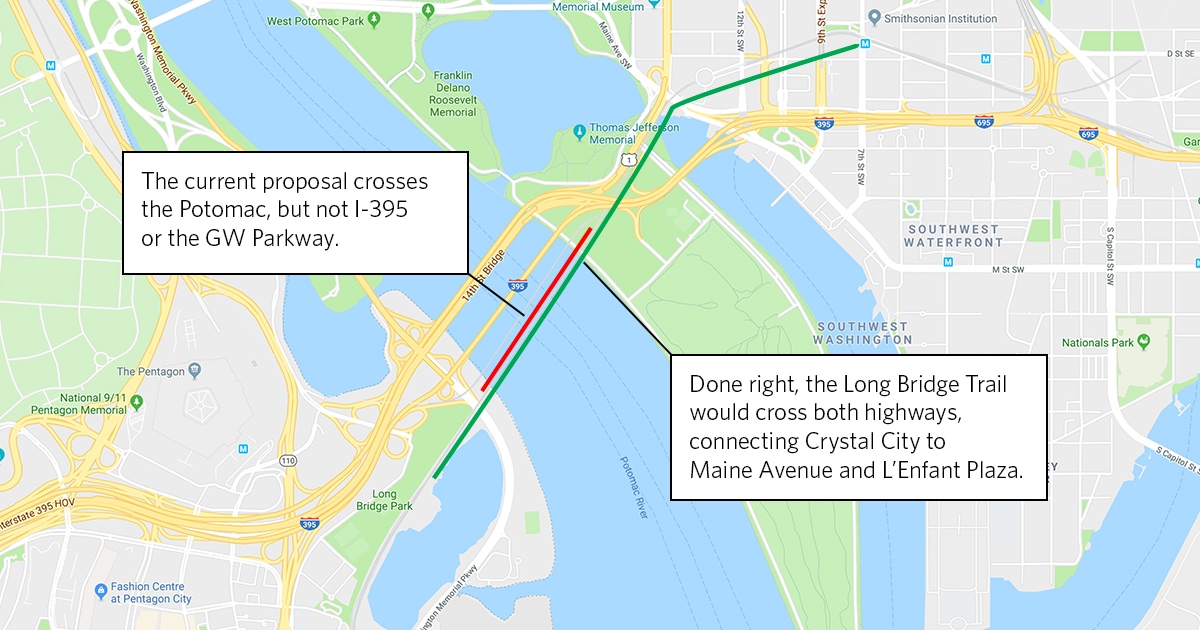 Long Bridge is the rail bridge you can see from the Yellow Line as you cross the Potomac River. It's getting a long-planned, much-needed upgrade from two tracks to four. This project is a once-in-a-century opportunity to attach a biking and walking trail to the new bridge, creating a continuous non-motorized connection between Arlington and DC, but the current trail designs only go halfway—from the Mount Vernon Trail to Hains Point.
Read more
.
Bethesda needs a complete, protected bike network
The abrupt 5+ year closure of the Georgetown Branch Trail made the long-standing challenges of getting to and through Bethesda by bicycle an urgent safety problem. With only a handful of disconnected, unprotected bike lanes, Bethesda's streets are too stressful and hazardous for most people to bike on, and are certainly no substitute for the Georgetown Branch Trail. Hundreds of WABA advocates in Montgomery County called for the County to expedite plans to design and build the proposed Bethesda network. Executive Leggett's proposed budget for FY2019 now includes $3 million over the next three years for that work.
Read more.
Silver Spring celebrates its first protected bike lane
More than 70 bike advocates and neighbors gathered with county officials in Woodside Urban Park to celebrate the completion of Silver Spring's first protected bike lanes on Spring Street and Cedar Street.
Read more.
Ensuring dockless bikeshare is a net positive for biking in the region
Dockless bikeshare has the potential to expand bike sharing and bike ridership in the District and local neighboring jurisdictions. With opportunity comes risk, however, and that is why we have been involved in conversations for the past months with a task force convened by DC Sustainable Transportation (DCST) that included District Department of Transportation (DDOT), several DC Business Improvement Districts, and DC Council staff to discuss priorities for ensuring that this new technology is a positive addition to the menu of transportation options in the DC region.
Read more.
Metropolitan Branch Trail clears another hurdle
Final design can now begin for the critical 1.6 mile segment of the Metropolitan Branch Trail (and traffic calming project) through Ward 4 to connect Fort Totten to Takoma Park, MD! A hardworking team of neighborhood advocates, community leaders, WABA and DDOT staff, and hundreds of trail supporters built a consensus of support for the trail on Blair Rd. We signed petitions, sent emails, attended corridor walks, strategy sessions, and discussions.
Read more.
Incentivize biking and walking to work? DC Council is considering it
Any employer in the District can voluntarily offer commuter benefits to its employees. However, those benefits tend to be car-centric. In March 2017, the DC Council introduced a bill that would require employers that already provide a parking benefit to also
provide alternate transit benefits
. The bill is currently under review by the DC Council, but you can read the bill's history
here
.
A new trail bridge over the Patuxent!
The Washington, Baltimore and Annapolis (WB&A) Trail will receive $4.7 million for a bridge over the Patuxent River, connecting Anne Arundel and Prince George's counties! This long-awaited bridge will close a key gap in the trail network by linking two segments, connecting communities on either side of the river to jobs, retail, parks, amenities, and much more. The WB&A Trail has been a WABA priority for decades, and this funding commitment is an important win.
Read more.
The Capital Trails Coalition convened at fourth annual Trails Symposium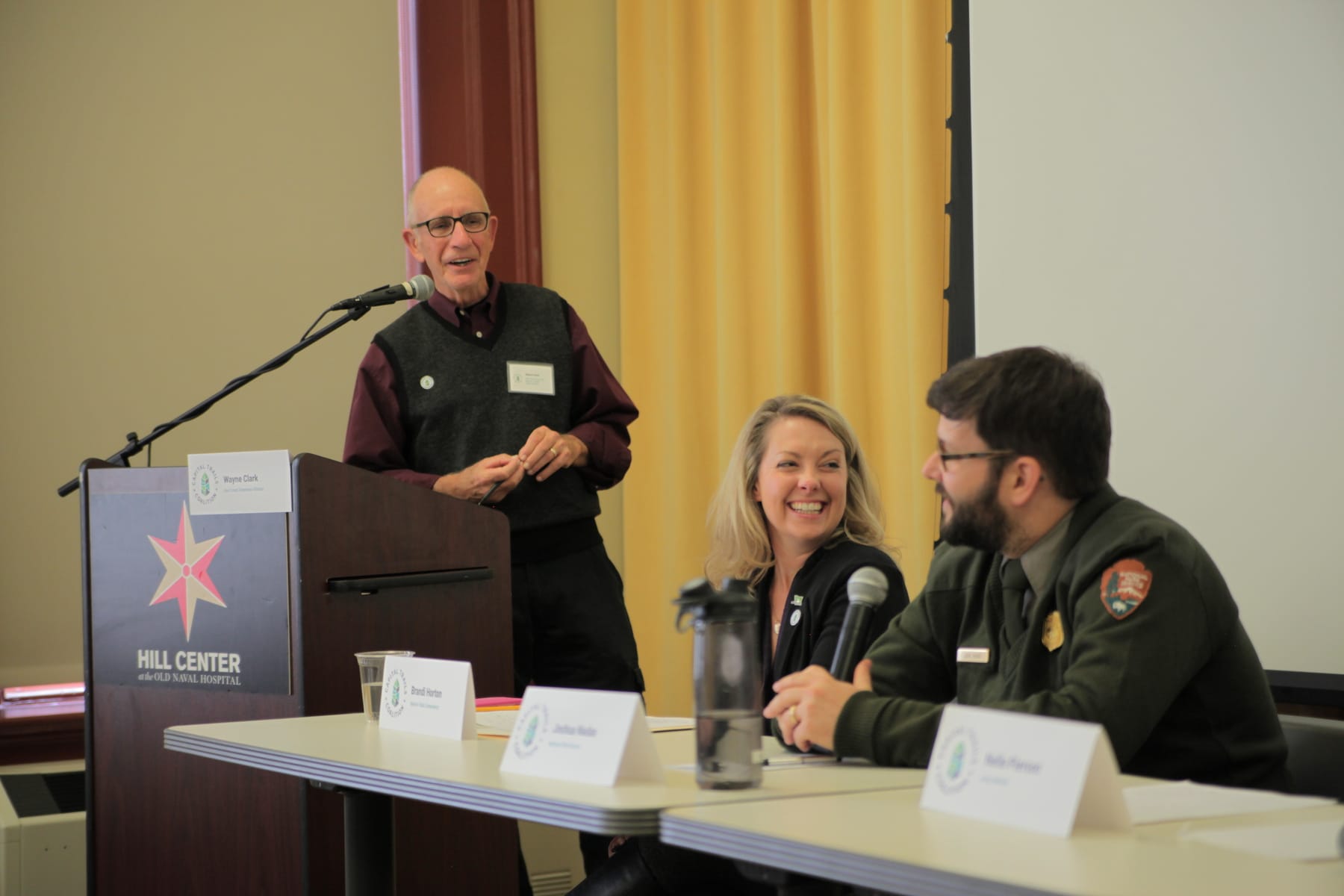 The Capital Trails Coalition leads the movement to bring world-class trails to the region's backyard. At the Symposium, coalition members dove into topics related to trail use and trail development, including economic development, converting potential trail users into current trail users, how bicycle and pedestrian infrastructure fits into mega million dollar infrastructure projects, and how changing technology will help us build out the regional trail network. Read more
here
.
Lifting up victims of traffic violence on World Day of Remembrance
Cities around the world participated in the World Day of Remembrance to honor those who have lost their lives in traffic crashes. We gathered at Grant Circle in the Petworth neighborhood of Washington, DC with four local families to remember loved ones lost to traffic violence.
Read more.
DC awarded gold status for bike-friendliness by the League of American Bicyclists
More than 400 communities across the country are recognized with the bike-friendly community award, but only 30 have earned gold, a level earned by communities that have made gains in various areas, including bike infrastructure, bike laws, enforcement that protects riders, and educational campaigns.
Read more.
Upcoming Trainings and Workshops
Maryland Bicycle and Pedestrian Master Plan – Planning Workshop
March 28, 10:30 AM – 12:15 PM Carroll County Office Building,
225 North Center Street, Westminster, MD 21157
The Maryland Department of Transportation (MDOT) is hosting a planning workshop to inform the Maryland Bicycle and Pedestrian Plan (MBPB). The MBPB outlines a 20-year vision for biking and walking in Maryland Updated every five years, and is updated every five years with the 2040 Transportation Plan.
Next Steps to Extend the WB&A Trail
March 31, 11:00 AM – 12:30 PM Glenarden Library,
8724 Glenarden Parkway, Glenarden, MD, 20706
The Washington Baltimore & Annapolis Trail in central Prince George's County is an incredible multi-use rail-trail and park, stretching nearly seven miles from the Patuxent River to Annapolis Road (MD-450). However, the WB&A Trail is six miles (!) from the nearest trail – join us in our campaign to extend the trail toward D.C. along Martin Luther King Jr. Avenue!
What To Do After a Bike Crash
April 26th, 7:00 PM – 8:30 PM WABA Office,
2599 Ontario Road NW, Washington, DC 20009
Bruce Deming, the Bike Lawyer, will review bike laws in the region and talk about what to do if you witness a crash, or are in a crash yourself.
Ward 4 Vision Zero Community Roundtable
March 29, 6:30 PM – 8 PM Petworth Neighborhood Library,
4200 Kansas Ave NW, Washington, DC 20011
Want to talk about unsafe roads in Ward 4? We want to hear your experiences! We'll talk about some of the projects that are already planned for the area, then go for a walk down Upshur Street, look at some of the most dangerous intersections in Ward 4, and have a conversation about the ways they could be made safer. For more information or to RSVP, contact Jonathan R Stafford at
jonathan.stafford@test.waba.org
New faces!
Have you met
Hannah
and
Jonathan
, our new Community Organizers?
Are you on your local WABA Action Committee?
All across the region great people are working to fix our streets to make biking safe and popular. They meet each month to share ideas and work together for better places to bike. Whether you're looking for a fun group, a new cause, or a wonky policy discussion, our Action Committees have it covered.
See what we're doing in your community and join us for the next meeting.
We're Hiring!
Advocacy Director
Membership and Development Coordinator
Part-time Bike Ambassador
---
WABA in the News
'Ghost Bike' memorial for DC cyclist killed in hit and run
– WUSA, August 5, 2017
District Transportation Head Dormsjo Bids Farewell to DDOT
– WAMU, August 11, 2017
Should Electric Bikes Be Allowed On Trails?
– WAMU, August 16, 2017
Virginia lawmakers oppose plan to sandwich I-66 trail between a sound wall and traffic
– Washington Post, August 17, 2017
Beach Drive rehab progress: Nearly 2 miles of roadway built, 4.6 miles to go
– Washington Post, August 19, 2017
In 1973, a young GSA employee in D.C. had a bright idea: a fleet of loaner bikes
– Washington Post, August 30, 2017
Entire Georgetown Branch Trail Will Close For Years During Purple Line Construction
– DCist, September 1, 2017
Changing trail design could jeopardize entire I-66 widening project
– Washington Post, September 3, 2017
Cycling to work means better health and a longer life. Here's how to get started.
– Washington Post, September 9, 2017
Takoma City Council debates bikes on sidewalks
– The Sentinel, September 15, 2017
Dockless bike-share companies race to Washington
– Washington Post, September 19, 2017
Bicycles and D.C.: How cycling has grown into a legitimate transit option for the nation's capital
– Curbed, September 20, 2017
Business Groups Attack D.C's Parking Cash Out Proposal
– WAMU, September 25, 2017
Hyattsville asks for public input on transportation improvement
– Hyattsville Life, September 28, 2017
Bike-Sharing is Flourishing in Washington. Can the City Handle It?
– New York Times, October 1, 2017
Pilot program in Silver Spring to offer dockless bike sharing
– Source of the Spring, October 4, 2017
8 Ways to Help Someone Start Riding a Bike
– Bicycling.com, October 16, 2017
New York terror attack set to intensify calls for more security to protect pedestrians, cyclists
– Washington Post, November 1, 2017
'Keep on riding.' Bicyclists pedal on after deadly terror attack on America's busiest bike path
– Washington Post, November 2, 2017
Jones Point Pier Restoration Yields Hands-On Learning
– The Connection, November 10, 2017
A Tiny Tax Hike On People Who Bike To Work Helps Explain The Whole GOP Tax Law
– Huffington Post, January 11, 2018
No Dock, No Lock, No Problem? Assessing Dockless Bike Sharing In The District
– The Kojo Nnamdi Show, January 25, 2018
Gear Prudence: Dockless Bikes Leave Me Cold
– Washington City Paper, February 5, 2018
D.C. wins gold in bike-friendliness
– Washington Post, March 6, 2018
Traffic deaths continue to soar despite cities' pledges to get them to 'Zero'
– Washington Post, March 14, 2018
With Traffic Deaths Going Up, Is Vision Zero The Right Roadmap For DC?
– The Kojo Nnamdi Show, March 19, 2018
---
Sad face.
This will be my last Roundup as your Advocacy Director because I'm moving back to the midwest. I am deeply appreciative of the opportunities I have had at WABA to work with a staff and volunteer team of smart, dedicated, hilarious people I like and respect. I'm extremely proud of the Advocacy team we've built over the last two years. WABA has a deep bench of talented, capable advocates in all of you, and I am bursting with excitement for all the great things I see on the horizon for biking in the region. Thanks for reading, and thank you for your advocacy. Tamara Evans Advocacy Director P.S. Your membership dollars directly fund our advocacy work!