Let's make Veirs Mill Road better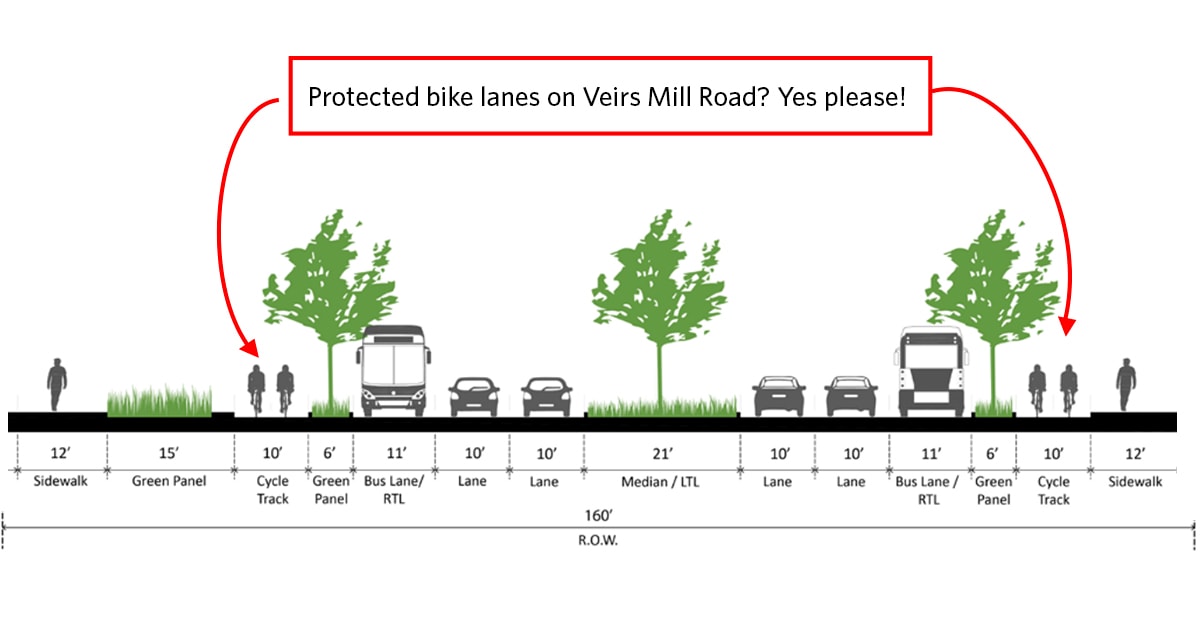 Late last year, Montgomery County Executive Isiah Leggett announced his Vision Zero Action Plan, committing the county's agencies to eliminating traffic fatalities and serious injuries in the county by 2030. On Thursday, the Planning Board will hold a hearing on its first contribution to achieving Vision Zero – the Veirs Mill Master Plan.
Send email comments in support
Build a combination of 2-way protected bike lanes, sidepaths and neighborhood greenways for a continuous, safe, and low-stress bicycle route,
Build continuous sidewalks on both sides of the road,
Implement the proposed Bus Rapid Transit plan for Veirs Mill,
Add trees and landscaping to buffer people from cars,
Add new traffic signals, refuge islands and protected intersections that give people walking and biking priority for crossing the road,
Remove high speed turn lanes,
And reduce the speed limit to 35 mph.
All of these recommendations are essential to transforming Veirs Mill into a safe road and a connected community. But the plan and its Vision Zero priorities need vocal enthusiasm to gain the support of the Planning Board and County Council. Here's what you can do:
Get to know the plan. You can read the executive summary or the whole document here.
Write comments in support of the plan and send them to MCP-Chair@mncppc-mc.org. Your comments can be broad or specific. Highlight the transportation and safety elements that are most important to you.
Comments by email help a lot, but delivering them in person makes a huge difference. Sign up to attend Thursday night's hearing and tell the Planning Board what you think of a safer Veirs Mill Road. Sign up to testify here.