Bike to Grad School Too!
Read the other entries in our Bike to School Day series here and here.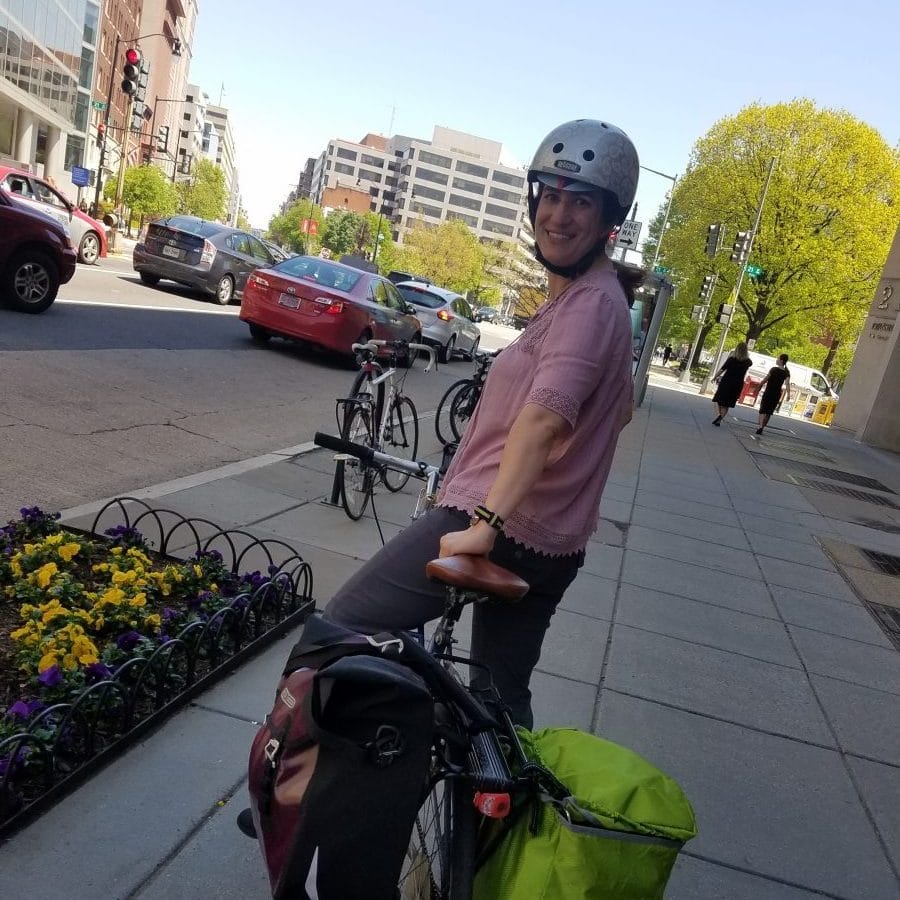 Betsy Bagioni is the Coordinator of Women & Bicycles, and a doctoral student in Psychology at GWU. She balances school, work, and life… literally, since if she overpacks one pannier, her bike falls over.
Biking to school sounds like a great idea… but what happens once you hit grad school and the size of your books equals the size your tuition? A typical day for the average grad student can include work AND school AND fun. Is biking even possible?
Pack your stuff
The first reality of grad school is that books can get very large and very numerous. Most of us also have to haul a laptop. Try using a tablet to put as many of your texts and articles into electronic form as possible, but at some point, you'll have to pack some actual books. A good backpack or pannier is essential. I found I had to upgrade to a "bike specific" backpack (a regular one was just too floppy for comfortable biking) for days when my pannier was just out of space or when I was opting for bike share. Oh, and waterproofing is a must (found that one out the hard way!) if you don't want your computer or your midterm paper for Psychodynamic Psychopathology to get soggy.
What I like:
Dress the part
Most of us in grad school are simultaneously working or doing internships, so we still have to look professional (on a budget!). A second pannier (or a larger backpack) can hold spare clothes. Often just a change of shirt can be enough. I might wear a t-shirt to ride and change into my nicer top once at work. Careful folding or rolling reduces wrinkles. Given that I'm sometimes at as many as four school or work sites in one day, that's a lot of off-and-on the bike. I'm finding that a little padding in the rear is much more helpful than when I had a 3.6 mile out-and-back commute. Let's just say that when when I have my specialty bike undies and hit one of those famous DC potholes, my tush appreciates that extra cush.
What I like:
Fuel your brain (and your muscles)
Grad students (and college students, entry level workers, and non-profits employees) are often on a tight budget. From the first days of kindergarten, we learned that school equals snacks. Depending on which bike I have for the day, I may or may not have a front basket to toss my lunchbox in. Sometimes, I leave before 7 AM and it can be 8 or 9 PM by the time I'm getting home again. Making sure I have sufficient calories is one assignment I need to get at least a solid B on, so I can save more money for tuition.
What I like:
Bicycling every day?
WABA wants biking to be a comfortable, joyful activity. But the reality of grad school is that some days when I'm really tired, and my load is extra heavy, and it's raining, and my tires are a little flat, and it's uphill both ways, I just can't find the joy. When those rare days occur, I mix it up with a multimodal commute (e.g. biking to Metro on my folding bike), or I might opt for an e-assist bike share to help me haul the heaviest texts up the steep hills of Northeast DC, or I might even take a day off. You'll have your own limits. Some days you'll be stressed out, and you just won't want to ride. That's fine! But on other days, the physical activity will be just the ticket to get your mind into the sort of happy space you need to crush your exams. What I like:
The links included are not affiliate links–these are actual products used by the author. If you are using Amazon to shop, please designate WABA as your
Amazon Smile
charity!