How to get your business ready for bike month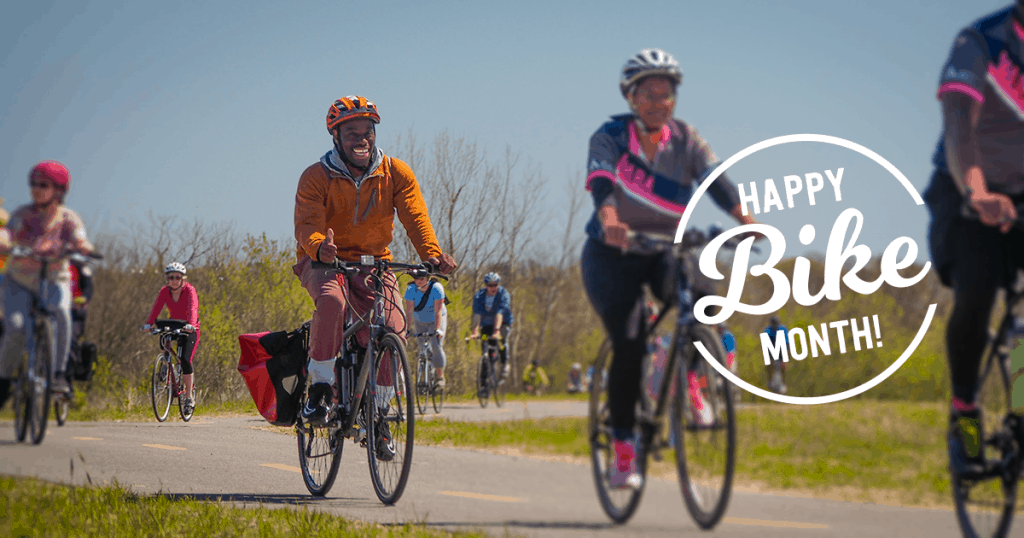 If you're a hardcore commuter, every month is bike month. If you are not superwoman, then Bike Month is May. In the DC region, May brings the promise of warm weather, and major DC biking events, like
Bike to Work Day on Friday, May 18
and
DC Bike Ride on Saturday, May 19
.
What does Bike Month have to do with your business?
Bicycling can help your business decrease your healthcare costs,
attract and retain top talent
, energize employees, and draw more customers. The proof is in the pedaling:
Nationwide, bike commuting is on the rise. From 2004 to 2014, the number of people riding to work grew 64%!
DC is the #2 place to commute by bike in the nation, with 4.7% of commuters choosing to bike to work. (We're coming for you Portland)!
According to a recent study published in the Harvard Health blog, bicycling to work lowers the risk of dying early by 40%, the risk of cancer by 45%, and the risk of heart disease by nearly 50%.
For retailers, People For Bikes reports better bicycling infrastructure results in increased foot traffic and retail value, and the average bicyclist spends more money on their daily route than the average car driver.
WABA is here to help you grow your business by connecting with bicyclists. Here are six ways your business can get ready for Bike Month:
Encourage a customer or employee to learn to ride
Spread the joy of bicycling with those who don't know how to ride and encourage a WABA Learn to Ride class! This class is for adults who have never ridden a bike before and want to start now. Our technique is intuitive and has a very high success rate. Instructors take students through a progressive curriculum, with the goal of riding with two pedals by the end of the session. Registration includes a bike and helmet to borrow for the class.
Share our Learn to Ride classes
and encourage someone in your life to give bicycling a try.
Update your business' bike amenities
According to
People for Bikes
, businesses that promote bicycling are more attractive to talented workers, and are better at retaining that talent. Something as simple as ample bike parking can encourage more people to enjoy your business by bike.
Check out our blog post on how to get bike racks outside your business.
Simple upgrades to your workplace bike room can make a world of difference for commuters. Visit your neighborhood bike shop and add some affordable office amenities like tools to change a flat or make simple bike adjustments. If you're ready to make an investment in employee satisfaction, provide indoor parking, showers, lockers, and toiletries. According to the
Mid-Atlantic Universities Transportation Center,
employees are less likely to bike to work if their employer provides free car parking, and more likely to ride if their employer provides bike parking and showers.
Join 20,000 bicyclists on your commute! On Friday, May 18, make the commitment to bike to work and encourage customers and employees to do the same! Visit as many of the of 100 pit stops in DC, Maryland, and Virginia and receive a free T-shirt, refreshments, and be entered into a raffle for a new bicycle.
You can register for free here.
Create a team of employees or customers for DC Bike Ride
Riding together is great for team building, and can be a fun, inclusive way for coworkers to bond. On Saturday, May 19, you can join the region's only closed-road, car-free, recreational bike ride for all ages (three and up) and all riding abilities. Create a team of employees or customers, and represent your business at the ride!
You can see the course map and register for the event here.
Host an Everyday Biking Seminar at your business
Many businesses we work with know they have employees or customers who are interested in biking more, but they're just not sure where to get started. WABA's Everyday Biking Seminar is an hour-long presentation to introduce your employees to the basics of how to safely and easily fit biking into your daily life. It includes tips on:
Planning a good route
Understanding safe riding principles and rules of the road and trail
Carrying the things you need to carry
Whatever else you'd like to know about biking!
Become a WABA Business Member
The best way to encourage employees or customers to bike to your business is by having safer, more accessible bicycling infrastructure.
Join now
, and show your customers and employees you support better bicycling in our region. There are some great added benefits of being a
business member
, like a free Everyday Biking Seminar, and WABA Business Member Mixers.
BONUS: Join us at our Business Member Mixer!
We've just scratched the surface of the many ways your business can promote bicycling in Bike Month! Join WABA staff and fellow business members for WABA's spring business member Mixer on Wednesday, May 9 at Bar Roubaix. Come enjoy a beer on New Belgium, meet fellow and prospective business members, and learn more about making your business bike friendly!
RSVP and learn more here.