It's time for Tales & Trails!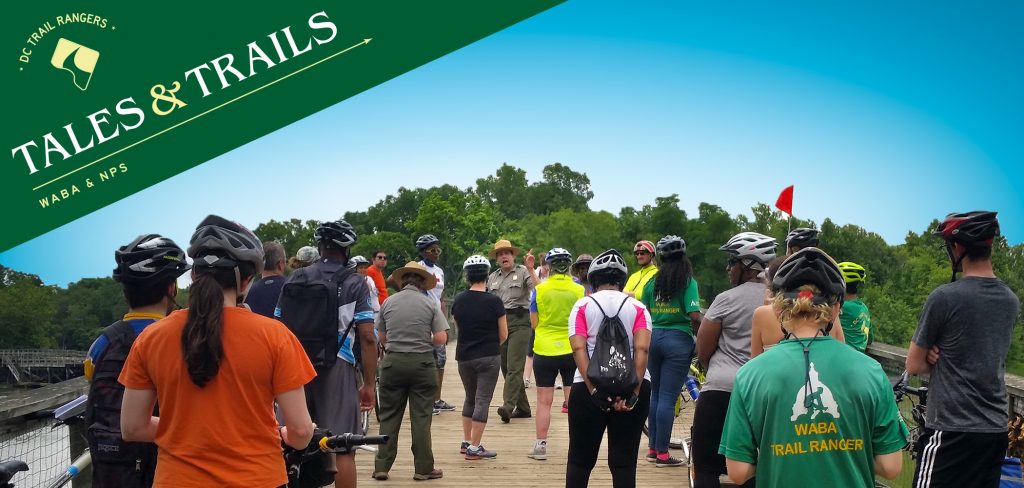 Which bridges were burned in the War of 1812? What is the story of the ship Pearl? Where in Anacostia Park did the Bonus Army camp? What led to the violence at the Anacostia Pool in 1968? Anacostia River Trail and Anacostia Park have seen both the freedom and oppression of people, to just and unjust decisions by those in power. Our Tales & Trails ride series in collaboration with National Park Service goes beyond the built trails to the vibrant history these lands have seen.
Join the WABA Trail Ranger team and National Park Service for a dynamic guided history tour of Anacostia River Trail in Anacostia Park as we celebrate the Year of the Anacostia. These rides were so popular last year, that we're doing them again! Explore the Anacostia River Trail though a different lens on a guided history tour of the trail.
Sunday, July 29th – "The Bonus Army at Anacostia"
Good Hope Rd and Anacostia Drive SE
10:30 am – 1:00 pm
Join us to 86 years to the day since the Bonus Army camped in Anacostia Park. In 1932, over 30,000 World War I veterans camped at Anacostia Park in peaceful protest for a wartime bonus that ultimately resulted in the G.I. Bill. This bike tour leads visitors through the former encampment and details their struggle as they lobbied Congress during the Great Depression. ASL interpretation for this ride is funded by National Park Service – Anacostia Park.
Sunday, August, August 12th –
"Where Botany Meets History"
Good Hope Rd and Anacostia Drive SE
10:30 am – 1:00 pm
As part of the celebrations for the Year of the Anacostia, we're biking to Kenilworth Aquatic Gardens. From the native to invasive, this tour focuses on the flora and fauna you will meet along the way. Upon arriving at Kenilworth Aquatic Gardens, riders will dismount and have a Ranger-led tour among the flowering lotus and lilies. Find out how this part of the Anacostia became the premier site of flowering lotus in the District of Columbia!
Saturday, September 1st – "Happy Birthday Anacostia Park!"
Good Hope Rd and Anacostia Drive SE
10:30 am – 1:00 pm
As part of the celebrations for the Year of the Anacostia and the 100th Birthday of Anacostia Park on August 31st, we're touring the park! On September 1, explore the entire history of the park from the prehistoric era to the present day. Stories of ornithologists, Civil Rights leaders, environmental activists as well as the famous and infamous make this tour one to remember! ASL interpretation for this tour is funded by Washington Area Bicyclist Association.
We will bring extra water and snacks but please bring a
water bottle, helmet and a working bicycle
.
We will be primarily on trails and this will be a no-drop social pace ride primarily focused on history. We will be starting promptly at 10:30 am to make sure we end on time – lots of history to cover!
We'll also reimburse you for your usage fees if you use Capital Bikeshare for the ride.
If you are no longer able to make it, please let me know
at ursula.sandstrom@test.waba.org
. We want to make sure that all of our allotted spots are filled.
Should there be substantial rain, rides will be rescheduled.