We're Hiring: DC Bike Ambassador (Part-Time)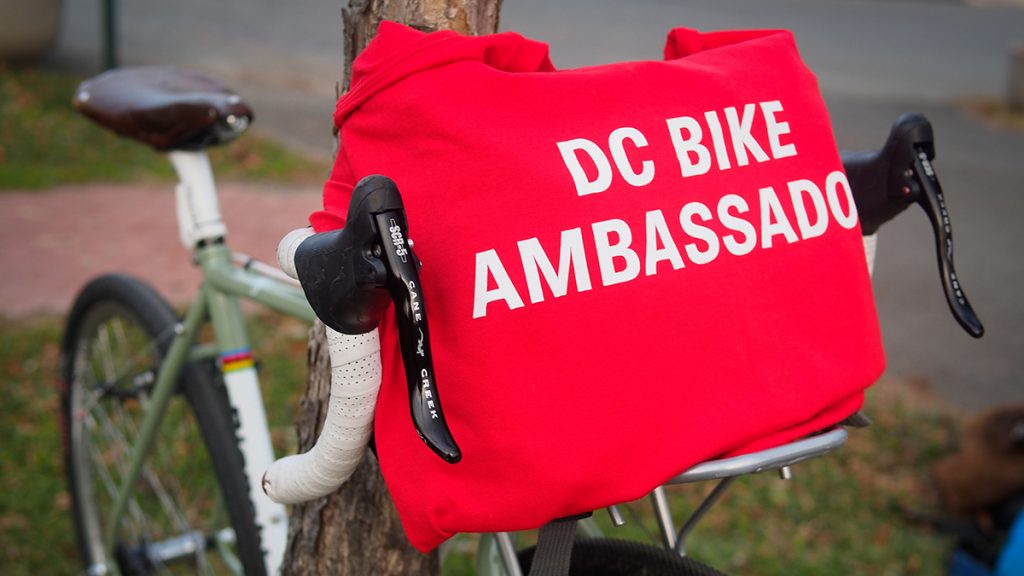 The Washington Area Bicyclist Association is looking for an outgoing, energetic, and motivated person to help run the D.C. Bike Ambassador program. The program's goal is to establish WABA's presence city-wide, to foster a positive impression of bicycling and bicyclists and to educate residents and local organizations about bike laws, roadway safety, and potential benefits of bicycling to individuals, families, workplaces, and communities. The D.C. Bike Ambassador will promote WABA's programs and the Bike Ambassadors' core messaging, as well as coordinate volunteer Bike Ambassador outreach events, and help recruit local residents to become volunteer Ambassadors and attend WABA classes, programs, and events. This position is part-time, 20 hours per week and compensation is $15 per hour.
Responsibilities
Implement Bike Ambassador outreach, education, encouragement, and community organizing events for WABA.
Recruit and energize our team of volunteer D.C. Bike Ambassadors.
Distribute print resources to community members, such as D.C. bike maps, Quick Start Guides, D.C. Pocket Law Guides, Capital Bikeshare information, and WABA education and promotional materials.
Pull the WABA Bike Ambassador billboard bike trailer (up to 20 miles/week).
Complete administrative and reporting requirements.
Report to, communicate and coordinate regularly and effectively with supervisor about goals, planning and logistics, reporting, challenges and issues.
Other WABA duties as assigned.
Preferred Qualifications
The ideal candidate will have:
A strong commitment to WABA's mission.
Willingness and excitement to learn bicycling safety, traffic law, skills, and WABA's bike encouragement philosophy.
Experience planning events and coordinating volunteers.
Excellent presentation and public speaking skills.
A flexible schedule and willingness to work evenings, and weekends.
Experience with Microsoft Office, Google Apps (Gmail, Calendar, Drive/Docs/Sheets, Forms), Facebook and Twitter.
The ability to pull a bicycle trailer weighing 10 lbs. for 1-3 hours.
The ability to lift at least 40 lbs.
Organized, good time management skills and ability to multitask in a relaxed, fun environment.
Conversational fluency in Spanish (strongly preferred).
Familiarity with American Sign Language (ASL) a plus.
League of American Cycling Instructor (LCI) certification a plus.
About the Washington Area Bicyclist Association
Making bicycling better through advocacy and education, the Washington Area Bicyclist Association (WABA) promotes biking as a healthy, low-cost, and environmentally-friendly form of transportation and recreation. With 6,500 members region-wide, WABA serves the Washington, DC Metropolitan Area, including the District of Columbia and communities in Maryland and Virginia.
To Apply
Send a cover letter and resume to jobs@test.waba.org with "Bike Ambassador." Applications will be reviewed on a rolling basis; the position will remain open until filled. Interested candidates are encouraged to apply by or before Friday, September 22nd, 2018. Only candidates selected for an interview will be contacted. No phone calls please. WABA is committed to providing equal employment opportunity for all persons regardless of race, color, religion, national origin, marital status, arrest record or criminal convictions, political affiliation, sexual orientation or gender identity, disability, sex, or age.