Montgomery County has a new Bike Plan and it's a big deal!

Last week, the Montgomery County Council voted unanimously to adopt a new Bicycle Master Plan for the County. This vote is the culmination of more than three years of intensive analysis, public engagement, and advocacy. By adopting this plan, the Council endorsed a dramatic shift in the County's goals and approach to growing bicycling, committing MoCo to a convenient, inclusive, and low-stress bicycling future! While its broad strokes are similar to bicycle plans from neighboring cities and counties, the new Montgomery County Bicycle Master Plan is in a league of its own due to its analytical rigor, its commitment to promoting bicycling for people of all ages and skill levels, and its ambitious countywide vision. The plan aims to make bicycling a convenient, safe and popular option in every community, a strong complement to transit, and a joyful part of everyday life. To achieve its goals, the plan is packed with network maps of new bicycle infrastructure, new bicycle-friendly policies and programs, and so much more. Here are some of the highlights. It calls for:
an impressive, 1,000+ mile, low-stress bicycle network of new protected bike lanes, trails, and quiet neighborhood streets, which will comfortably connect bicyclists of all ages and abilities to the places they need to go;
new low-stress bikeways concentrated around urban areas, transit stops, schools, libraries, and county services so that a bicycle is the first choice for short trips;
a network of high-capacity "Breezeways" between major destinations that allows people on bikes to cross longer distances with fewer delays, where all users – including slower moving bicyclists and pedestrians – can safely and comfortably travel together;
new design guidelines for high quality, safe, and accessible protected bike lanes, trails and intersections;
new programs and staff positions to build out the network, support people who bike and encourage more people to give it a try;
abundant and secure, long-term bicycle parking facilities near Metro, Purple Line, Bus Rapid Transit, and MARC stations;
and rigorous metrics to evaluate the county's progress in carrying out the plan.
Data under the hood
Woven throughout the plan is a deep, research-backed understanding of what keeps people from biking. More than 50% of people are interested in biking for transportation and recreation but don't because they are concerned about their safety. So, the plan puts a focus on creating interconnected, low-stress bicycling networks that appeal to everyone, not just the people biking today.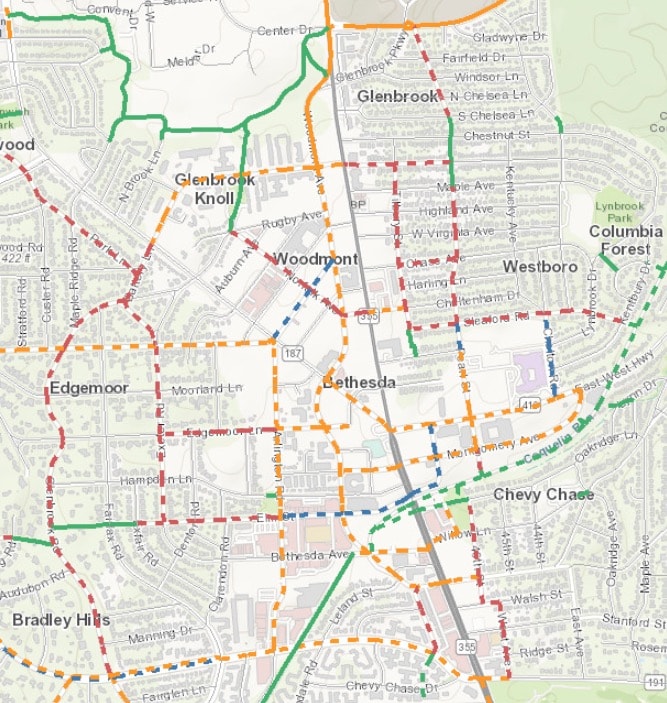 Months of painstaking analysis of
bicycle level of stress
showed that the majority of streets and neighborhoods in Montgomery County are already perfect for bicycling. But major roads, urban areas, and short stress points severely limit the reach of people who have no interest in the stresses of biking in car traffic. Adding protected bike lanes, trails, and other bikeways to those stressful roads unlocks new areas in the map of bikeable destinations. And with impressive analytical tools in hand, we know which changes to road design will create the biggest gains for safe, convenient, and low-stress bicycling connections.
Thanks to all who made this possible
Drafting, debating, and polishing this plan took incredible effort and dedication from county planning staff, residents and elected officials over the past three years. Hundreds of neighborhood advocates showed up to share their ideas and dreams at dozens of public meetings, workshops, rides, and hearings and submitted thousands of comments online. An advisory group of twenty volunteers stayed deeply involved at every stage through monthly meetings. The Planning Board and County Council weighed public input through months of detailed discussions. Through it all, planning staff were persistent in defending the high standards and bold vision residents asked for. Thank you to everyone who put their time, thoughts and effort into bringing the Montgomery County Bicycle Master Plan to a star finish!
What's next?
Adopting the plan is a momentous milestone. Now the work begins to implement its vision. Some of the plan's recommendations can get started immediately: creating an interagency implementation task force, updating policies, and refocusing existing work. But the majority of the big changes called for will require a significant expansion in funding for planning, engineering, and construction, new staff and resources over the next twenty years. Most improvements will be made by the Montgomery County Department of Transportation though routine road resurfacing or more substantial rebuilding projects. Others will be made in partnership with State agencies or private developers. Just as important as the funding, transforming colored lines on a map into new, great places to bike will take persistent involvement from advocates, buy-in from county staff, and leadership from county elected officials. But with every step, more places will be just a convenient bike ride away, and bicycling will slowly become a perfectly normal way to get around and an inseparable part of daily life in Montgomery County.
Learn more
You can learn see the final draft of the Bicycle Master Plan
here
(will be updated soon with the final revisions), review the County Council's final changes
here
, and see the complete network in
this interactive map
.