We're Hiring: Part-Time DC Trail Rangers
The Washington Area Bicyclist Association (WABA) is looking for five passionate and energetic professional trail champions with a wide diversity of skills for our 2019 Trail Ranger Team to serve trails and the people who use them throughout the District of Columbia. Now in our seventh season, the Trail Ranger program is a beloved presence on our local trails and has a strong reputation as a great working environment with high job satisfaction.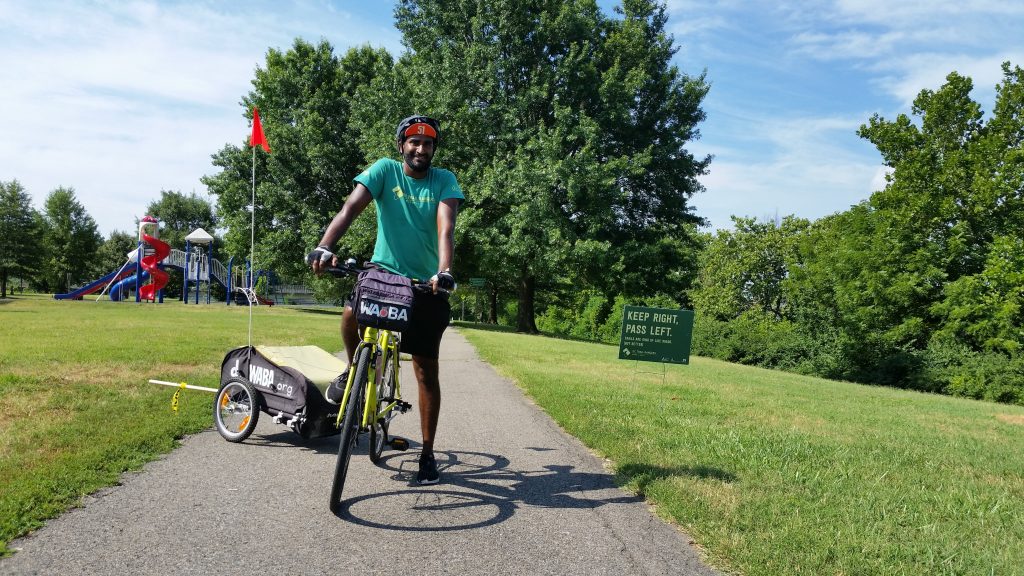 WABA's Trail Ranger program encourages trail use through daily trail presence, improved upkeep, trail user assistance and community engagement. Reporting to our Trail Ranger Coordinator, Trail Rangers roam nearly 24 miles of trails within the District by bicycle. Trails included in the program are the Metropolitan Branch Trail, Anacostia River Trail, Suitland Parkway Trail, Marvin Gaye Trail, and connecting street routes. Trail Rangers act as trail ambassadors, offering a consistent and friendly presence April through September to make the trails more approachable, enjoyable, and dependable for transportation and recreation.
Intangible benefits include: working outside on those perfect spring days, getting to know your city better through talking with neighbors, and profuse appreciation from fellow trail users.
The Trail Ranger season begins April 17th and ends on September 30th, 2019. Pay will be $16 per hour for Trail Rangers, and $17 per hour for Lead Trail Rangers. WABA announces shift schedules in well in advance and there is flexibility for time off, allowing part-time employees to fulfill other obligations.
You can learn more about the Trail Ranger program here.
Roles & Responsibilities
You will:
Spend the majority of your work hours outside, biking on or between trails.
Work in shifts with a partner riding bikes at a relaxed, conversational pace on an 8 hour shift.
Collaborate with team members to determine daily priorities and share program information.
Support and encourage trail use with friendly and helpful trail presence, regular maintenance efforts and consistent outreach events, including:

Morning coffee outreach.
Trail rides.
Activity days with local organizations.

Help lower barriers to bicycling, build community, and build a more robust trail network.

Develop and maintain relationships with regular trail users and community members.
Bring new users to the trail through community outreach and engagement.
Individual conversations with trail neighbors and community groups.
Run cleanups and community events with the program coordinator.
Manage volunteers joining the team at events and on daily shifts.
Perform inspections of trail conditions and maintenance of trail corridors including pruning branches, gathering trash, removing obstructions and clearing debris.
Make regular reports on daily trail conditions, needs, and trends.
Work with the program coordinator and city agencies to respond to recurring or major trail maintenance issues.
Be outside in all weather, with the exemption of thunderstorms and other hazardous conditions.
Each team member will be individually responsible for an operational project, including: team bike maintenance, tools maintenance, and shift supplies.
Learn about the trails, and neighborhoods served by the trails.
Assist at other WABA events as needed.
Requirements
Candidates must have:
A proven track record for being dependable, timely, and communicative.
The willingness to be positive, engaging, and approachable in a public setting.
The willingness and enthusiasm to work collaboratively in a team setting.
The ability to thrive in a day-to-day self-supervised work environment.
The capacity to be available for 16-24 hours per week in 8 hour shifts with weekday and weekend availability. Shifts are:

6:30 am – 2:30 pm and 11:00 am – 7:00 pm on weekdays.
9:00 am – 5:00 pm on weekends.

A commitment to work April 17th to September 30th, 2019.
The ability to ride a bike with a willingness to ride in mixed city traffic and off-street trails pulling a trailer.
A commitment to being a safe and exemplary bicyclist.
A commitment to respect, include, and be kind to all.
The willingness to further their knowledge on trail and neighborhood history, and the societal impacts of race, gender and identity and how they intersect with their job.
Ideal candidates will have:
A proven track record for working collaboratively within a team.
A firm commitment to WABA's mission.
Excellent communication skills in informal settings and across lines of difference.
Confidence interacting with and serving the public.
Creative problem-solving skills and capacity to innovate.
The ability to organize time wisely and juggle multiple priorities.
Lived experience with our program trails and the surrounding neighborhoods.
Trail Rangers operate as a team and benefit from the unique skills and talents of each team member. Ideally, one or more team member will have:
The knowledge of the principles of safe bicycling and traffic laws in DC.
The ability to lift up to 30 lbs.
Working knowledge of basic bicycle maintenance including patching a flat tire and adjusting brakes.
Conversational fluency in Spanish, ASL or Amharic a strong plus.
Thorough attention to detail and experience with data tracking.
Previous experience as a DC Trail Ranger.
WABA welcomes previous Trail Rangers to apply as a Lead Trail Ranger. In addition to job responsibilities above, Lead Trail Rangers will:
Mentor and support Trail Rangers.
Run segments of orientation.
Be responsible for program elements, including: volunteer coordination, community outreach, event outreach.
Lead Trail Rangers must have:
Previous experience as a Trail Ranger.
A thoughtful approach to big picture program strategy.
The ability to teach and mentor.
The ability to lead program elements.

WABA is committed to:
Providing opportunities to learn new skills.
Promoting and building an inclusive, collaborative professional team environment.
Orientation and team management that prioritizes your well-being, including training in preventing common cycling injuries.
Doing our best to have a consistent schedule that respects your time and outside obligations.
Providing all the tools, bikes and materials needed to perform the job.
This position is part-time from April 17th, 2019 through September 30th, 2019 for approximately 20 hours per week.
Please email a cover letter and resume to jobs@test.waba.org with "Trail Ranger" as the subject line. The Trail Ranger team benefits from a wide range of skills and life experiences. Women and minority candidates are strongly encouraged to apply.
Here are some helpful resources as your prepare your job application materials: compilation of resources and resume basics.
Applications will be accepted until March 3rd though candidates are strongly encouraged to apply earlier. Phone interviews will begin March 5th, hiring decisions will be made by March 29th and team orientation will be April 17th – April 19th. Phone calls at (202) 518-0524 x208 only if you do not have easy internet access please.
WABA is committed to providing equal employment opportunity for all persons regardless of race, color, religion, national origin, marital status, arrest record or criminal convictions, political affiliation, sexual orientation or gender identity, disability, sex, or age.