Learn how to pilot a tandem!
Are you looking for a great opportunity to bring the fun and fitness of cycling to more people throughout the DC area, while exploring new neighborhoods and becoming part of a fun and laid-back riding group?
WABA and the Metropolitan Washington Association of Blind Athletes (MWABA) are looking for new captains (front seat) to ride with blind/visually impaired stokers (back seat) of a tandem.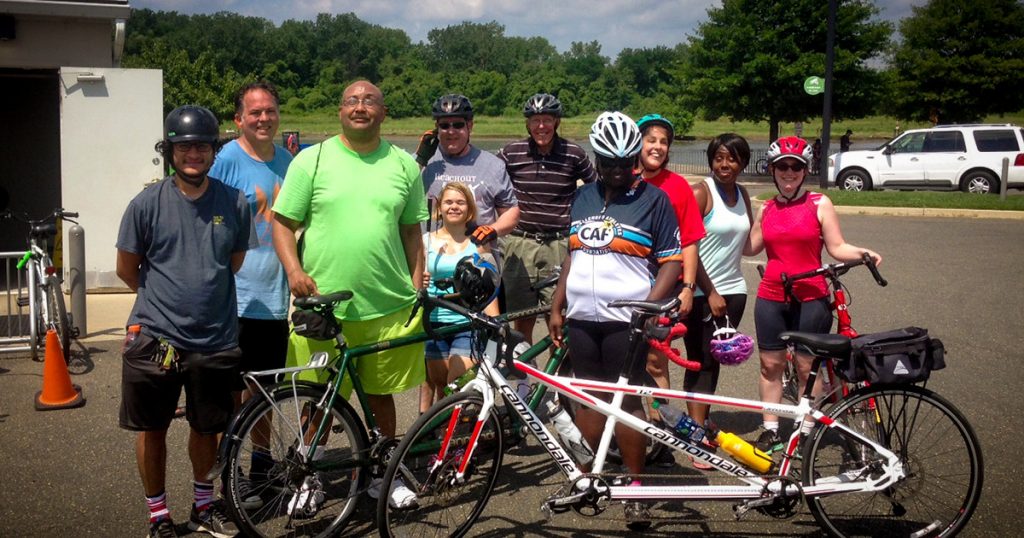 How does it work?  MWABA provides the bikes and training for the new riders (both captains and stokers). MWABA's tandem bicycle rides are 5:45 PM every Thursday from April to October.
But I've never done this before! No worries! Join MWABA and WABA on Thursday, April 4 at 5:15 PM at the Eastern Market Metro for a 30-minute orientation and tandem ride. The training and ride will be about two hours long.
If you'd like to attend the training, please email Karla Gilbride at karla.gilbride@gmail.com to ensure that there are enough bikes for everyone.
What should I bring? Helmets are required. No tandem experience (in either position) is necessary, but patience and willingness to make mistakes and learn are highly encouraged.
Do I need a bike? Most captains do not own a tandem and do not have tandem experience. Rather, they are cycling or fitness enthusiasts who want a new challenge.
What is the time commitment? The training and ride on Thursday, April 4 will be about two hours long. Once you've completed a training and joined the mailing list, you will receive an e-mail on Sunday asking who is interested in riding the following Thursday. You will be matched you with a stoker and receive details about the ride. You can ride as often or as infrequently as your schedule allows!