DC's Budget needs to reflect its values.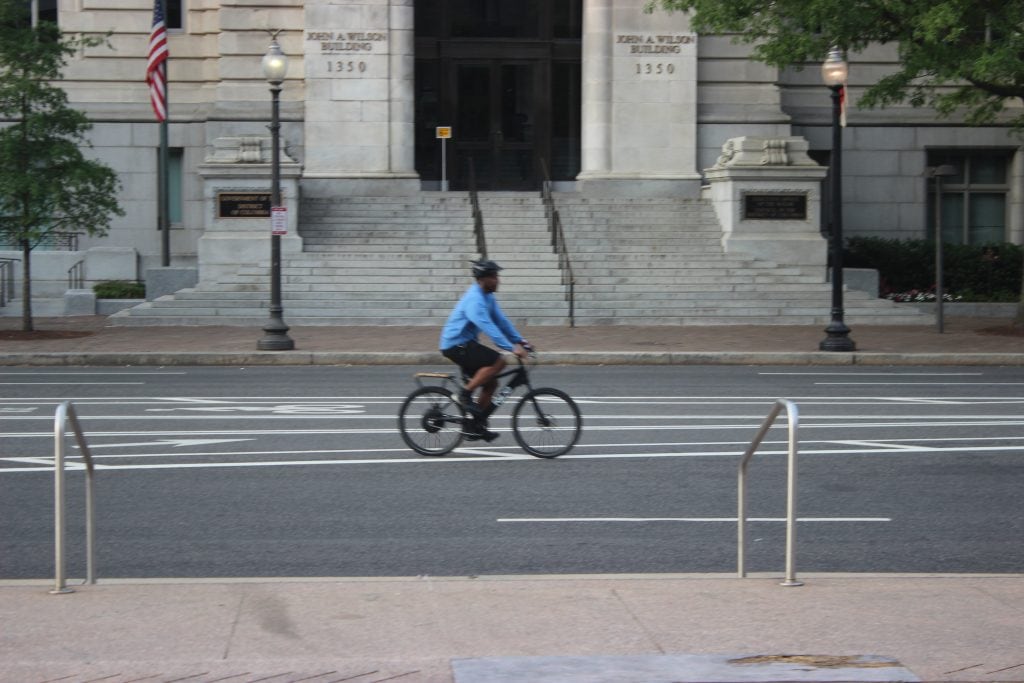 DC Mayor Muriel Bowser's budget came out a few weeks ago, and it is packed with details on what the administration wants to do, including plans to spend billions of dollars on transportation over the next six years. Before we jump in, we have two overarching questions:
Will this budget achieve DC's signature transportation goal of zero traffic fatalities and serious injuries by 2024?
Does it support the timely buildout of the safe, low-stress bicycle network DC needs?
While there are many great things about this budget, the answer to both of the questions above is probably not. Fortunately, there is still time to change that. The DC Council holds its DDOT budget oversight hearing on Thursday, April 11—and to get where they need to get, they need to hear from you. You can take action to tell the Council what you want to see changed in this budget.
Take Action
What's in the Budget
The proposed 2020 Operating Budget lays out a plan for spending on staff and programs for each agency in Fiscal Year 2020 which begins in October. Also released is the Capital Improvements Program, which is a long-term plan for major construction projects and purchases from 2020 to 2025. This budget is a proposal. The DC Council may add, remove, or change it substantially.
The District Department of Transportation's (DDOT) Capital Improvements Program includes hundreds of millions of dollars for transportation projects over the next six years. Here are some of the highlights we are excited about in the DDOT budget:
$63 million for safety and mobility projects including protected bike lanes, trails, bike/pedestrian planning, high crash corridors, and Vision Zero improvements;
$167 million for major street rebuilds including (potentially) great bike projects like C St. NE, Florida Ave NE, Connecticut Ave in Dupont, the New York Ave Trail, Dave Thomas Circle, Pennsylvania Ave west of the White House, and Broad Branch Road;
$10 million for 100 new Capital Bikeshare stations and 1000 bike;
and $110 million for new and replacement sidewalks.
While there are many laudable projects within this budget, we see too many cases where DDOT will spend tens of millions of dollars to deliver streets that are still hostile to biking and walking and dangerous by design. We are concerned that while there is a lot of money being spent to make the District's streets safer, DDOT lacks sufficient safeguards to ensure that these expenditures are directly addressing its Vision Zero goals.

DDOT Needs a Complete Streets Policy
One of the missing safeguards is a stringent Complete Streets Policy, which would ensure that all streets are designed, operated, and maintained to accommodate safe and convenient access and mobility for all users. DDOT adopted such a policy in 2010, but it left far too many exceptions to the rule. The Bicycle and Pedestrian Safety Amendment Act, adopted in 2016, required DDOT to adopt a far more stringent Complete Streets Policy by 2017. So far, the agency has not.

Included in this budget, therefore, are dozens of high-cost projects that will maintain the unsafe status quo and do very little to make DC's streets safer or more approachable for people on foot and bike. Far too many road projects are still fixated on moving as many cars as quickly as possible, designed for the busiest hour of car traffic instead of being designed for the safety, access, and health for DC's people. These projects' core values should be reevaluated through a Vision Zero and Complete Streets lens and designs changed before moving forward (eg. Rhode Island Ave NE, Pennsylvania Ave SE & Potomac Ave Circle, Southern Ave, Ward 8 Streetscapes, Massachusetts Ave, U St NW, Local street repaving).

Adequate Staffing
DDOT's bicycle and pedestrian planning staff work wonders with the resources they have at their disposal. But given the multi-year timeline and immense quantity of work required to steer even small projects through the community input process, adding 10-15 high-quality miles to the bicycle network each year is infeasible without substantially more resources. DC's sustainability, transportation and Vision Zero goals require that this agency is capable of building the bicycle network more quickly.

Additionally, safe accommodations staff are sorely understaffed. They need sufficient people to review permit applications (around 50k plus a year) and time and attention to keep the public safe. This includes enough inspectors to actually inspect sites (creating the expectation that an inspector will be on site). Additionally, this includes enough staff to proactively educate permit applicants concerning the rules and regulations that such applicants must operate under in the District.

You can review the full budget yourself here.

For this budget, we are pushing for the following.
Fully fund DDOT's Vision Zero and bike/ped initiatives and ensure that projects on C St. NE, Florida Ave NE, and Pennsylvania Ave NW move ahead without delay;
Do not fund major road projects unless they make streets safer for everyone. They must meet the criteria for Complete Streets as defined in the Bicycle and Pedestrian Safety Amendment Act of 2016;
Demand that DDOT adopt and follow the Complete Streets policy required by this act and ensure that all projects contribute to building complete streets, including local street repaving;
Add staffing and resources to DDOT's active transportation planning team to support an impactful expansion of DC's low-stress and protected bicycle network by at least 15 miles each year;
Add staffing and resources to DDOT's public space team for a comprehensive approach to safe accommodations around construction sites;
Reconsider the allocation of Local Streets and Sidewalk funding with an eye towards transportation equity to ensure that resources and safety investments go where they are most needed, rather than equaly across all eight wards.
What's Next?
The DDOT Budget Oversight Hearing is Thursday, April 11 at the Wilson Building. If you are able, consider testifying. To sign up to testify, contact Aukima Benjamin (abenjamin@dccouncil.us) or call 202-724-8062.
Check back later to see our complete testimony.