Oak View Elementary Excels Beyond the (Bike) Bell
Standing on the blacktop under a toasty May sun, the adults who had travelled to Oak View Elementary — parents, Montgomery County officials, local advocates — all asked the same question: "Where are the kids?!"
As if on cue, cheers erupted from the open door leading into Oak View's gymnasium. Moments later, 31 third grade students, emerged onto the blacktop, greeted by applause and cheers. After six weeks of Excel Beyond the Bell's Pilot Bike Safety Program, today was the day they would actually go on a two-mile bike ride!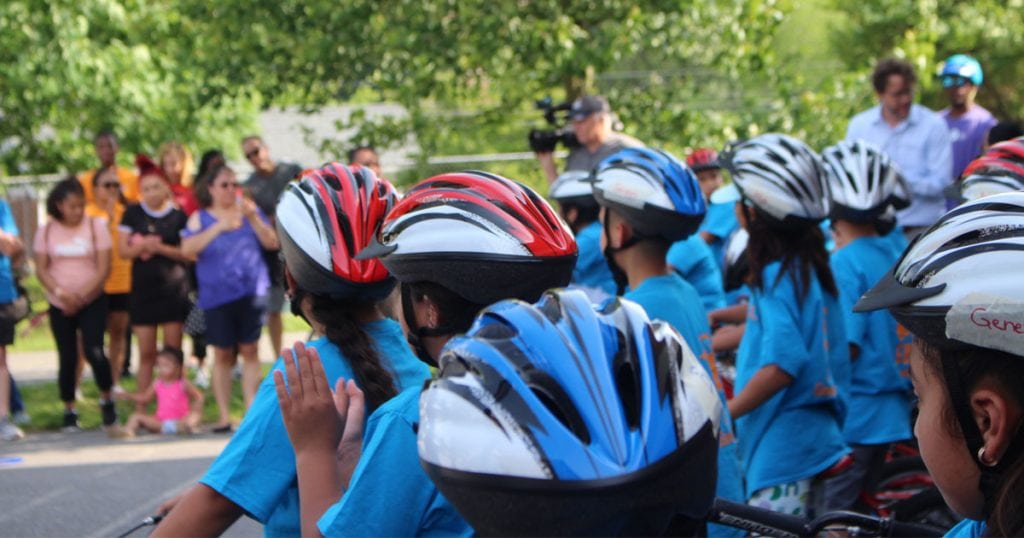 Back in April 2019, when Excel Beyond the Bell first began at Oak View, 70% of the kids in the program's cohort did not know to ride a bike. It was a "unique challenge" that changed the dynamic of how this cohort would learn over the next six weeks, said Jeff Wetzel, Youth and Family Coordinator at WABA.
"At the beginning, only 30 percent of the kids had some ability to ride," Wetzel said. "By the end, more than 50 percent of the kids were able to ride and competent to go on a 10-mile ride. Basically, they were ready for Bike Camp!"
Joined by Councilmember Hans Riemer, Oak View Elementary Principal Jeffrey Cline, County officials, and other distinguished guests, each person had a similar, positive message for the students.
"Let's keep working on this," Councilmember Riemer said, "so that in the next couple of years, there's the opportunity for every kid in Montgomery County to learn how to ride a bike and find that freedom for themselves!"
Excel Beyond the Bell as a program is not new to Montgomery County; it's been around since 2010. The Bike Safety Program as an option for kids is a first. Not only did Oak View Elementary students learn how to ride, but the progressive curriculum included lessons on traffic rules, bike-handling skills and safe travel routes.
After the culminating bike ride, the Department of Recreation gave away eight bikes to students based on two criteria: progress in the EBB Bike Safety Program and a separate, essay contest where students wrote about what they would do if they had a bike. All the students went home with their own helmets, donated by Montgomery County Fire and Rescue.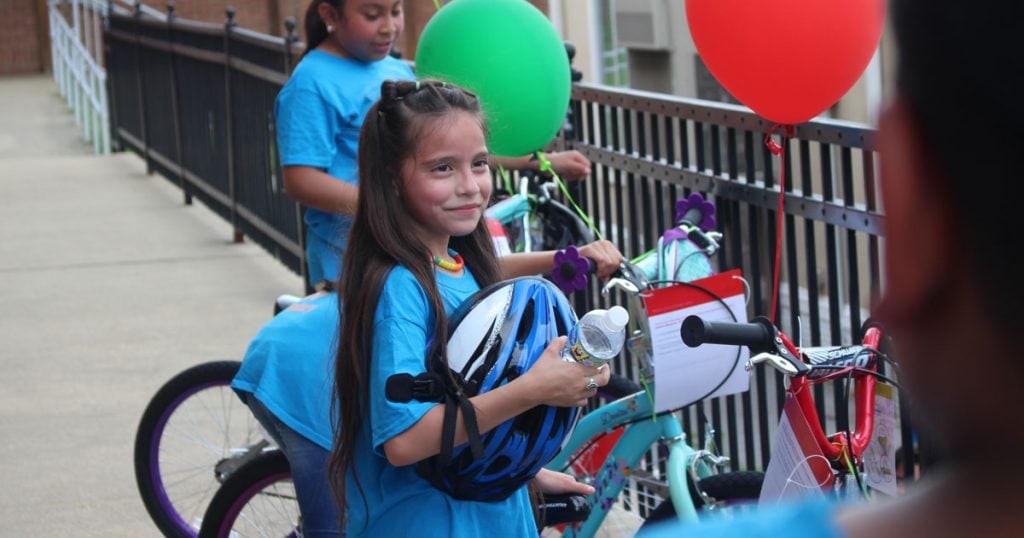 The day was a hit, and the program will expand to two sites next school year. As Montgomery County continues to expand its support for bicycling, we look forward to to the continued success of Excel Beyond the Bell's Bike Safety Program!
Check out the Montgomery County Council's video on Oak View Elementary's EBB Ride!