Update: Connecticut Avenue NW Protected Bike Lane Meeting
Tuesday, June 25, 2019, 6:00 PM
The Dupont Circle Hotel
Meetup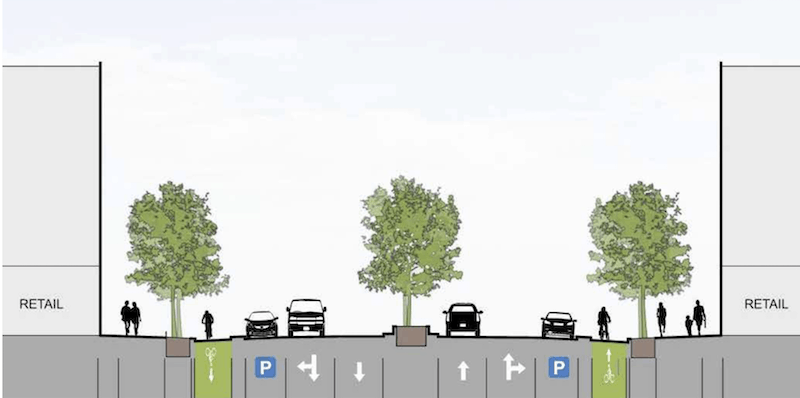 Update on this meeting:
DDOT's second project meeting for the Connecticut Avenue NW Streetscape and Deckover Project turned out to be much more contentious than most expected. Though DDOT presented concepts for protected bike lanes on Connecticut Ave at the previous project meeting, staff revealed that the proposed street design would not include bicycle improvements. Protected bike lanes, they said, could be added at a later time.
This revelation came as a shock because there was enthusiasm at the last public meeting for the protected bike lane concepts. Advisory Neighborhood Commissions 2B and 1C passed resolutions in support of protected bike lanes in this corridor and this project. And most critically, DDOT's 20th Street protected bike lane project, which will be under construction next year, relies on a Connecticut Ave protected bike lane to safely connect to the bicycle corridors on Q St, R St, and Columbia Rd. In the brief Q&A, the majority of comments were from community members frustrated and baffled by the missing bicycle infrastructure.
DDOT project manager Ali Agahi agreed that the team would take a second look at the protected bike lanes. And the following day, DDOT Director Jeff Marootian announced by tweet that bike lanes would added into this project.
For a more thorough analysis of this frustrating development, read Greater Greater Washington's post.
The presentation and display boards are now available on the project website. Comments are being accepted at CtAveStreetscape@gmail.com. Please share your thoughts with the team.

---
For more on this project and to see past meeting materials, see the project page.
Meeting Details:
Date: June 25, 2019 (past)
Time: 6:00 PM – 8:00 PM
Location Name: The Dupont Circle Hotel, 1500 New Hampshire Avenue NW