Our first Learn to Ride—¡en español!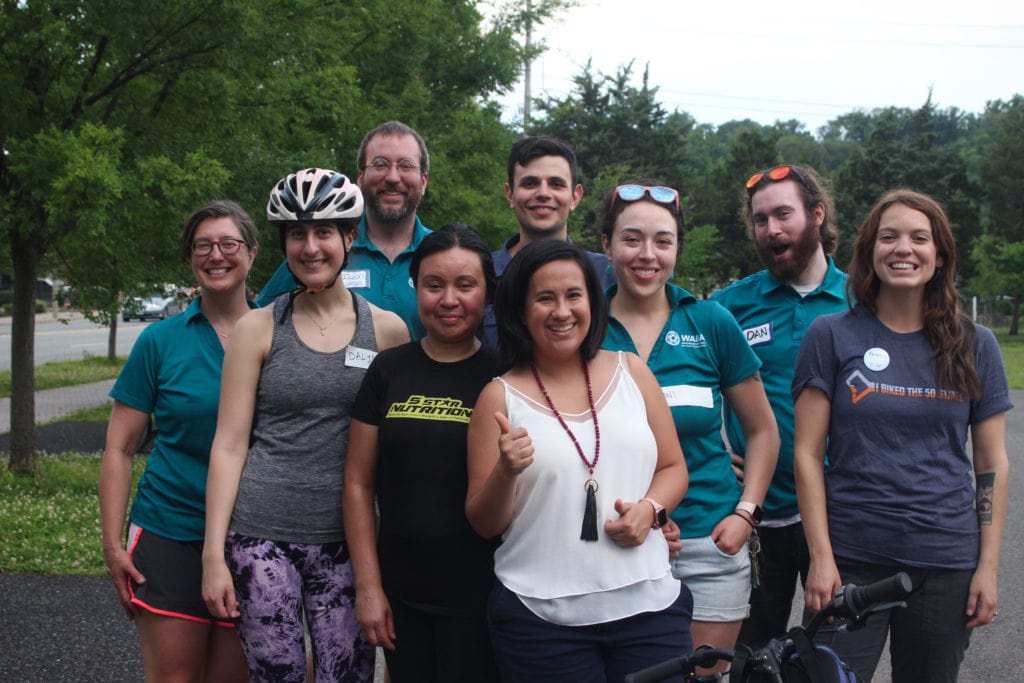 WABA recently partnered with Casa Chirilagua and the City of Alexandria to offer the first Adult Learn to Ride class in Spanish!
Casa Chirilagua is a community nonprofit in Arlandria, a predominantly Latin/x neighborhood of Alexandria. Their main offerings are for English Language Learners (ELL), with programs including after-school care, leadership development, and other community services. Casa Chirilagua is also near the Four Mile Run Park and Trail, which nearby families use for recreation—including biking!
Usually, WABA's Adult Education programming is offered during the day on the weekends. WABA and Casa Chirilagua decided to offer this class in the evening to accommodate those who work during the day on weekends.
"We are proud to work with local community organizations to expand our programming and offer classes that meet the needs of different populations," said Sydney Sotelo, WABA's Adult Education Coordinator. "Luckily, the weather held out for us on Saturday night and our Instructors were able to run the full class, offering individualized instruction to our participants in Spanish. The class was lively with music and snacks and plenty of folks sitting in the park, enjoying the pre-storm sunshine."
With determination, properly fitted helmets, and balance bikes, all class attendees were riding on two pedals by the end of the Learn to Ride!
WABA is committed to practices and programming that ensure diversity, equity, and inclusion throughout our work. Hopefully, this first Learn to Ride in Spanish is one of what could be more in the future.
Interested in our Adult Education programs? Visit waba.org/classes to see our full schedule of classes, skills clinics, and community rides.