Ready to Roll?: Fall 2019 Adult Education Classes
Looking to improve your bike confidence? Eager to try your hand at navigating traffic? What about getting on a bicycle for the first time? Check out our Fall 2019 Adult Education classes!
WABA's Adult Education classes are suited for all, regardless of experience level and provide intuitive, hands on learning in a supportive and encouraging environment.
"But which class is right for me?" We've got a handy flow chart to help you out!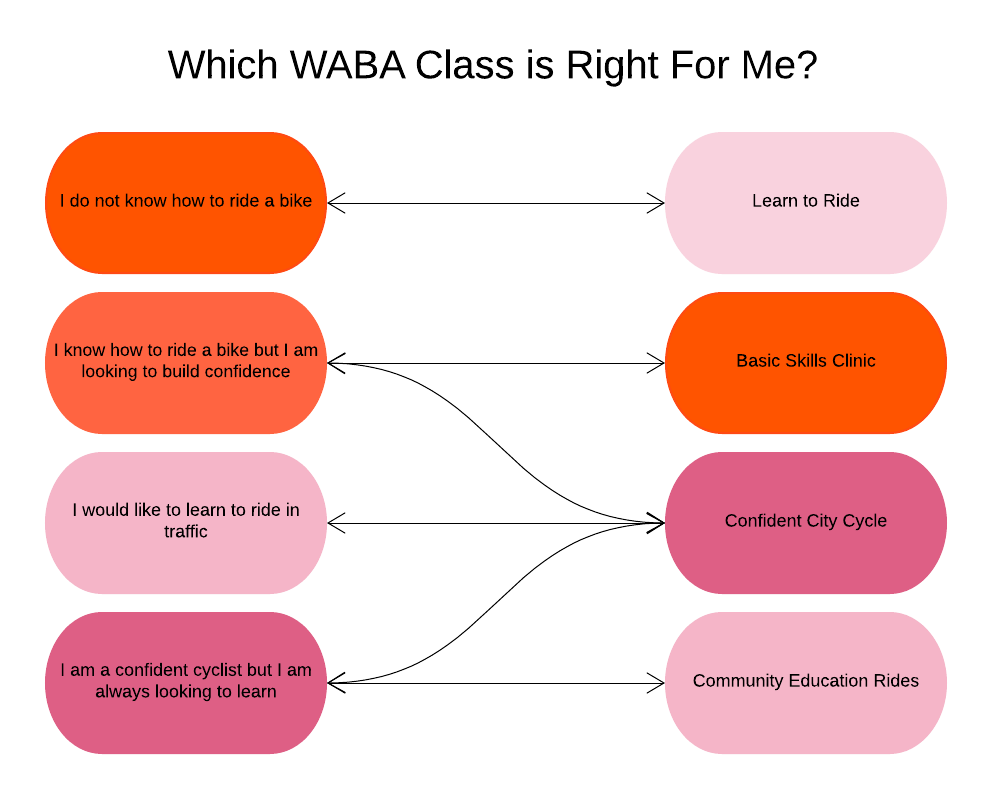 Adult Learn To Ride – For adults ages 18 and older who do not know how to ride a bike or who have tried to learn and have been unsuccessful. Give us three hours, and we'll have you riding a bike!
Youth Learn to Ride – For children ages 6-12 who do not know how to ride a bike or who have tried to learn and have been unsuccessful. This season, our Youth Learn to Ride classes are special events hosted by the City of Alexandria.
Basic Skills Clinic – For cyclists who have recently learned to ride or who have not ridden a bike in some time. Our Basic Skills Clinics focus on fundamental skills such as starting, stopping, turning and braking. Great next step for those who have recently taken Learn to Ride!
Confident City Cycling – Interested in learning to ride in traffic or on a bike path? This class is for you! Our City Cycling class is broken up into two groups, Fundamentals and Confidence, to accommodate riders of different experience levels. Fundamentals focuses on scanning, signaling and shifting, while Confidence teaches hazard avoidance maneuvers necessary for riding alongside motorists.
Community Education Rides – Fun for all! Our community education ride series is an inclusive space for riders of all levels to explore their city. Each ride tackles different topics that urban riders use to get around the region. Our rides are always a good time, but they're also a safe space to ask questions and practice riding in the city.
WABA is proud to partner with DC, Montgomery County, Arlington and Alexandria to offer a bicycle education class near you!