A real, urgent opportunity.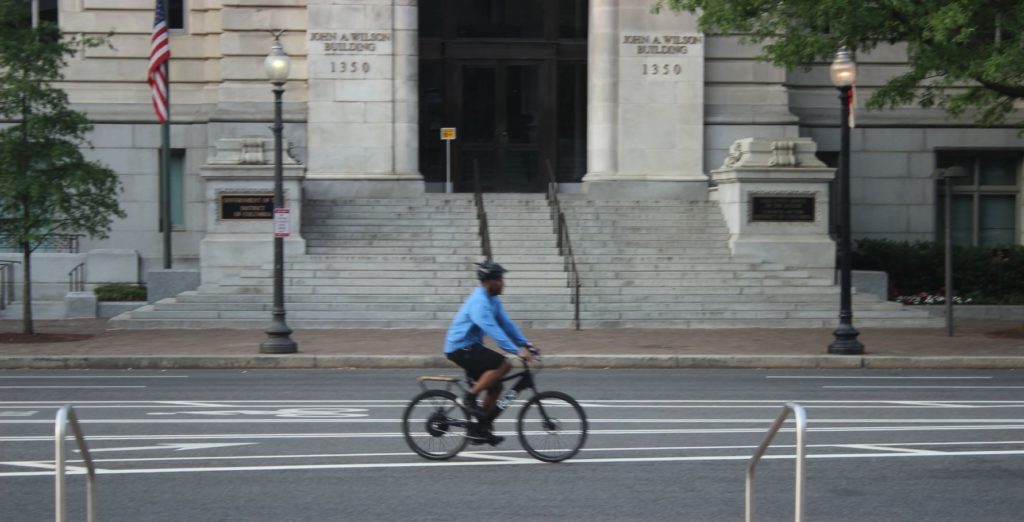 This is our moment.
Over the last year, together, we've made a lot of noise about the urgent need for safer streets. Right now, we have an opportunity to use that energy to push the DC Council to pass truly transformative legislation.
In the spring, you sent more than 5,000 messages to DC Councilmembers asking them to act. They heard you.
On October 24th at 11:30am, the DC Council will hold a hearing on the following bills:
While we support all of these bills, our central focus for the upcoming hearing will be on the Vision Zero Enhancement Omnibus Amendment Act of 2019.
So what's in this bill, you ask? Well, let's take a look at some of the key highlights:
Limits speed limits to 25 mph on most minor arterial roads and 20 mph on local roads
Requires DDOT to certify plans for private developments that include new sidewalks, marking unmarked crosswalks, and adding protected bike lanes that are in the Transportation Plan
Requires new developments of 10 or more units plan for ride-share and deliveries that do not block the right-of-way of sidewalks or bicycle lanes
Requires sidewalks on both sides of all streets and connections be made to any existing sidewalks within .1 of a mile
Requires annual progress report on all projects or recommended projects in the Transportation plan, including explaining recommended projects were not advanced.
Bans right-on-red turns in the District of Columbia
Clarifies the Mayor can impound cars parked illegally in crosswalks and bicycle lanes and allows parking enforcement staff to mail tickets when a driver leaves before receiving the ticket
Requires all applicants for a new or renewal driver's license to take a written test
Levies a $10,000 daily fine on contractors who do not restore crosswalks and bicycle lanes within 24 hours of completing work
Allows parking enforcement to target repeat reckless drivers by impounding parked cars with five speeding violations at 31+ mph over the speed limit or violations for passing a stopped car yielding to pedestrians in a crosswalk
A plan to get to 50% of commutes by public transit and an additional 25% by bike/ped by 2032, in line with goals set by the landmark Clean Energy DC law
Identify areas in need of improved transit access
A list of one street or one bus line in each ward that will get a dedicated transit lane
Allows the Council to direct additional elements for the next plan in an approval resolution
Adds requirement for DDOT to aggregate crash and speed data in one publicly-accessible site
And there is more! If you want to learn more about all of the above bills before the October 24th hearing then join us for our community webinar! 
During the webinar you will have an opportunity to learn more about the bills and ask any burning questions you may have about the bills. You can sign up for the webinar here. 
Also, if you need support in crafting your testimony for the hearing, we will have a community testimony writing workshop on October 15th.  At the workshop, you will get support and assistance to craft an impactful testimony for the hearing! There will also be pizza! You can sign up here.

Let's seize on the progress we have made and continue to transform our transportation system to make it more sustainable and equitable for all.