Anacostia Riverwalk Community Ride- Washington DC
Sunday, November 3, 2019, 10:00 AM
Lincoln Park
Ride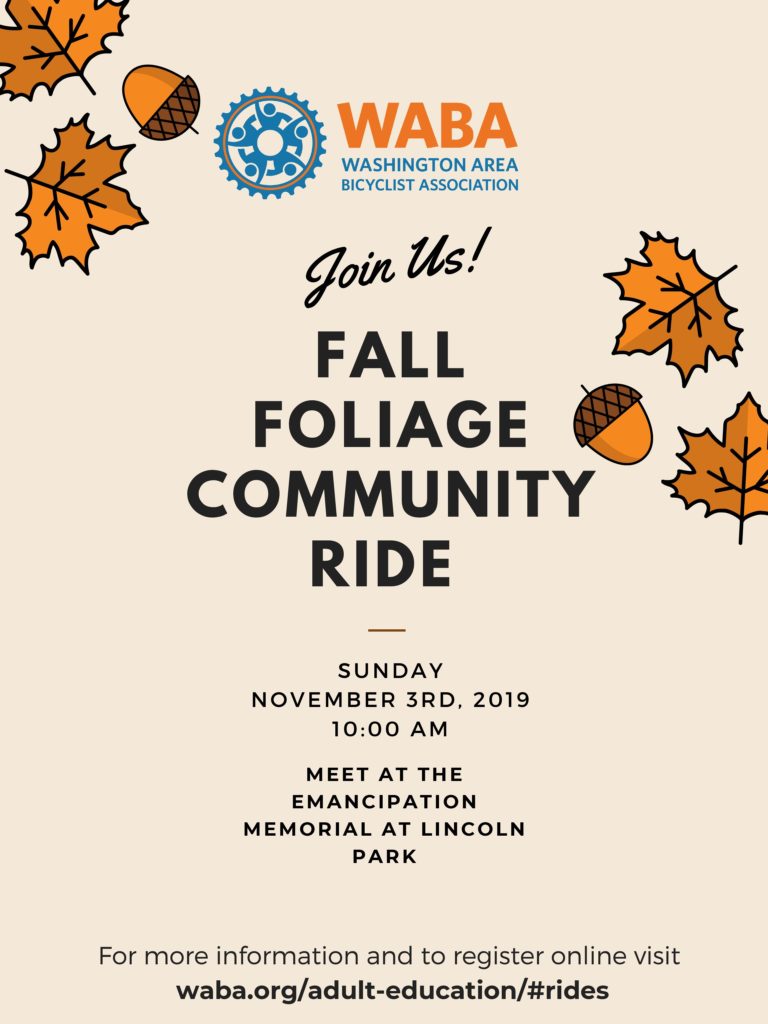 There's no better sound than the crisp crunch of fallen leaves under your tires. Join us for a fall foliage ride along the Anacostia Riverwalk Trail! We will explore both the eastern and western banks of the river and help you find new ways to explore more of the city! This ride utilizes both city streets and the Anacostia Riverwalk Trail.
Our community education ride series is a fun, social and inclusive space for riders of varying experience and confidence. You will always have a great time on our rides, but they're also a safe space to ask questions and practice to make this summer's riding a breeze.
Ride start and end – The Emancipation Memorial at Lincoln Park
Start time -10:00 AM
End time – 12:00 PM
Distance – About 9 miles
Great, what else should I know?
Please bring your own bike and helmet. Helmets are a requirement on all WABA rides. If you have questions, please read our ride policies here. Everyone ages 14 and up is welcome. All riders must sign a waiver. Riders under 18 must have a waiver signed by a parent or guardian.
What does it cost?
Ten bucks! This ride is offered thanks to the generous support of the DC Department of Transportation.
Are you a WABA or Capital Bikeshare Member? Then the class is free! We can also reimburse you for your usage fees if you use Bikeshare during the class. Email or call 202-518-0524 x221 to receive your coupon code.
Not a WABA member? For just $25 you get a ride registration ($10 value) and a one-year WABA Membership ($35 value). Learn more about the benefits of joining WABA here.
Walk-ups are free! But space is limited, so we recommend you register below ahead of time to hold your spot!
Event Location
Emancipation Memorial at Lincoln Park
Lincoln Park Dr NE, Washington, DC 20002
Register