Better bridges = better bike rides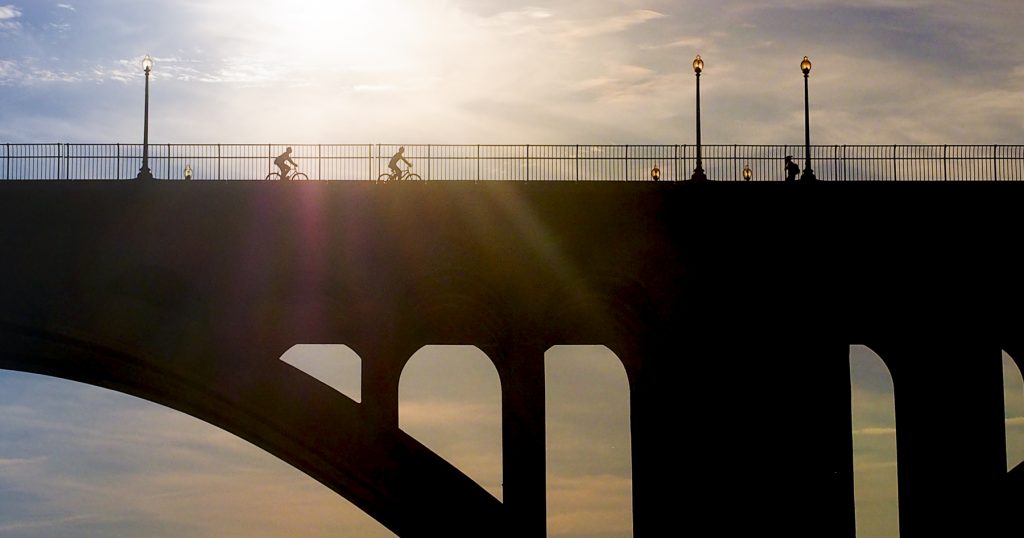 Ask people about their favorite bike rides an you'll hear it over and over—the weeping willows along the Mount Vernon Trail, the wide open green spaces and leafy shade along the Anacostia River Trail. We love biking along our rivers. But trying to cross those rivers on a bike is a different story. Your options are limited, and all variants of one flavor: sidewalk. A couple are mostly OK, most are too narrow, at least one is terrifying. None are what you'd call 21st century bike infrastructure.
That's all about to change. Thanks to many, many years of support from people like you, WABA has successfully advocated for a number of new and improved bridges. Here are a few of them:
Thousands of you spoke up to support the The Long Bridge. You showed up when it mattered, and now we're on track to build a brand new, car-free bridge between DC and Arlington. We still have a lot of work to do to make sure that it gets designed well and built on time. Donate today to make sure it happens.
The Arboretum Bridge will connect two of the region's most beloved greenspaces: the Kenilworth Aquatic Gardens and the National Arboretum. The Anacostia River Trail opened the Aquatic Gardens to car-free visits, and this bridge will do the same for the Arboretum. Make a gift today to help us keep the pressure on!
The Frederick Douglass Bridge is mostly a highway project (boooo), but includes two great bike paths over the river. The bridge fills a gap in the Anacostia River Trail and provides a much needed bike connection between Ward 8 and downtown. Paired with the Long Bridge and recently installed protected bike lanes through Southwest DC, it also means you'll be able to ride from the Custis, W&OD, and Mount Vernon Trails in Virginia to Anacostia Tributary Trail network in Maryland, almost entirely separated from cars. Not bad, eh?
The WB&A Bridge over the Patuxent river brings us one important step closer to a continuous trail between DC and Baltimore. WABA and other advocates have been pushing for this bridge for decades. Construction starts in April. Want to ride your bike to Baltimore? Make a donation today to close the remaining gaps in the corridor.
A few others to keep an eye out for: A new bridge at the zoo tunnel in Rock Creek Park; a wider sidepath on the East Capitol Street bridge; a new bridge over Route 29 on the W&OD Trail, and (still a ways off) a bridge connecting DC's Fort Lincoln neighborhood to the Anacostia River Trail.
There's a lot to like about these projects—they connect communities, they open up new, low-carbon transportation options to thousands and thousands of people.
But maybe you're like me. If I'm honest with myself, what's most exciting is simple:
More.
Awesome.
Bike rides.
If that sounds exciting to you too, take a moment right now to make a donation to WABA.