More Joy, Less Stress: 2019 Adult Education Season Wrap Up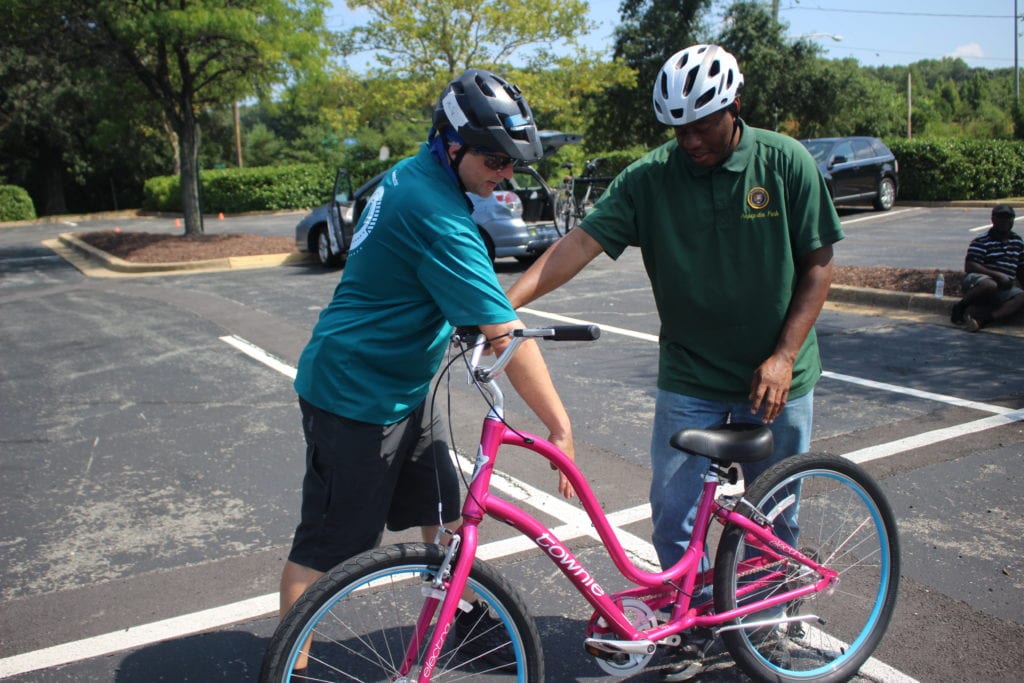 Just like that, another year is nearly over and the 2019 Adult Education class season has come to an end. The WABA Education team is hard at work reflecting upon the past year and making resolutions for the next. This year, over 600 participants joined a WABA class to try something new, build confidence and experience more joy and less stress!
They took the first step towards achieving their goals, why shouldn't you? Whether you're looking for a more sustainable commute, exercise that is fun and outside or to finally knock something off your bucket list, learning to ride safely and confidently is the key to biking happy.
Check out some of the highlights from the 2019 season below and mark your calendars! The 2020 Adult Education season will be back with even more classes next spring.
Welcoming new bicyclists
This year, our team of staff and LCI Instructors led 20 Learn to Ride classes in DC, Montgomery County, Arlington and Alexandria.
Over 320 participants attended Learn to Ride classes and 80% of them were riding successfully by the end of the three hour class. 
WABA hosted three Youth Learn to Ride classes in Alexandria and 23 youth learned to ride their bike without training wheels!
In June, WABA hosted a Spanish language Learn to Ride class in partnership with Casa Chirilagua, a Latino community and education organization in the Arlandria neighborhood of Alexandria.
In August, WABA partnered with PSI Family Services to offer a week-long Learn to Ride camp for adults with developmental disabilities. 
In total, over 235 new bicyclists are enjoying our region's trails, paths and bike lanes. Great job everyone!
If you or someone you know would like to take the first step to learning to ride a bike, sign up to receive emails about our upcoming classes! We'll be sure to let you know when the 2020 schedule is out. WABA Learn to Rides classes are fun and intuitive—you, too, could be riding confidently by the end of class!
Building confidence
This year, 120 participants made #betterbicycling their goal by signing up for a Confident City Cycling class! Whether riding in traffic or on a trail, proper etiquette and bike handling skills make for a safe and enjoyable ride.
WABA hosted 19 Confident City Cycle classes in DC, Montgomery County, Arlington and Alexandria.
On August 6th, WABA held a bike rodeo at the National Night Out celebration at Lincoln Park! Kids and adults alike rode the obstacle course, which featured hazards, twisty turns, and even a stop sign!
Booz Allen Hamilton hosted a Commuting 101 ride that encouraged their employees to incorporate bicycling into the daily commute. The group explored routes between the three Booz Allen offices in DC.
WABA partnered with JUMP Bikes to host a Confident City Cycle class on e-bikes. Participants learned about the difference in speed and reaction time between regular bicycles and those with electronic assist and tried their hand at a number of different drills.
Bike education doesn't stop after you learn to ride. Want to make every day Bike to Work Day? Bring an Everyday Bicycling Seminar to your office and give your coworkers the gift of safer, less stressful riding.
Exploring our communities
Looking for a new route? Interested in learning how to get around the city by bike? Community Education Rides depart from all over the region, exploring city streets, trails and everything in between.
In September, WABA hosted a family-friendly Community Ride with Casa Chirilagua entirely in Spanish! We rode up the Mount Vernon Trail for a picnic at Gravelly Point.
In October, WABA and Capital Bikeshare celebrated Women's Bike Month with a tour of DC's most iconic statues of women.
WABA and JUMP hosted a winter community ride where participants learned the importance of layering, seasonal road conditions and visibility.
WABA Adult Education classes are local (currently offered in DC, Montgomery County, Arlington and Alexandria), inexpensive and most importantly, they're a fun time! Sign up for a class and take the first step to #betterbicycling.
We can't wait to see you out there!
Help us get more folks on bikes – will you make make a donation to WABA today? Your tax-deductible donation means more bike lanes, safer streets, healthier people, and connected communities.