You're Invited to Hains Point 100 – The Finale
This is a guest post from Megan Jones, co-founder of Hains Point 100 and a Women & Bicycles supporter!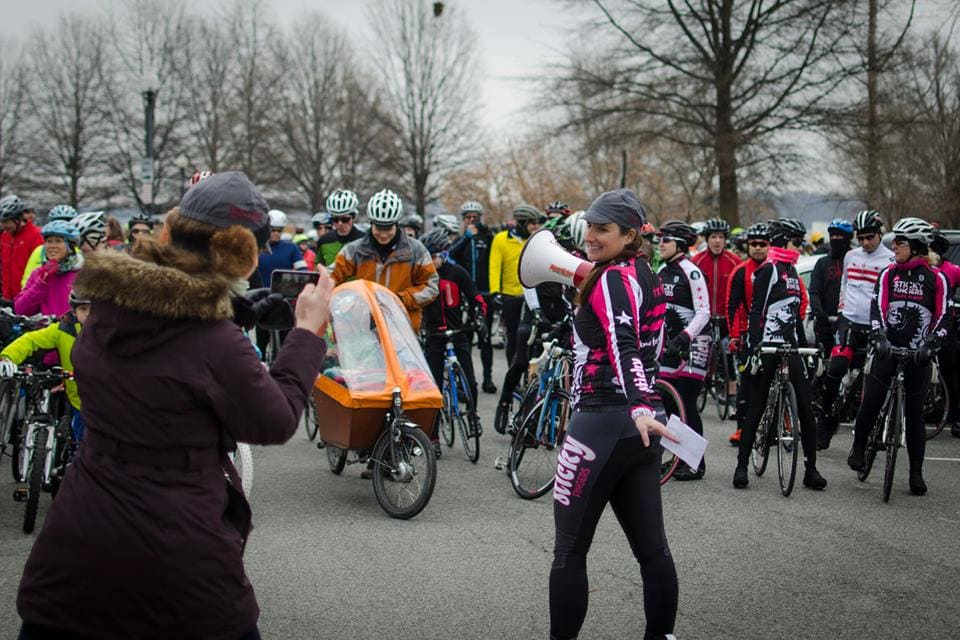 Hi. I'm Megan. And, in 2012 I started a thing. Something that I had no idea that would catch on like it did.
What if I rode a bunch of laps around Hains Point and asked people to join me? Well, that's what became the Hains Point 100 which has now become the premier December outside bike event filled with fun (and absurdity) for everyone!
Come join us on December 22nd. We already have a huge line-up of supporters that have donated some amazing door prizes and more! Follow us on Facebook and Twitter for all the updates of what we'll have.
As always, this is not a formal event – we're just getting together on a chilly Sunday to ride our bikes in a circle and have some fun! And we are raising awareness for WABA's Women & Bicycles program. All levels of riders are welcome – we can't wait to see you there!
Please let us know you're coming by mushing on the big button below!
Hains Point 100
When: Sunday, December 22, 2019
Where: Hains Point, Washington DC
---
Permit me a moment for a quick flashback. I was sitting in an Arlington Bicycle Advisory Committee meeting in the county building letting my thoughts wander and heard a few people talking about how they rode around Hains Point continuously for 100 miles. "Are they serious?" thought I. "Who would do such a thing?" As my mind continued to wander, I thought about how I'd been putting a lot of miles on my bike that year and still wanted to do more. At that moment I thought, "Wait, I'm that bananas, why not!?!" Then my mouth said, "Hey, I'm going to ride 100 miles around Hains Point." And, those people heard me and my idea so I couldn't back out. That's like, a rule.
For those that are not familiar, Hains Point is located in Washington, DC, on a jut of National Park Service land that is flat as a pancake. Sure, it's beautiful lined with trees, views of the rivers, National Airport planes landing, stunning sunsets, etc. But it's also a haven for cyclists (not during Cherry Blossom Tour Bus season, though) to get in some good training laps or take the kids out for a spin. The loop itself is a little more than 3 miles long – so you can do the math, if doing 100 miles on it after so many loop-de-loops, one can get a bit bored.
I'm committed – boredom or not – as I'd admitted in public I wanted to do this bananas thing. Then I was asked, "Well, shouldn't you do it for a cause?" Then and there, that same evening, I decided to raise some FUNds for a good cause. That cause was the "not yet launched yet" vision of the Washington Area Bicyclist Association's Women & Bicycles Program. So many thoughts came rushing: "I can't do this crazy thing alone" and "Let me share that misery" and then, "Why not invite my friends and do some games, have a pot-luck, and get me some people to draft off of?" I shared my idea on the Washington Bike Forum and next thing I know, I've got a website, a Twitter account, and support! Bike Arlington, Revolution Cycles and many other businesses decided to sponsor my first ride.
In less than 20 days of organizing, that first year about 100 people showed up. That was amazing! I thought it was a flash in the pan. But, no. Folks asked if I'd do it again…and again…and again. And, so I did. It became not a formal ride, but an opportunity for #BikeDC to just, well, ride. And, show their support of Women & Bicycles.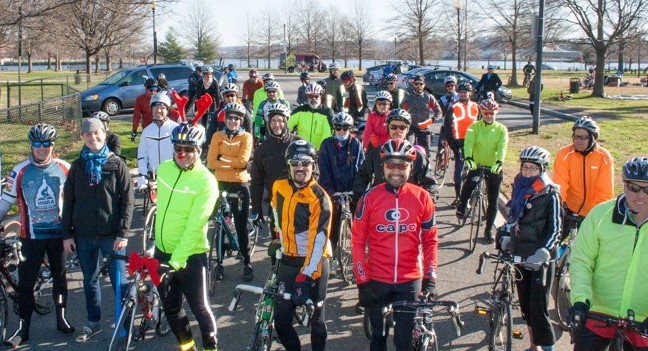 Over the years, we've ridden in beautiful sunny brisk weather, in downpours that turned into the warmest foggiest ride ever, in wind storms and the now infamous 2018 cold never-ending rain. We've had new riders that have never ridden in cold weather before and seasoned groups that managed 200+ miles. Young and old showed up. Cargo bikes, TT bikes and unicycles arrived. We've had people that live right next to Hains Point and others that drove up from Florida just for the event (really).
The HP100 challenged people to ride farther than they ever had before in colder or rainier weather because it was just, well, fun. In fact, because of that, the event won WABA's Best Social Ride at the 2017 Bicyclists' Choice Awards. Little did I know that a whim would turn into an event where over 600 riders would come and tens of thousands of dollars would be raised!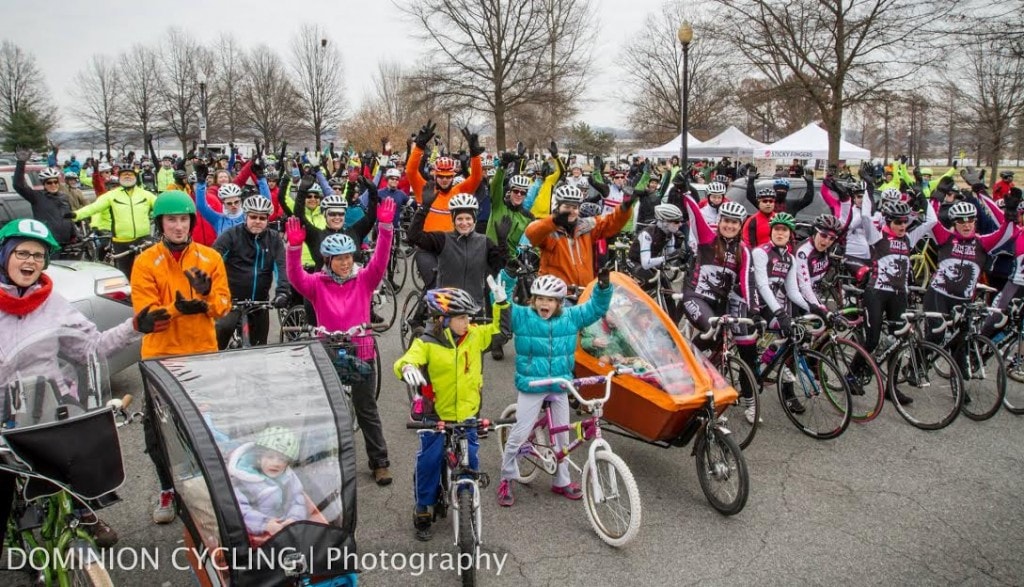 Meanwhile, the Women & Bicycles group grew by leaps and bounds. From workshops and rides to social events and mentorship, the group has educated, advocated, encouraged and supported the #BikeDC community in more ways than I can even have room to mention.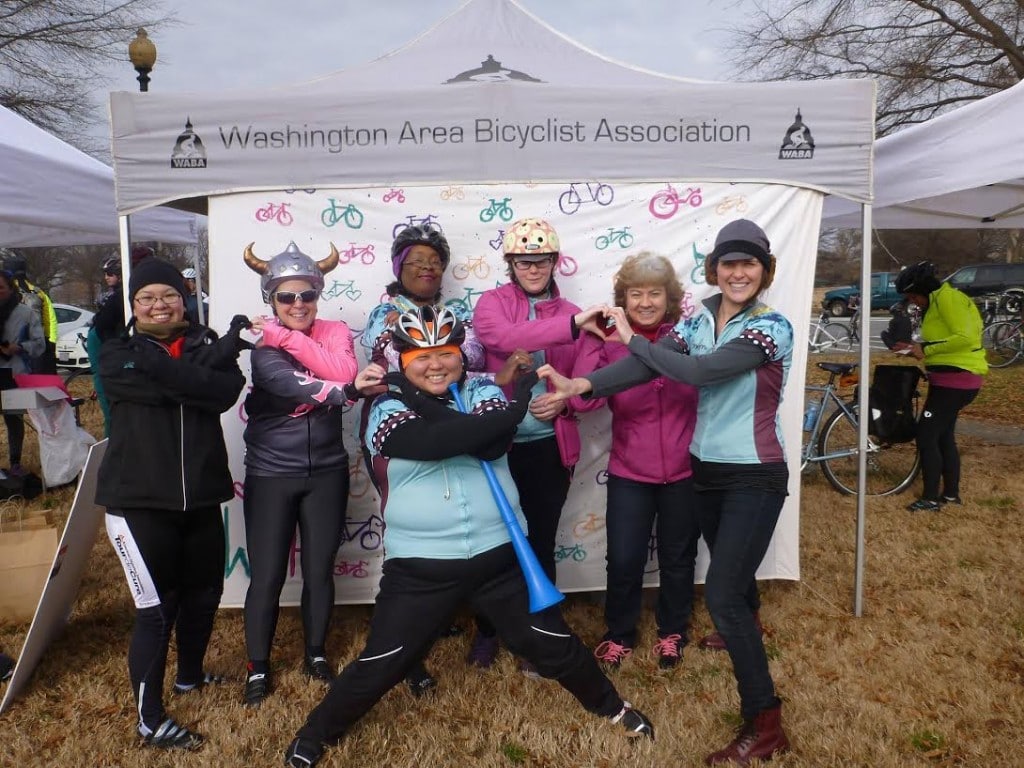 The Women & Bicycles Facebook group just hit over 7600 members. But, one thing is for sure, when the HP100 was first started only about 26% of cyclists identified as female. That statistic remains staggering in my mind. But, I can feel it in my gut, I know that percentage has to have increased since 2012. I can see it on the streets and I can see it in our community – something great has been started and it needs to continue. And, Women & Bicycles is helping that number increase.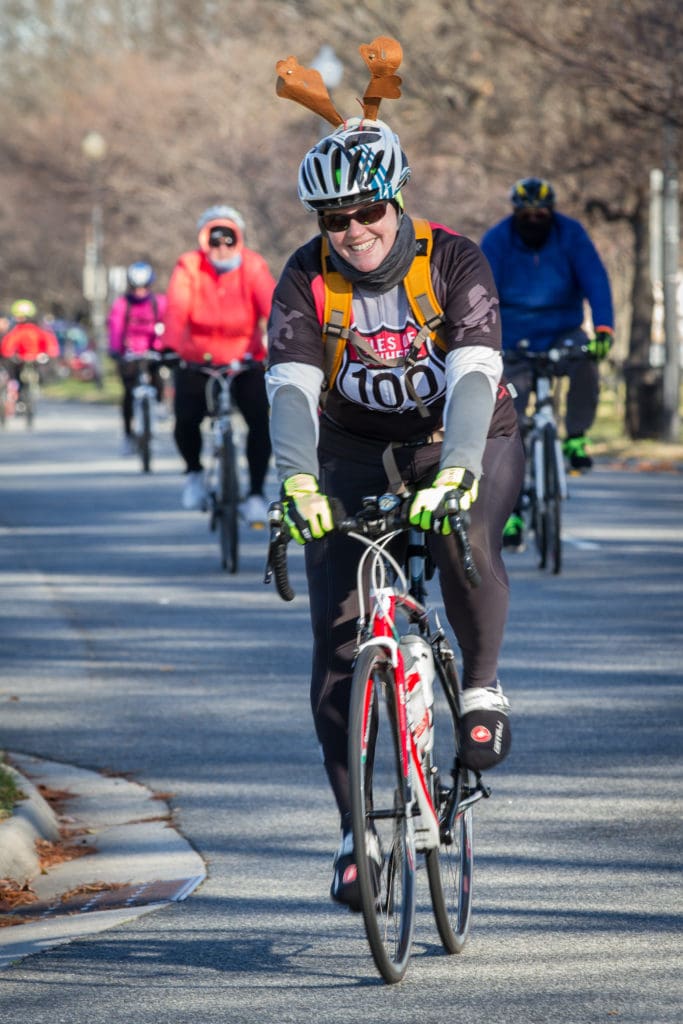 But, now, I also have to break some news here. This year will be the final Hains Point 100. While the WABA Women & Bicycles program will remain near and dear to our hearts, the event has run its natural course, and it's time to step aside. This event has grown to a size that is hard to coordinate on our own, and it's time to trust that the support we've raised over the years can be sustained with the help of others. So for us, it's time to draw this event to a close, and we will do all we can to make sure this beloved #BikeDC community tradition ends on a high note.
---
I would be remiss if I didn't thank those family and friends that put up with me in the month of December as my house piles up with donations, crates, boxes, and tents. Then I talk nothing but HP100 like, "Did I print out the door prize tickets?" or "Ok, weather forecast looks good…nope it doesn't…yes it does." Or, quite famously every year, "What if nobody shows up?" But, you did.
Thank you to the ladies of Team Sticky Fingers for volunteering without complaint at the event, letting me drive you all around creation picking up everything and being the spiritual backbone to the event over the years. A thank you to WABA for being a great organization to support and helping with the registration needs. Finnoula Quinn for your amazing survey of women and cycling that laid the backbone to us realizing the actual statistics of who's riding a bike and why or why not. And, of course, Nelle Pierson for having the vision to take those stats and turn it into something real.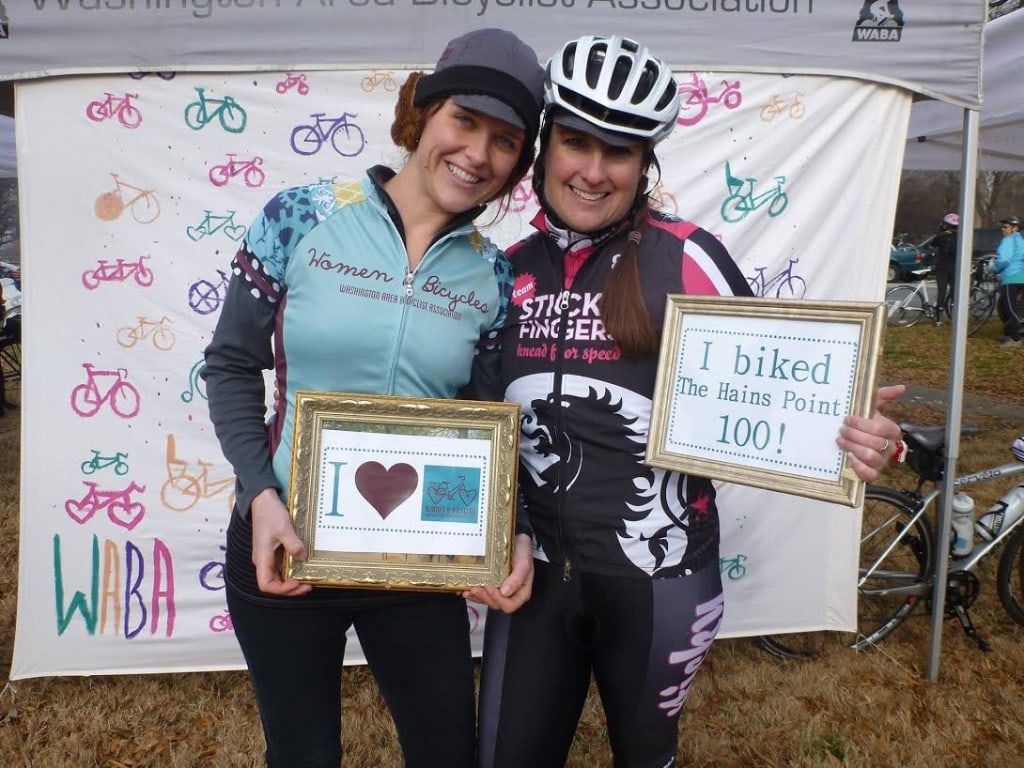 To all the riders, volunteers, picker-uppers of trash, chasers of wind-blown tents, smiling faces, encouragers and hug-givers the day of the event – a ginormous thank you. And, to all the big and small businesses that have selflessly donated toward the event to make it was it is today – you are very appreciated. Oh, and Sol for ALL THAT ACME PIE.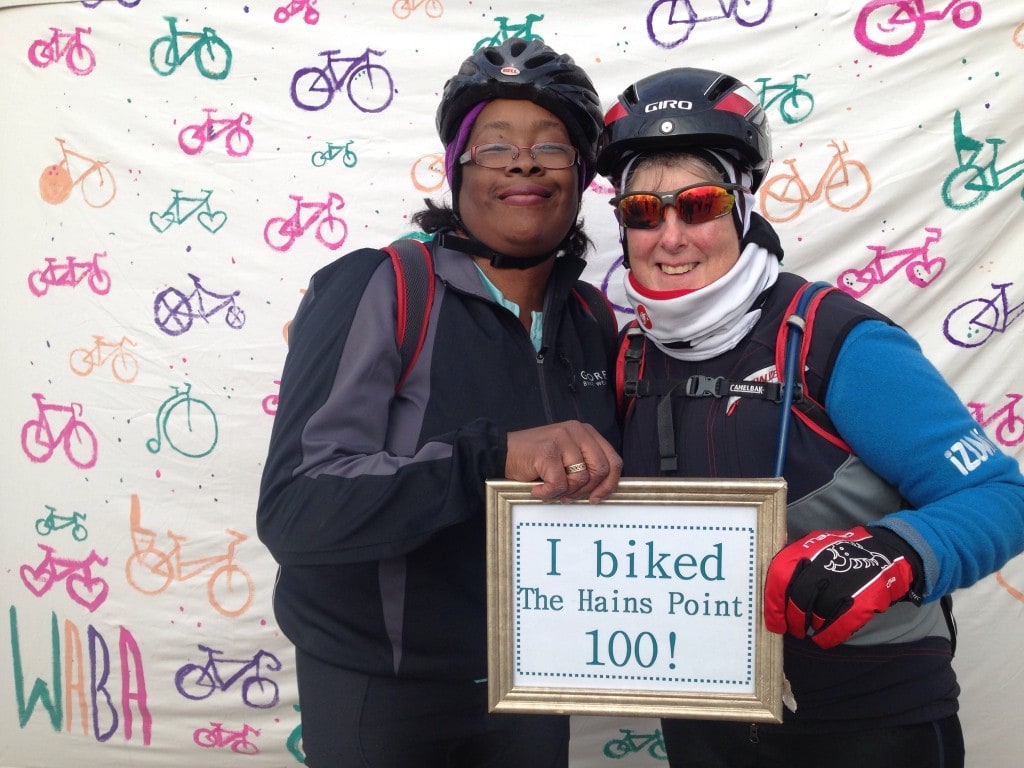 And, finally, last but not least, a special heartfelt thank you to the Co-Founder of the event, encourager of me, driver of the minivan loaded to the gills, training partner, technical advisor, Pit Boss and National Park Service permit and Park Police wrangler, Mark Blacknell. And, for giving me the idea to do this for Women & Bicycles in the first place. Thank you.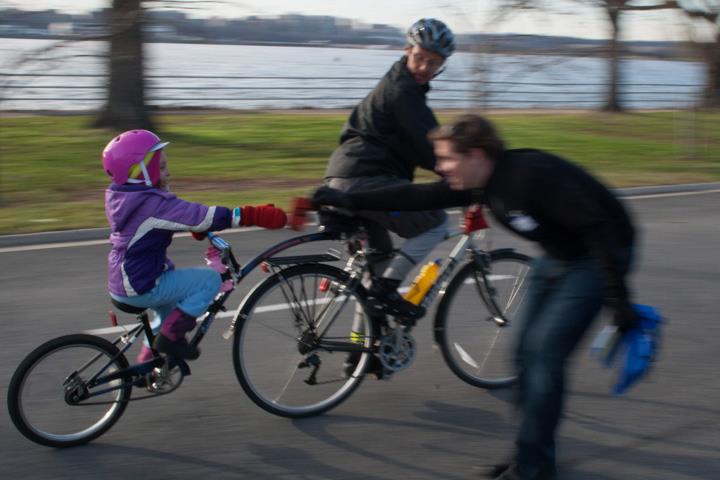 We continue to deeply believe that getting more women on bikes will make DC a better place for everyone. And, hope you can join us for one more loop-de-loop around Hains Point on December 22nd. If you can't make it in person, there are options to support Women & Bicycles from afar. Visit www.HainsPoint100.com and follow us on Facebook and Twitter for all the updates.
See y'all on the 22nd for the Hains Point 100 – The Finale!