Book Bike Safety Training Brings Safe Cycling to DC Public Library Staff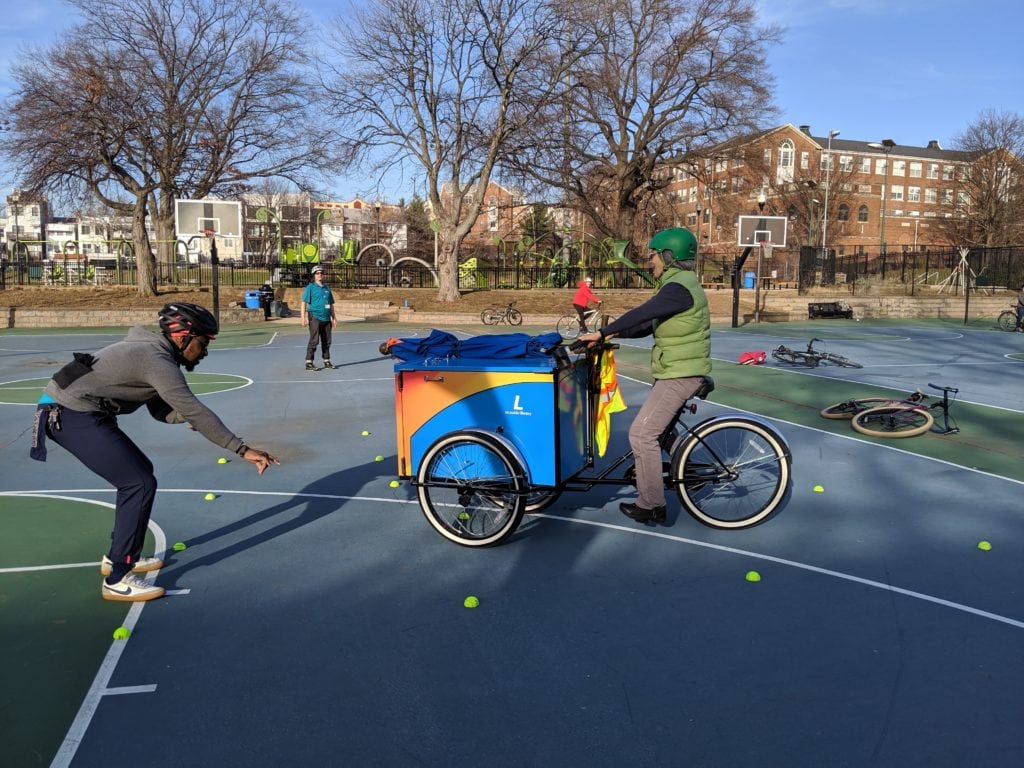 If you spend enough time in Northeast DC you've probably seen the Book Bike before. It's big and blue and pretty easy to spot as it goes rolling down the Metropolitan Branch Trail (MBT).
The Book Bike is a part of the DC Public Library's outreach team. It travels to farmer's markets, cultural celebrations, community events and can even be found at the MBT coffee hour on the 2nd Friday of every month. Visitors can sign up for a library card, check out a book on the go and speak to knowledgeable library staff about the many events and opportunities DCPL has to offer. DCPL is looking to expand the Book Bike's reach by training more staff on how to ride it so that they can bring it to more events.
Riding a cargo bike takes a bit of practice. Did we mention it is big and blue and full of library books?
To get even more DCPL staff up to speed and trained in how to operate the Book Bike, WABA hosted a custom bicycle safety training. The training brought ten library employees from branches across the District to learn the ins and outs of DC traffic law and how to ride properly while representing your organization.
Many of the DC Library staff in attendance were comfortable commuting to work by bicycle each day, but were eager to learn some new tips for riding safely and considerately while on the job. After a 45 minute long presentation and discussion on traffic law and street safety, the group traveled over to the Harry Thomas Recreation Center to test ride the Book Bike and practice hazard avoidance maneuvers essential when biking in traffic and on trails.
Although the Book Bike feels different than a regular two-wheeler, participants got the hang of how it moves while practicing starting, stopping, shifting, turning and weaving. Its wide turning radius means you have to lean way over the side of the bike as you move the handlebars. If you do it just right, the 200 pound cargo box full of books counterbalances your weight and keeps you from tipping over.
After an hour of drills practice, the group took to the streets to put some of their newly acquired skills into action. Along the Metropolitan Branch Trail we stopped to discuss trail etiquette and how to respectfully navigate amongst the many walkers, runners, dogs, scooters and fellow bicyclists that use the trail each day. While riding along the streets of NOMA we discussed lane positioning, hazard awareness and communicating with motorists. Participants learned when to use bike lanes and what to do when a bike lane suddenly ends.
These skills are essential, not only while riding for work, but for every ride. Learning how to safely navigate through heavily trafficked areas will boost your confidence and prepare you for the many different situations we face on the roads each day.
You can learn all of these skills and more by signing up for a Confident City Cycle class in a neighborhood near you! Keep an eye out, our 2020 Spring class schedule will be posted soon.
Want to bring a training like this to your workplace? Email us at education@test.waba.org.
Keep an eye out for the DCPL Book Bike as it rolls across town. Check out some of the library's upcoming events and visit dclibrary.org/bike for information on the annual Tour de DCPL, bike repair clinics, and even more bike resources.