Family Confident City Cycling
Saturday, February 22, 2020, 10:00 AM
Rita Bright Family and Youth Center
Class
More joy, less stress! Riding your bike doesn't have to be stressful. Join us for a morning of skills, confidence, and community building.
Riding with kids can be a lot of fun, but it comes with some extra considerations. This February, join us for a City Cycling class that's specifically focused on riding with kids!
We'll spend some time on a few specific bike handling skills, then go for a short ride and talk about strategies for riding in different road, bike lane, and trail situations. Bring questions!
We'll help you ride more comfortably and confidently without getting something sticky all over your brake levers. No matter your skill level, you'll improve your abilities on two (or more) wheels!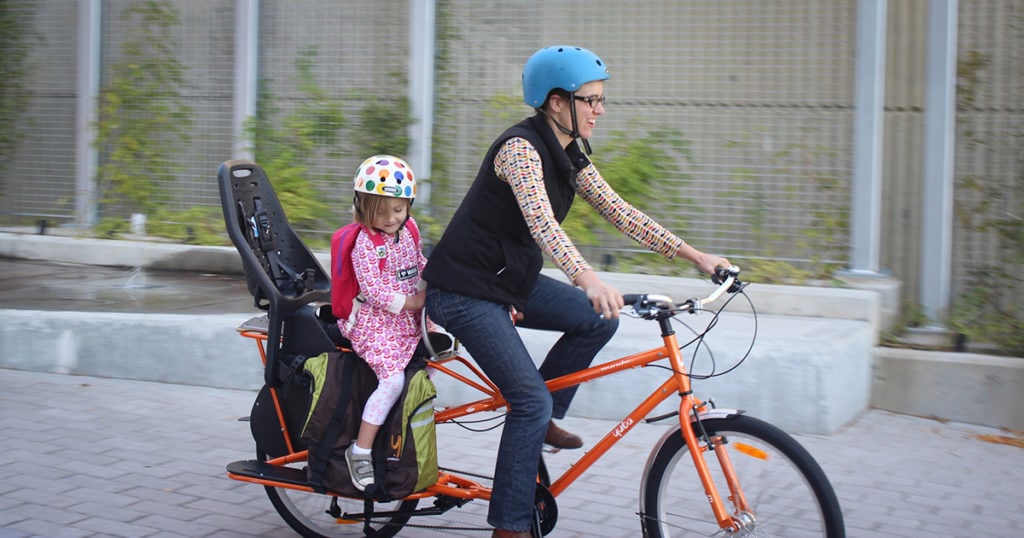 This is going to be fun!
This two and a half hour class is specifically for adults that ride a bicycle with at least one child on their bike or pulled in a trailer or if you ride with a child riding their own bicycle.
We'll explore the unique challenges of riding a bike in the region with a child on board, from choosing equipment to avoiding hazards.
The first part of the class will take place in a car free environment (an indoor gym), and after practicing some drills, we'll go out on a ride on the local trail and roads.
By the time you head home, you'll feel more confident, comfortable, and happy on your bike. Plus it's a blast.
Kids are of course welcome, but childcare will not be provided. In an effort to create an ideal learning environment, please maintain a 1:1 adult to child ratio for children on their own bikes, and 1:2 adult to child ratio for children riding on the same bike as their adult.
Is this class right for you?
Do you know how to ride a bicycle?
Are you comfortable riding a bike for at least 30 minutes?
Are you able to start and stop your bike in a controlled manner?
If you answered "no" to any of the above questions, then a Learn to Ride or a Basic Skills Clinic is best for you.
For this specific Family Confident City Cycling class, we will be focused on people that do one or more of the following
You power a bicycle that is carrying or pulling a child.
You power a bicycle while a youth (age 6 and older) is powering their own bicycle (i.e. no tag-alongs, trailers, etc.).
You want to speak to other parents about their experiences and want to share some of your own.
What to bring:
Questions! We love them! Do you have a particular bike situation you've always wondered about? That's what we're here for.
A bike, helmet, water and a snack.
Flat pedals. Toe clips, clipless pedals, or other gizmos that attach your feet to your pedals aren't recommended. If you don't know what this means, your pedals will work fine.
What does it cost?
Ten bucks! What a deal!
But space is limited, so we recommend you register below ahead of time to hold your spot!
Are you a WABA or Capital Bikeshare member? Then the class is free. Email or call 202-518-0524 x222 for a coupon.
Class Location
Rita Bright Family and Youth Center
2500 14th St NW, Washington, DC 20009
Please meet inside in the gym.
Getting There
Street parking in the area is limited and there is no off-street parking available.
The 52 and 54 buses serve 14th St in front of Rita Bright.
Rita Bright is about 6 blocks from both the Columbia Heights and U St-Cardozo metro stations on the Green and Yellow line.
Register