¡Hola! Soy Patricia Miguel y la nueva promotora comunitaria.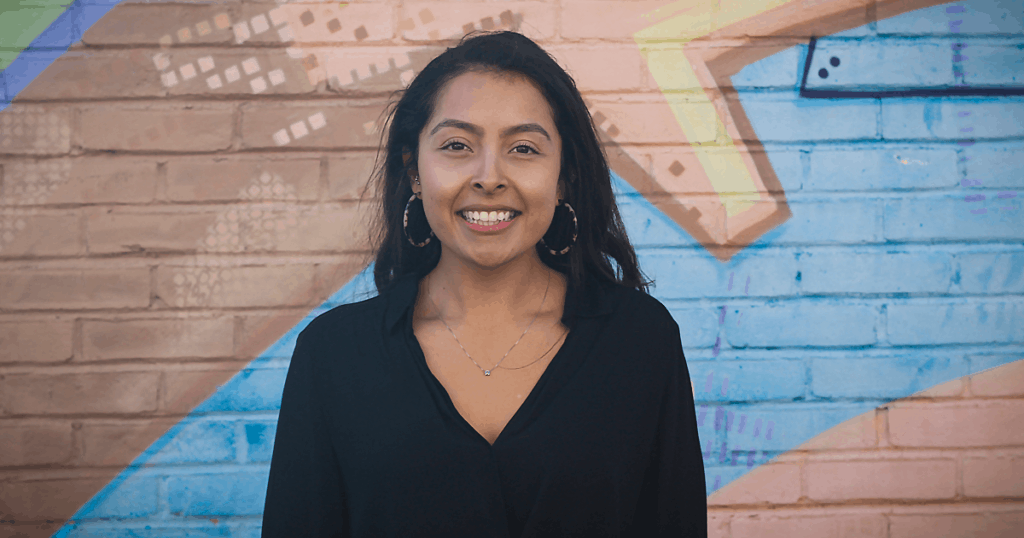 ¡Hola!
Soy Patricia Miguel y la nueva promotora comunitaria.
Crecí en la área Metropolitana de D.C. y algunos de mis lugares favoritos para andar en bicicleta son los senderos W&OD, Four Mile Run, y el Canal C&O. Gran parte de mi experiencia con el ciclismo está conectado al ejercicio y recreación. Aprendí como andar en bicicleta cuando tenía 10 años y puedo recordar que tuve miedo bajando por la entrada de carros porque era muy inclinada y bastante larga. Sin embargo, después de un par de horas practicando (y algunos rasguños y moretones después), recuerdo la alegría de poder explorar nuevas partes de mi vecindario y la sensación maravillosa del calor del sol en mi espalda y el aire fresco que fluía por mi cara. Este sentimiento de empoderamiento y de estar en la naturaleza es uno que espero poder compartir con más personas.
Me encanta conectarme con gente nueva y conocer un poco sobre ellxs*. Esto probablemente se relaciona a mi experiencia en la antropología sociocultural y mi entusiasmo por entender y explorar nuevos temas. Como promotora comunitaria y en acuerdo con el compromiso de WABA con la diversidad, equidad, e inclusión, quiero trabajar con comunidades tradicionalmente desatendidas por el ciclismo y grupos de promoción del ciclismo. Las comunidades específicas con las que trabajaré son Latinx y mujeres/trans/femme. Espero lograr esto organizando y alentando eventos que sean culturalmente apropiados, desarrollando formas nuevas de reducir los obstáculos asociados con el ciclismo y creando una comunidad más inclusiva.
Tengo muchas ganas de involucrarme con los socios de WABA e invitar más personas al espacio. Siendo que no tengo tanta experiencia con el ciclismo urbano, estoy interesada en aprender más sobre este tema. Creo que mi inexperiencia me permitirá conectar con personas que tienen un nivel de experiencia similar al mío y que eso puede ser una oportunidad para que todxs aprendamos en un ambiente seguro. Si usted quiere conversar más sobre el ciclismo urbano, hacer que el ciclismo sea más equitativo, o simplemente quiere conocerme, ¡no dude en enviarme un correo y podemos charlar! – patricia.miguel@test.waba.org
---
Hello!
¡Hola! My name is Patricia Miguel and I am the new Community Outreach Coordinator here at WABA.
I grew up in the D.C. Metropolitan area and some of my favorite local bicycling trails include the W&OD Trail, Four Mile Run, and the C&O Canal. Most of my experience with bicycling has been associated with fitness and fun. I learned how to ride a bike when I was about 10 years old and can remember being terrified to ride down my very steep and somewhat long driveway. However, after a couple of hours practicing (and some scrapes and bruises later), I remember the joy of being able to explore new parts of my neighborhood and the wonderful feeling of the warm sun hitting my back and cool air flowing over my face. This feeling of empowerment and being in nature is one that I hope to share with a wider community.
I love connecting with new people and getting to know a little bit about them. This is most likely due to my background in socio-cultural anthropology and eagerness to learn and explore new topics. As the Community Outreach Coordinator and in line with WABA's commitment to Diversity, Equity and Inclusion, I want to work with and serve communities that are traditionally under-represented in bicycling and bicycle advocacy. The specific communities that I will work alongside to support are the Latinx and Women/Trans/Femme communities. I hope to achieve this by hosting and encouraging more culturally-specific events, developing new ways to reduce the barriers associated with bicycling, and creating a more inclusive community.
I'm looking forward to engaging with current WABA partners as well as bringing new ones into the space. Being that I am not as experienced with urban bicycling, I am interested in learning more about this topic. I believe my inexperience will allow me to better connect with individuals who are coming from a similar place and it can be an opportunity for us all to learn in a safe environment. If you are interested in talking more about urban bicycling, making bicycling more equitable, or just want to get to know me better – feel free to email me and we can chat! patricia.miguel@test.waba.org