Thank You For One Last Hains Point 100!
Now that we have had a few weeks to thaw out and get through the holidays, we wanted to thank you again for joining us for the 2019 Hains Point 100—The Finale. The sky was clear, the wind calm, and—most importantly—joy was everywhere.
Thank you for eight amazing years of coming together to ride bicycles, making new friends, celebrating old friends, sharing a laugh, and supporting getting even more women on bikes. And thank you to all the business supporters for making it the largest door prize and grab bag ever.
In short, thank you #bikedc for being you. You brought snacks to the potluck, magic, and your awesome selves to the ride. You definitely made December 22nd such a special day.
Because of the generosity of you and the community, we raised $11,600 for WABA Women & Bicycles!
Since the first Hains Point 100, you brought over 2600 people for loop de loops of Hains Point, and we raised over $85,000 to support more women on bikes.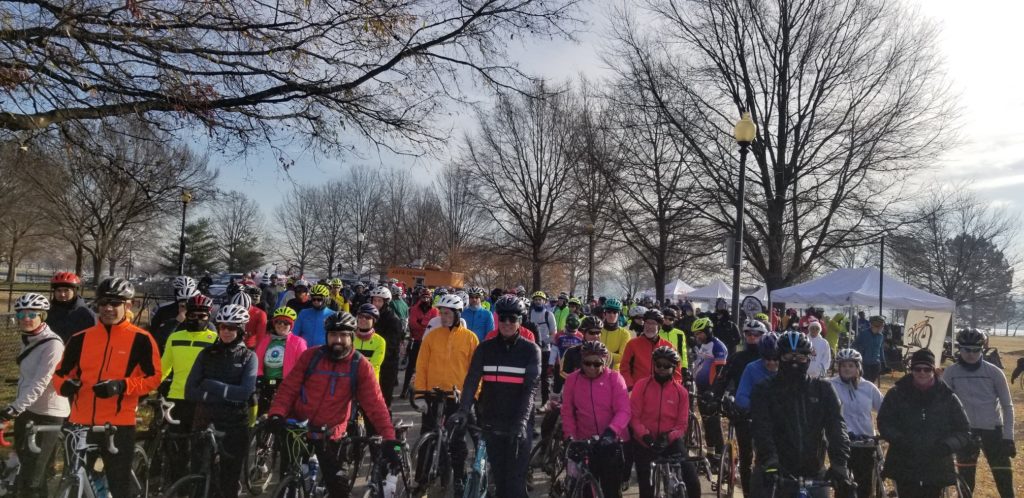 The HP100 memory will live on with every person you've helped with advocacy, education, and encouragement through the WABA Women & Bicycles Program.
What a ride! Thank you for being part of it, and we hope you'll continue to support WABA and its mission in the future.
From our friends,
Megan Jones and Mark Blacknell
Want to relive the fun? Dominion Cycling Photography generously took a bunch of great photos of the event and is offering free downloads. Photo album is here.