We Welcome Fresh Perspectives on the New Strategic Plan
Right now, WABA is working on its 2025 strategic plan—a blueprint for making bicycling better in our region over the next five years. The strategic plan is a guiding document that will define our organizational goals, targets, and strategy from 2021 to 2025. This is a process we started in early 2019, so we would have ample time to evaluate our current plan and collect feedback. As a result, we've created an organizational assessment that is based on public and member surveys, interviews with key stakeholders, a SWOT analysis, a light field scan of similar organizations, and a full staff and board retreat.
Want to hear more about where we are on the 2025 strategic plan process? Join us at the Annual Member Meeting and Bicyclists' Choice Awards on Wednesday, February 26, 2020!
At the 2019 Member Meeting we asked attendees to highlight which words in WABA's current vision and mission they found the most meaningful. The top five selections were: livable, environment, safe, advocating, and transportation.
A few months later, we also distributed a survey to get insight into our members' priorities and got back similar results. Over 600 people graciously shared their feedback about WABA's current mission, vision, and values.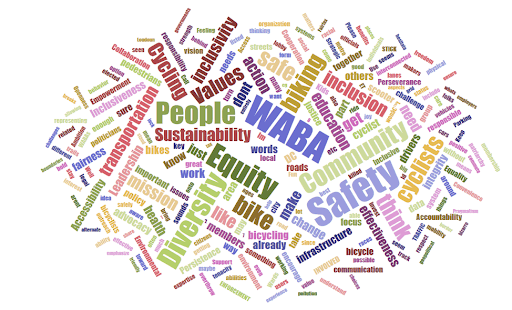 Respondents support WABA because they want to see a region where bicycling is comfortable, convenient, and safe, but the survey also suggests that equitable transportation and the environment are areas of work that are important to our members and supporters. Unsurprisingly, WABA supporters listed climate change and traffic safety as the two issues they care most about.
We also asked respondents which strategies they felt were the most critical to advancing WABA's mission. Over 75% of folks said that educating politicians and officials, addressing the culture of unsafe driving, and building larger action-oriented coalitions resonated most with them. And finally, they said they would be inclined to participate—by donating, volunteering, or organizing—if WABA were to increase its work with driver outreach, pedestrian safety, and safe accommodations.
Finally, our public survey indicated that affordable housing, climate change, and healthcare are key issues for area residents. This suggests a path for WABA to engage the broader public on common ground that supports bicycling while also improving housing affordability, fighting climate change, and improving public health.
At our 2020 Member Meeting, we will be sharing our progress and highlighting the draft goals and strategies that our staff and board have been working on. We hope you will come and offer your fresh perspective!
Join us at the Annual Member Meeting and Bicyclists' Choice Awards on Wednesday, February 26, 2020!