Recap: Community Listening Sessions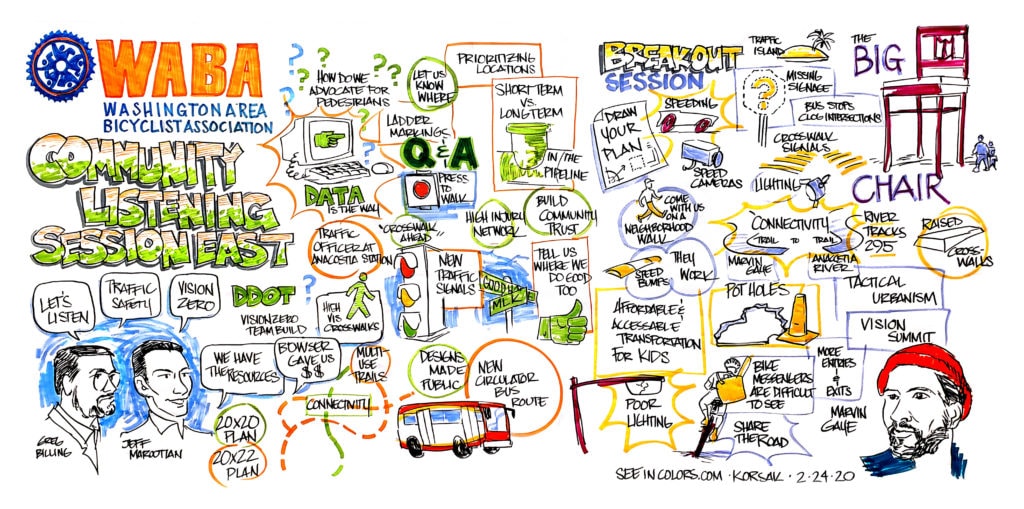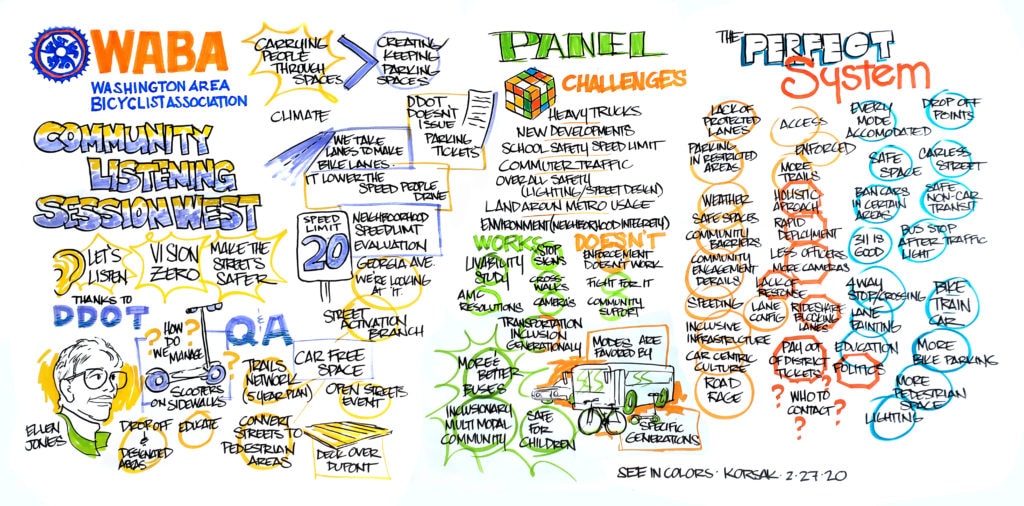 Some of our readers will be surprised to learn that WABA hasn't been engaged in the business of Community Listening sessions that long. As a matter of fact, the Listening Session held at the Anacostia PlayHouse (link to blog) was the first, and this year's Community Listening Sessions doubled that number and included focused sessions East and West of the Anacostia River.
Like the name suggests, these listening sessions were designed to provide community members an opportunity to have their concerns heard on issues of traffic safety. No community is monolithic: there are a wide range of concerns and feelings about what makes a roadway safe for all users. But oftentimes, those who are outnumbered by mode often have their concerns co-opted or consolidated into one mass thought or ask. Because of this, WABA was intentional to give space for community members to be heard by decision makers. What makes this different than just attending the ANC meeting or civic association meeting is that the community listening sessions were being filmed and a video featuring community members and their concerns will be a key part of the 4th Annual Vision Zero Regional Summit.
On February 24, 2020, more than 30 people attended the Community Listening Session – East, held at the Anacostia Neighborhood Library. The listening session featured District Department of Transportation Director, Jeff Marootian, who answered questions about specific projects and about the lack of projects East of the River. To our surprise and excitement, DDOT brought a host of personnel along to answer questions and meet with community members throughout the event. After the Director finished answering individual questions – we turned our attention to community concerns and hopes! Small groups of community members brainstormed to describe their most ardent traffic safety concerns. The answers ranged widely, including the need for better lighting at bus stops, bike trails and sidewalks, safety improvements needed for pedestrians, and traffic calming for speeding motorists. But when asked about the perfect transportation network that answer was often centered around making pedestrians safer on their neighborhood streets.
The listening session West of the River was held just 2 days later at the Columbia Heights Community Center and turned out another 30 attendees in spite of frigid temps and impending rain in the forecast. The format closely followed the previous listening session, adding a panel discussion featuring ANC commissioners: Ra Amin 5B04, Erin Palmer 4B02, and Evan Yeates 4B01. DDOT showed up in a huge way again, this time enlisting the expertise of Ellen Jones, Chief Project Delivery Officer. Jones was joined in the question and answer session by DDOT's Project Manager Emily Dalphy and George Branyan who serves as Manager of the Active Transportation Branch. When the community members had a chance to talk about their biggest traffic concerns, it was no surprise that much of those discussions centered around excessive vehicle speeds and the amount of effort it takes to get improvements in place. What may have come as a surprise to some was when describing the perfect transportation network many people described a zero cost public transit option and an inclusive system that worked for everyone, everywhere across the District.
Many of you know that WABA has made serious commitments to promoting diversity, equity and inclusion. These Community Listening Sessions are one response to that commitment and we learn alot from engaging with underserved communities in this space. This doesn't mean we got it all right, but we are trying. Trying to make sure community voices are heard over and above outside interest. Trying to ensure that community leaders and decision makers hear from people, in communities, who support safe streets and we are trying to amplify the collective voice of those who desire to be heard beyond the boundaries of their Wards. There is little reason to believe that WABA won't continue to host these listening sessions because we gain so much insight as an organization. And it gives space for others to be heard on issues that affect us all. That's at the core of why we engage in these listening sessions, to show that we are listening and to make sure that decision makers will be too. Besides, you never know what you might learn.