WTF – Let's Meet Up!
Saturday, November 7, 2020, 10:00 AM
Virginia Highlands Park
Class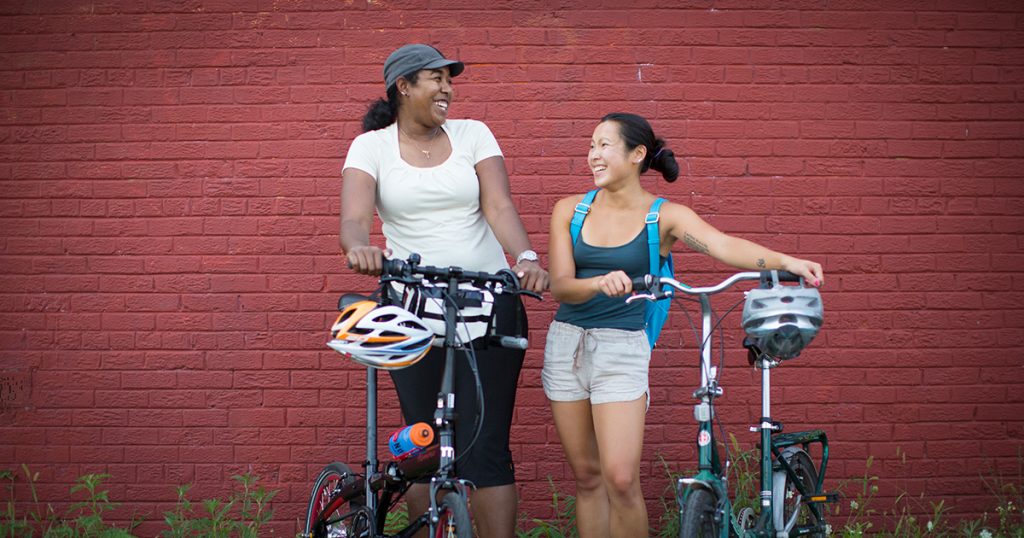 Are you newer to biking or recently dusted off your old bike? Do you have questions about how to ride safely in traffic or on trails? Want to know more about how to prepare for your ride? Identify as woman/trans/femme BIPOC and want to connect with others? Join us for an in-person meet up where League Cycling Instructors help answer any questions you might have and share bike handling skills. (Sound familiar? We were inspired by Danielle Christina Garibay Worthington's event).
If this isn't you, we have other fun events happening over at waba.org/fun that you should definitely check out!
This event will take place on Piscataway land at Virginia Highlands Park (1600 S Hayes St. Arlington, VA, 22202) on November 7th, 2020 from 10:00AM to 12:00PM. We will try to meet on the concrete area behind the fire station. Participants must bring their own bike and helmet, wear a mask that covers both their nose and mouth for the duration of the event, and identify as woman/trans/femme and BIPOC.
Health and Safety Protocols
Due to the ongoing effects of COVID-19, all participants are expected to adhere to WABA's health and safety guidelines for in-person events. You can review WABA's full guidelines for classes here.
Participants should not attend in-person events if they feel sick or show symptoms of illness. WABA will refund registration fees to individuals who cannot attend because they are sick on the day of an event. If you are sick and unable to attend an in-person event, contact WABA for a refund.
Classes will be limited to 10 participants.
All instructors and participants are required to wear face masks for the duration of the class.
WABA requires participants to wear face masks in accordance with CDC and jurisdictional mask guidelines at all in-person events:

Masks must cover both the mouth and nose.
Masks must be secured below the chin.
Participants should sanitize their hands before and after touching their mask or face area.
For more details, read the full CDC mask guidelines.

Participants will provide their contact information at event registration. Participants consent to WABA contacting them and/or releasing their contact information to necessary authorities if there is a need for contact tracing following an event to contain an outbreak of COVID-19.
All instructors and participants are required to maintain social distancing (6 ft apart) for the duration of the class
In the event of a minor injury (cuts or scrapes) participants will be provided with first aid supplies to treat themselves. If an individual is unable to treat themselves, or if a more serious injury occurs, WABA will call for an ambulance for additional medical care.
Class Details
Class Duration: 2 hours
Cost: This class is FREE to attend
Equipment: Participants must bring their own bicycle and helmet. If you would prefer to use a Capital Bikeshare bike, we will reimburse your usage fee! Email us at education@test.waba.org for more details.
Registration Policy: Advance registration is required to attend this class
Location
1600 S Hayes St, Arlington, VA 22202
Piscataway land
Please meet behind the fire station
Parking: There is on street parking and a parking lot available at this location.
Public Transportation: The Pentagon City metro station is a 5 minute walk away. The 10A bus route drops off at the North-East corner of the park at 15th St and Hayes St. Stop ID: 6000222
Register