What to Expect at a WABA Ride!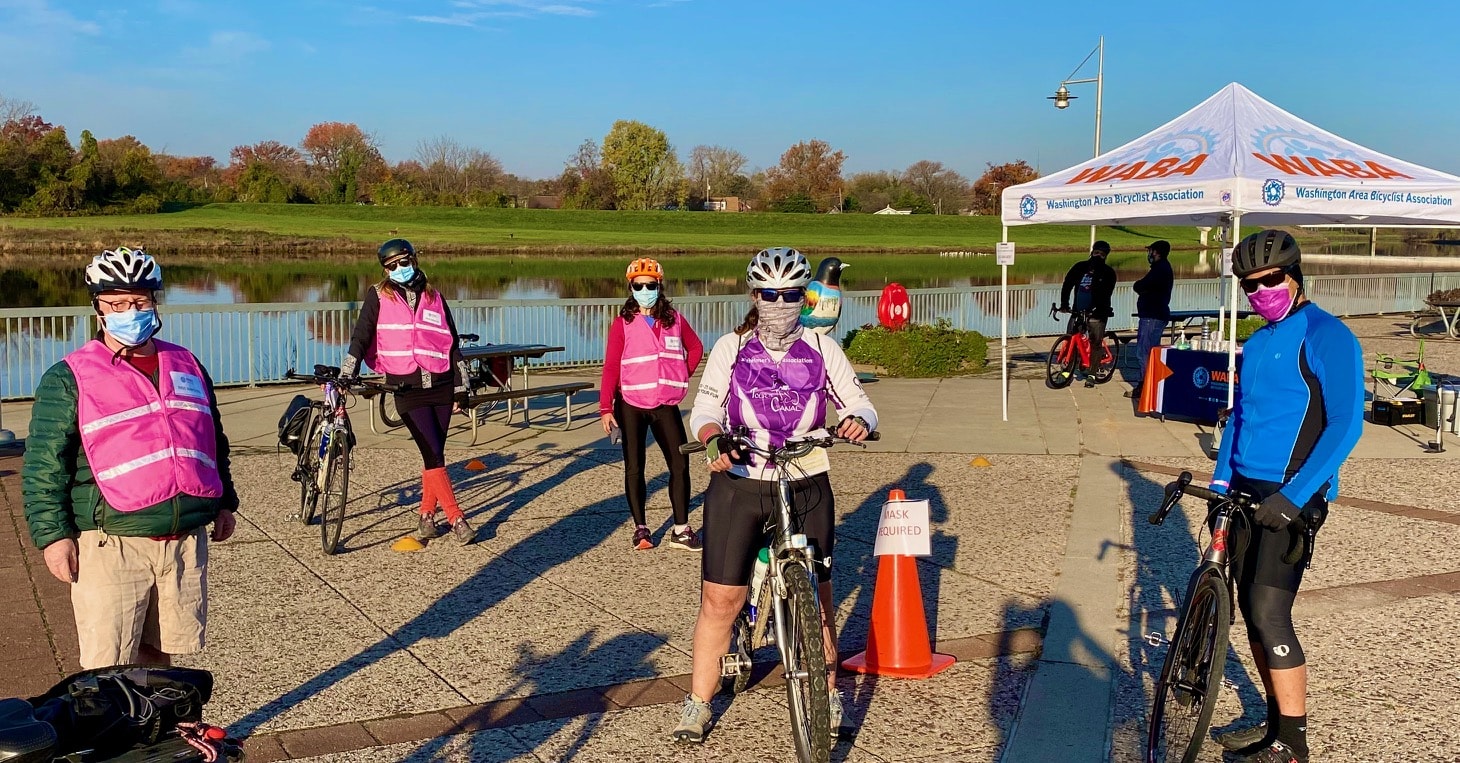 Why come to a WABA Signature Ride? Well…a day spent outside riding bikes, eating snacks, and making new friends, all while knowing you're supporting WABA's mission to make bicycling better in our region? Sounds pretty good, right?
This year WABA is bringing you three bike ride events celebrating biking in Virginia, DC, and Maryland: the Sweet Ride (June), the 50 States Ride (September), and the Cider Ride (November).
While each ride is a little different, they have a few things in common. Below is some information on what to expect at WABA's rides. (Still have questions after you read? Drop a line to events@test.waba.org— we're happy to chat.)
Come as you are—these rides are for everyone who wants to explore our region by bike! WABA's Signature Rides are recreational rides, NOT races. There are 10-16 mile routes in addition to longer 30-50 mile options. You can ride in spandex and cleats if you want, but a lot of participants will be in t-shirts. It doesn't matter what you wear! So dress comfortably, ride a bike that feels good to you, don't worry about the pace— and reach out to WABA staff at events@test.waba.org if you have questions about what to wear, bring, or ride.
Check-in is important. When you register for a WABA ride, you'll receive a start location and check-in time. This is where your ride will start—but when you arrive, make sure you go to the WABA tent first to check-in. This is where you'll receive your cue sheet, ride swag, and the wristband that gets you into pit stops (access to snacks and water is clutch!)
Pit stops are snack/water breaks. Along the ride route you'll have the opportunity to stop at pit stops, where WABA staff and volunteers will have water, snacks, and cheers waiting for you. During COVID-19 pit stop snacks are pre-packaged, single-serving items. Be sure to bring your own water bottle to refill at pit stops— WABA does not provide plastic water bottles.
Ride routes are not marked or closed to traffic. WABA's rides celebrate bicycling in our region using existing infrastructure. We don't close any roads for our rides, and the routes go on trails and streets with varying levels of bicycle infrastructure (protected bike lanes, painted bike lanes, and some roads without bike lanes. We do our best to plan the rides on low-stress streets, but you will be sharing the road with motor vehicles. Feel like you want to practice before the ride? Sign up for a Confident City Cycling Class. Or, for a refresher, watch this webinar on How to Ride in Traffic.
The ride is self-guided— here's how to navigate!
Use your paper cue sheet. Participants navigate WABA ride routes using a paper cue sheet with turn-by-turn directions, which we'll give you at ride check-in. This method of navigation means you need to consult the sheet every few turns. We recommend clipping it to your bike so you can glance down at a red light or stop sign and see what your next turn is. Feeling unsure about using a cue sheet? Here's a helpful blog post on how to read a cue sheet, and one on how to attach your cue sheet to your bike.
Use Ride With GPS. If you have a smartphone, you can get turn-by-turn audio directions for the ride using the Ride with GPS app (after you register for the ride, you'll get instructions on how to do this— you'll need to make an account and join the WABA Ride With GPS club, which are both free, before the day of the ride) Registered for a ride and need help setting this up? Email events@test.waba.org.
You'll probably take a wrong turn or two during the ride. Most people do! If you feel lost, remember that your cue sheet has a map in it, which can help you navigate back to the route or to the closest pit stop, where you can gather your bearings.
You probably won't ride with a group the whole time. Each check-in group at WABA's rides has an optional group start. But not everyone will ride together, and even if you start with a group, you will probably spread out over the course of the ride. If you want to make sure you have a buddy for the whole ride, consider registering with the ride for a friend, saying hi to someone new at the group start, or chatting with a Ride Marshal. Speaking of which…
Volunteer Ride Marshals are there to help! Ride Marshals are WABA volunteers who help you navigate and offer encouragement and support. Marshals receive a training from WABA staff before the event and know participants may look to them in their colorful vests with questions, for assistance, or to be a buddy. Marshals carry basic first aid supplies, and are instructed to call 911 in the case of an emergency on the ride.