Women & Bicycles: Art in Bloom Community Ride
Saturday, May 15, 2021, 9:30 AM
Congress Heights Metro Station
Ride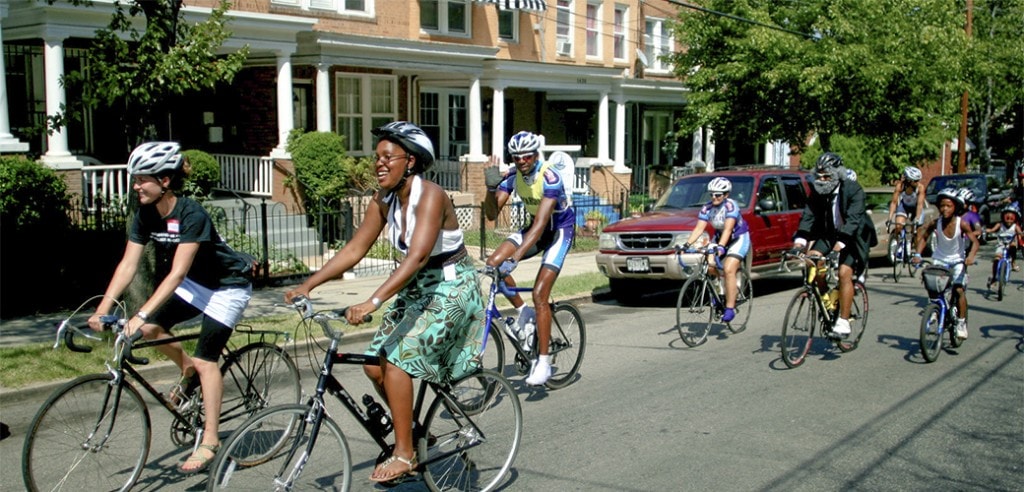 This ride is for Women, Trans, Femme, Non-Binary and Genderqueer folks only! Not in the right place? Check out our full calendar of events at waba.org/fun.
Join us for a scavenger hunt through the District in search of cherry blossoms! As part of the National Cherry Blossom Festival, oversized cherry blossom sculptures have been painted by artists and placed in neighborhoods throughout DC. We will ride through all four quadrants in search of sculptures to find and photograph. Riders have the option to participate in the #ArtInBloom photo contest for a chance to win several prizes. WABA is not affiliated with the #ArtInBloom contest or has any impacts over its outcome.
At the end of the ride, you will have the option to depart on your own, or join us for lunch in Eastern Market!
Click here to view WABA's Code of Conduct for event participants.
Ride Details
This is a mostly flat, approximately 16 mile road ride at 9-13 mph pace. This ride is point to point (not roundtrip), so prepare your travel plans accordingly. We will be starting at Congress Heights Metro Station and ending at Eastern Market Metro Station.
Duration: 3 hours with restroom breaks and short breaks at each sculpture
Equipment: Participants are required to bring their own bicycle and helmet for this class. Use a Capital Bikeshare bike or Ebike and WABA will reimburse your usage fee for the duration of the class! Email education@test.waba.org for more details.
Cost: $10.00 and FREE for WABA members! Contact education@test.waba.org for a coupon code!
Registration cost not in your budget? Email us at education@test.waba.org for a scholarship code!
Registration Policy: Advance registration is required for this event. Be sure to show up for the ride at least 10 minutes before departure.
Health and Safety Protocols
Due to the ongoing effects of COVID-19, all participants are expected to adhere to WABA's health and safety guidelines for in-person events.
Participants should not attend in-person events if they feel sick or show symptoms of illness. WABA will refund registration fees to individuals who cannot attend because they are sick on the day of an event. If you are sick and unable to attend an in-person event, contact WABA for a refund.
Classes will be limited to 10 participants and 3 instructors.
All instructors and participants are required to wear face masks for the duration of the class.
WABA requires participants to wear face masks in accordance with CDC and jurisdictional mask guidelines at all in-person events:

Masks must cover both the mouth and nose.
Masks must be secured below the chin.
Participants should sanitize their hands before and after touching their mask or face area.
For more details, read the full CDC mask guidelines.

Participants will provide their contact information at event registration. Participants consent to WABA contacting them and/or releasing their contact information to necessary authorities if there is a need for contact tracing following an event to contain an outbreak of COVID-19.
All instructors and participants are required to maintain social distancing (6 ft apart) for the duration of the class
In the event of a minor injury (cuts or scrapes) participants will be provided with first aid supplies to treat themselves. If an individual is unable to treat themselves, or if a more serious injury occurs, WABA will call for an ambulance for additional medical care.
Ride Location
Start Point: Congress Heights Metro Station (Green Line)
1290 Alabama Ave SE, Washington, DC 20020
Please meet at the plaza near the metro entrance. WABA Instructors will be wearing teal polos.
End Point: Eastern Market Metro Station  (Orange, Silver, Blue)
701 Pennsylvania Ave. SE, Washington, DC 20003
Register