Youth Learn to Ride
Saturday, September 18, 2021, 10:00 AM
Four Mile Run Park Plaza
Class
Overview
Our Youth Learn to Ride class is fun, intuitive, and a great way to introduce your child to bike riding! This class is for children aged 6-12* who have never ridden a bike before or have tried to learn and have not been successful. Our League certified instructors take students through a progressive curriculum, with the goal of riding with two pedals by the end of the session.
*If your child falls outside of the 6-12 age range please email us at education@test.waba.org.
All students are responsible for bringing their own bicycle and helmet. All students are required to wear a helmet for the duration of the class.
Our approach is fun and intuitive, but it also requires hard work. Your child will be riding for two hours. We take breaks every hour. Parents or guardians must stay for the duration of the class.
Please ensure that your child comes to class wearing comfortable clothes and close-toed shoes.
Please bring: a bicycle and helmet in good working order, water and snacks, and a mask. This class will be outdoors. Mask use is mandatory.
Only students who have reserved space in the class may attend. Unfortunately, walk-up students cannot be accommodated.
This class is for your child if:
They are between the ages of 6 and 12 years old
Your child has never tried to learn how to ride a bike; or
They have tried to learn and have not been successful.
Health and Safety Protocols
Due to the ongoing effects of COVID-19, all participants are expected to adhere to WABA's health and safety guidelines for in-person events. You can review WABA's full guidelines for classes here.
Participants should not attend in-person events if they feel sick or show symptoms of illness. WABA will refund registration fees to individuals who cannot attend because they are sick on the day of an event. If you are sick and unable to attend an in-person event, contact WABA for a refund.
Classes will be limited to 10 participants and 4 instructors.
All instructors and participants are required to wear face masks for the duration of the class.
WABA requires participants to wear face masks in accordance with CDC and jurisdictional mask guidelines at all in-person events:

Masks must cover both the mouth and nose.
Masks must be secured below the chin.
Participants should sanitize their hands before and after touching their mask or face area.
For more details, read the full CDC mask guidelines.

Participants will provide their contact information at event registration. Participants consent to WABA contacting them and/or releasing their contact information to necessary authorities if there is a need for contact tracing following an event to contain an outbreak of COVID-19.
All instructors and participants are required to maintain social distancing (6 ft apart) for the duration of the class
In the event of a minor injury (cuts or scrapes) participants will be provided with first aid supplies to treat themselves. If an individual is unable to treat themselves, or if a more serious injury occurs, WABA will call for an ambulance for additional medical care.
Parents will be asked to wait away from the class and not participate.
Cost
$10.00
Location
Four Mile Run Park Plaza
4121 Mt. Vernon Avenue
Alexandria, VA 232305
WABA Instructors will be wearing teal polos.
Parking recommendations: Parking is located here, directly adjacent to the plaza. Additional overflow parking is located at Frank Mann Field which is a 0.7 mi walk.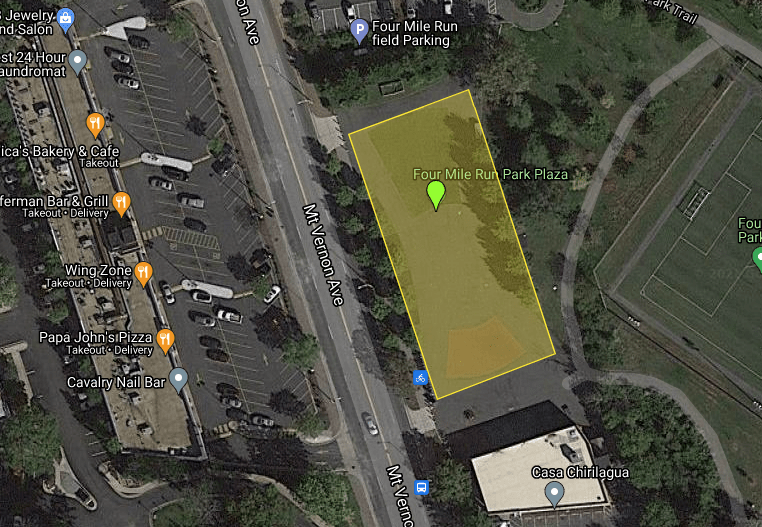 Driving/Parking
Parking is available at this location off of Mt. Vernon Avenue, either at the Four Mile Run Field Parking Lot or on adjacent side streets.

MetroBus
Go multi-modal! The bus stop at the Plaza is served by buses 10A, 10B, 10E, 23A, and 23B. Not sure how to get your bike on a bus, check out our post on going multi-modal for tips and tricks.

Biking
Four Mile Run Park is right off of Four Mile Run Trail and the Four Mile Run Park Trail, accessible via the Mount Vernon Trail. There is a Capital Bikeshare station at the plaza.
Register